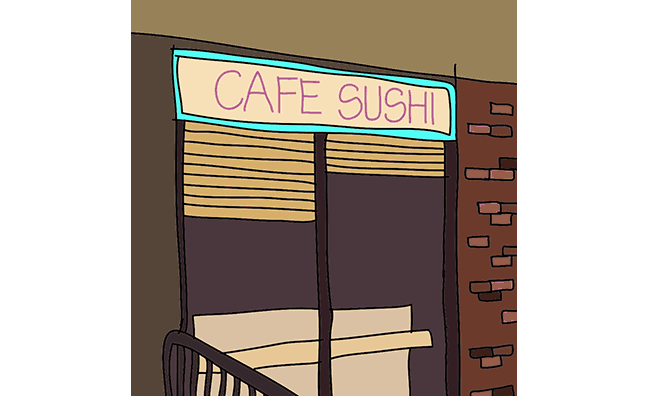 As I previously mentioned, I am kicking off P&O's summer break with another terrific omakase meal at Cafe Sushi in Cambridge, Massachusetts which took place this past Saturday. In May, I shared my love for all things Cafe Sushi and its amazing chef in this post which gives you a little information about how this unassuming spot in Harvard Square is putting out such exceptional food. We have been back a few times since that May visit and each bite of food continues to haunt my sushi dreams.
Each piece of fish that is part of the omakase ($85*) is treated as its own unique canvas which is carefully painted with the most subtle and balanced additions. It is as though the fantastically talented Chef Seiji Imura has channelled Coco Chanel who wisely advised "[b]efore you leave the house, look in the mirror and take one thing off." There are no unnecessary flourishes (looking at you Oishii) — just an incredible ability to coax the most deliciousness one could imagine out of each bite of fish. Add tremendous service and a great sake pairing ($35) and the stars are aligned for one of the best dining experiences you can have anywhere.
Our meal started with a delicious "zensai" or a Japanese snack. Crispy tomato skins garnished a smoky pickled tomato which bathed on a light kombu dashi broth. Smoked skipjack tuna flakes added another dimension of smoky goodness.
Kona Kampachi sashimi, also known as Hawaiian amberjack, gets a little stone fruit treatment and is adorned with pickled nectarines and fried shallots. The deep purple tosa joyu soy sauce combined with the chunky moromi miso is a delicious accent.
The first flight of nigiri starts with local fluke. Wasabi oil, lemon and J. Q. Dickenson salt, which is a small-batch finishing salt from the Appalachian Mountains in Virginia, season the delicate fluke. Japanese sea bream gets a light brushstroke of ponzu and a touch of preserved yuzu. Japanese real mackerel gets a little bite from chopped wasabi. If I could eat nothing but Chef Imura's nigiri for the rest of my life I would be a very happy camper.
Striped jack with pickled red cabbage, Japanese horse mackerel with sweet pickled ginger and welsh onion and saba topped with shiso and a translucent sheet of pickled kelp make up the next sensational flight of nigiri.
The sunomono – or traditional cucumber salad – is less than traditional in a very good way. Cucumber spirals and strawberry pickled cucumber skins and cores are finished with a chiffonade of shiso.
More heavenly nigiri follows. Decadently rich king salmon is precisely balanced with sage blossom wine and a tomato gastrique. It is an explosion of umami and the salmon just melts in your mouth. The arctic char with yuzu, chilis and shiso hits all the right notes. The flavor comes at you in waves.
The chilled savory egg custard (Tomago-Dofu) is a new and wonderful experience that we have not enjoyed before at Cafe Sushi. The custard rests in a delicate dashi broth along with sake-pickled napa cabbage.
All good things must come to an end as Chef Imura hands over our final plate of the meal. Braised tuna dressed with miso and vinegar and topped with iced onions (this – as an aside – is a great kitchen tip: ice raw onions to take the sharp bite out of them) was a savory bite. To its right was a lightly seared salmon intermingled with salmon roe and a little lime on a crisp nori chip. Simply delicious. Finally, the skin on the thorny head rock fish was torched and the fish was accented with a shallot marmalade and lemon zest. Just perfection.
As I mentioned a few months ago, Cafe Sushi, with its strip mall location, bargain sushi history and neon signs, has perfected the concept of under promising and over delivering. Now that we have dined there on several occasions, however, it no longer benefits from "under promising." Quite to the contrary. Thanks to the exquisiteness of our previous meals, we have impossibly high expectations for a meal at Cafe Sushi. Lucky for us and the rest of the fortunate few who nab seats for the omakase at the sushi bar, Chef Imura not only keeps exceeding those expectations — he blows them out of the water. Which is indeed fitting for a sushi chef.
*The prices for the omakase and sake pairing vary depending on the availability of fish/number of courses
Cafe Sushi
1105 Massachusetts Ave
Cambridge, MA 02138
Phone:(617) 492-0434
Reservations: http://www.cafesushicambridge.com/#!reservations/iojcp