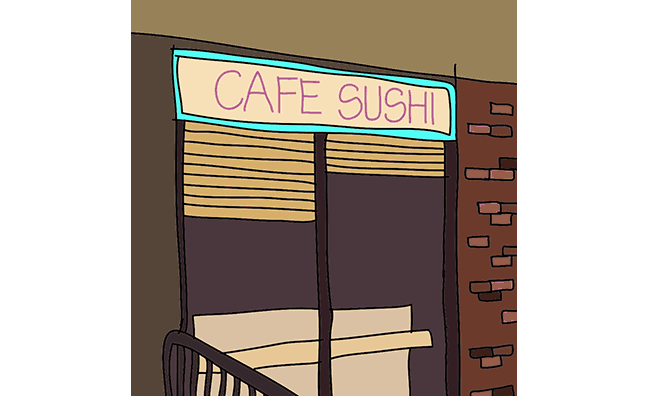 Before we opened our restaurant, we made it a point to pick the brains of a lot of successful chefs and restauranteurs. Of all the advice we received, Chef Dan Barber's (of Blue Hill in NYC and Blue Hill in Stone Barns fame) mantra "Under Promise. Over Deliver." stuck with us. The idea of managing expectations and – hopefully – pleasantly surprising people seemed like a nice way to go. But the restaurant business is brutal and unless you are turning away customers every night, chances are you will find yourself posting gauzy images of your restaurant and food online and quoting lines from restaurant reviews as though Shakespeare himself had put pen to paper. It was nice concept in theory but the reality for most restaurants is to over promise and desperately hope for the best.
But not all restaurants. Enter Cafe Sushi. This unassuming spot in Cambridge is located in a strip mall above a nondescript neighborhood convenience store. It has been around since 1984. A neon sign hangs outside. A neon sign hangs inside. The lighting is on the bright side. There are California, Philadelphia and Caterpillar rolls on the menu which are the bane of most renowned sushi chefs. It made its mark with dollar sushi. A Yelp review reads "Cafe Sushi is the best bang for your buck in the Boston area for sushi. I'd give the quality 3.5 stars, but since that is not an option on here, I'll bump it to 4 based off the affordability." Cheap sushi is not what Jiro dreams of. Cheap sushi is not what I dream of. But that is just Cafe Sushi (and some random Yelper) under promising.
In 2007, Chef Seiji Imura, the owner's son, took the reigns at Cafe Sushi after nearly a decade long stint at Yoshi Tome's acclaimed Sushi Ran in the Bay Area. A few years later he started flying in prized fish directly from Japan and, when it is available, sourcing unappreciated local fish. Nowadays, a seat at the sushi bar while experiencing Chef Imura's omakase is like being at a restaurant within a restaurant. If you define a sushi experience to be about the fish then this is unquestionably the best sushi in Boston.* And it comes along with some terrifically gracious service to boot.
The first thing to do when you walk into Cafe Sushi is take a look at the blackboard. You can expect most, if not all, of your omakase dishes to come directly from the daily specials.
A couple of recent visits (go once and, trust me, you will want to go back again and again) had a similar and delightful flow. We started with a sashimi course, then a couple of flights of of nigiri, a refreshing sunomono (traditionally a Japanese cucumber salad but this one was a little more interesting), two more flights of nigiri, a warm eel course and a final flourish of uni. During our last two omakases we tried every item on the blackboard. The omakase price varies depending on the offerings and generally ranges from $85 to $105 per person.We also had some excellent sake pairings. As an aside, we generally find wine/sake pairings to be a terrible value. So many places trot out obscure, cheap plonk. Not at Cafe Sushi. A different sake was poured with every course and the experience was quite satisfying, varied and (being a relative sake novice) educational. At $50 for seven courses, I found it to be a lovely accompaniment to the meal. To be sure, omakase at Cafe Sushi is not an inexpensive experience but it is an extraordinary one. On to the food!
Sparkling Kindai Hamachi was lightly doused with tosa joyu – a earthy soy sauce that is infused with bonito and kelp. On top, chunky miso known as moromi, crispy shallot and a garlicky ramp pesto adorn beautiful white asparagus to bring a touch of spring and a lot of deliciousness to the dish. A rich and aromatic Seikyo Omachi Namazake sake paired beautifully.
Riffing on the more traditional paste of yuzu zest and chilis known as yuzu kosho, Chef Imura's dabs Japanese half beak with blood orange kosho, ponzu and a touch of negi onion. With this first bite of nigiri, you cannot help but reflect on the shari (a.k.a. the rice) which elevates many of the dishes that follow. It is the perfect temperature to bring out the best in the fish and its texture is spot on (just a tad softer than medium firm) and the vinegar level completely hits my happy place. This nigiri flight is paired with the clean and bright Yaegaki Mu Junmai Daiginjo "Nothingness" sake.
Sea bream (madai) with wasabi oil and preserved limequat (the love child of a key lime and kumquat) and young snapper with actual wasabi root and napa cabbage kimchi shared the plate with the half beak and each bite was equally exquisite.
As throughout the meal, Chef Imura personally hands us the next flight of perfect nigiri. Tiny slender sprat herring is considered bait fish in the United States but prized by the Japanese where it is known as kibinago. The herring is draped with white kelp and shiso and just pops. Throughout the meal, Chef Imura manages to elevate and differentiate each bite of pristine fish by applying the lightest of touches.
Before bluefin tuna became the "it" girl of the sushi world, the incredibly sustainable (and super fertile thus its sustainability) fish known as skipjack tuna or spring bonito or katsuo in Japan was the tuna of choice. The first catch of the season was considered the ultimate prize. A slice of Japanese ginger (myoga), a bit of garlic and a chiffonade of spring onion are all this first of the season spring bonito needs to justify the old legend that many men back in the Edo Period (we are going WAY back here folks – 1603-1867) were willing to "pawn their wives for a taste."
Speaking of "it" girls, when it comes to the beloved saba/mackerel fish, the prom queen is clearly the variety known as masaba which also goes by the nom de plume "true mackerel". It gets a quick torching, a touch of pickled ginger and a little green onion. Heaven.
The bites of nigiri are interrupted with a lovely traditional Japanese cucumber salad that is garnished with another harbringer of spring – tiny firefly squid which are dressed in a white miso and vinegar vinaigrette and topped off with pickled mustard seeds.
Another flight of nigiri follows and the king salmon somehow stole the show in this round (and I am not even a fan of salmon). The salmon was balanced with chilis and yuzu and melted as you ate it. The golden eye snapper with grilled ramps and the barracuda dotted with ssam jang (a kind of bbq sauce) were wonderful but the salmon . . .
The nigiri part of the menu ends spectacularly with knife jaw snapper elegantly adorned in a brined cherry leaf with a preserved plum sauce. Alongside is the kona kanpachi (Hawaiian amberjack) with wasabi oil, marinated cranberry and a speck of candied cara cara orange peel. Finally, a thorny head rock fish (why not right?) is finished with a shallot tapenade.
When the eel comes out you know you are very close to the end of a glorious meal. You are feeling a little sadness perhaps. But bite into the silky salt water eel garnished with a bit of dark eel glaze and prickly and tart sansho powder and savior each morsel knowing that that you have one dish left.
Our omakase menus at Cafe Sushi have all ended with uni. Sometimes it is a small taste of sea urchin from different locales but on this particular evening we went straight up Japan. Hokkaido uni with with a little wasabi and lemon. Talk about over delivering! A perfect end to a truly perfect meal. Gochisosama deshita!
*Just and FYI – I define "Boston" with a broad brush to include Cambridge, Somerville, Allston, etc.
Cafe Sushi
1105 Massachusetts Ave
Cambridge, MA 02138
Phone:(617) 492-0434
Reservations: http://www.cafesushicambridge.com/#!reservations/iojcp