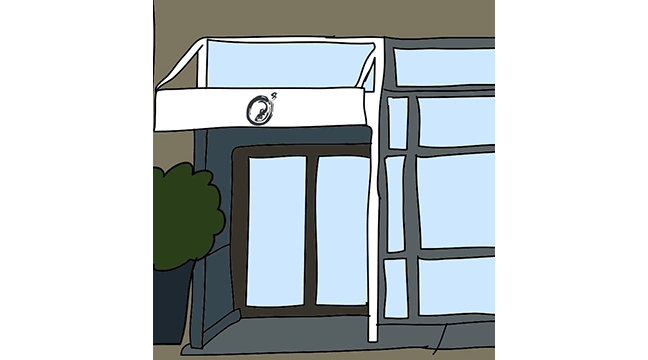 After experiencing several wonderful omakase meals at Cafe Sushi and many terrific (self-selected but basically omakase) dinners at O Ya we felt it was time to see what Oishii was doing in the world of "I leave it up to you" cooking. Previously, we had only ordered a la carte at Oishii. The restaurant has some fun dishes – salmon on fire is literally on fire when it is set in front of you and the smoked hamachi is just plain delicious. The nabeyaki noodle soup with the poached egg is one of Bob's favorite and the sashimi, although sliced a tad on the large side for my taste, has always been solid. We thought it was time put Oishii through its omakase paces. This $150 per person gamble did not pay off.
What went wrong? Let's start with the service. We tried to reserve a seat at the sushi bar for the omakase but it is first come, first serve. We arrived on the early side and were able to get two seats at the bar. But why did we bother? The food was never once given to us by a sushi chef. Rather, we would watch each course being prepared and then placed on the pass in the back (even though we were much closer) where it would sit. And sit. We waited forever for each course to come out. The sushi chefs never once made eye contact with us. We did get to "enjoy" listening to the head chef (who was entertaining guests in another room) stand at the sushi bar and loudly beret all the other chefs for something he was not pleased with so there was that.
Moving on to the wine pairing. I'll confess that after the excellent sake pairings at Cafe Sushi we let our guard down and went for the $75 wine and sake pairing. No! Don't do it. Tiny pours that we had to wait seemingly forever for. If you poured all the wine we were served all night into one glass it would not have amounted to a single decent glass pour. And the quality of the wine was just pedestrian (a cloying Gamay and a nondescript Albarino were two of the best offerings). It was the perfect example of why is usually makes sense to "Just Say No" to wine pairings (except at Cafe Sushi where they rock).
Finally there was the food. This omakase was much more of a tasting menu than a sushi/sashimi/nigiri experience. I'll let the pictures speak for themselves and you can make up your own mind if it looks like your cup of tea.
We waited a long time for the meal to begin. Eventually, the shot glass of edamame puree that every meal at Oishii (including the omakase) starts with was brought out. It is a tasty little spoonful and would turn out, unfortunately, to be one of the highlights of the meal.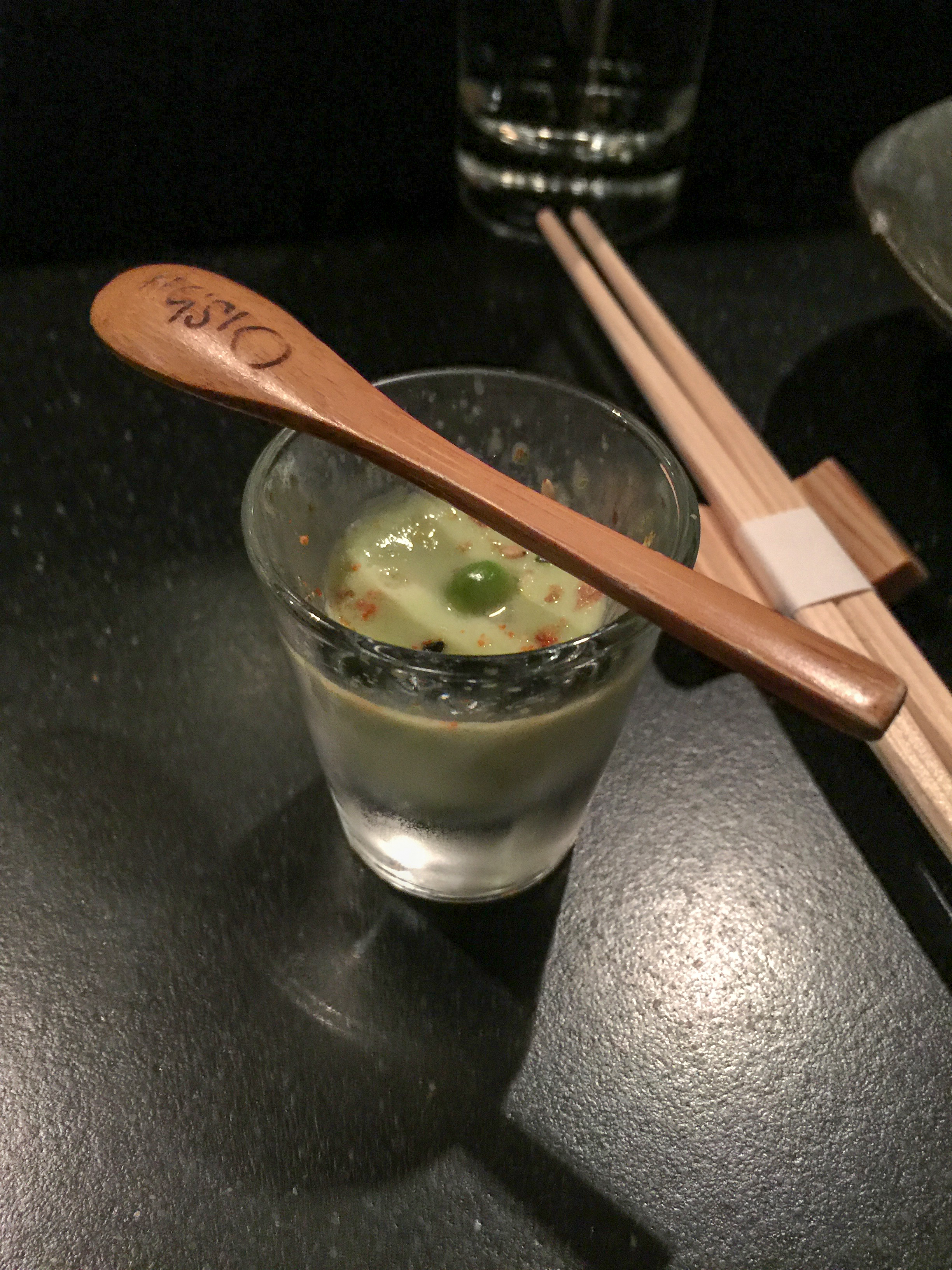 Twenty minutes after our amuse was cleared (and I'll confess to getting a bit grumpy at this point) we were served bonito in endive leaves. Is it me or did serving food in endive leaves go out of style in the 90s? The bitterness of the endive completely overpowered the bonito and the sauce was thick and cloying. One dish in and we were having serious buyers remorse.
We are now an hour plus into our meal and we have had a sip of sake (and I mean a sip) and two bites of bonito. Mercifully, a steak tartare topped off with a giant crispy rice ball appears. Food at last! Was it what I wanted as part of an omakase experience. God no but I was starving and it was tasty (albeit goofy).
It was followed by a raw mackerel dish where a sweet jelly took over the plate and the fish got completely lost along the way.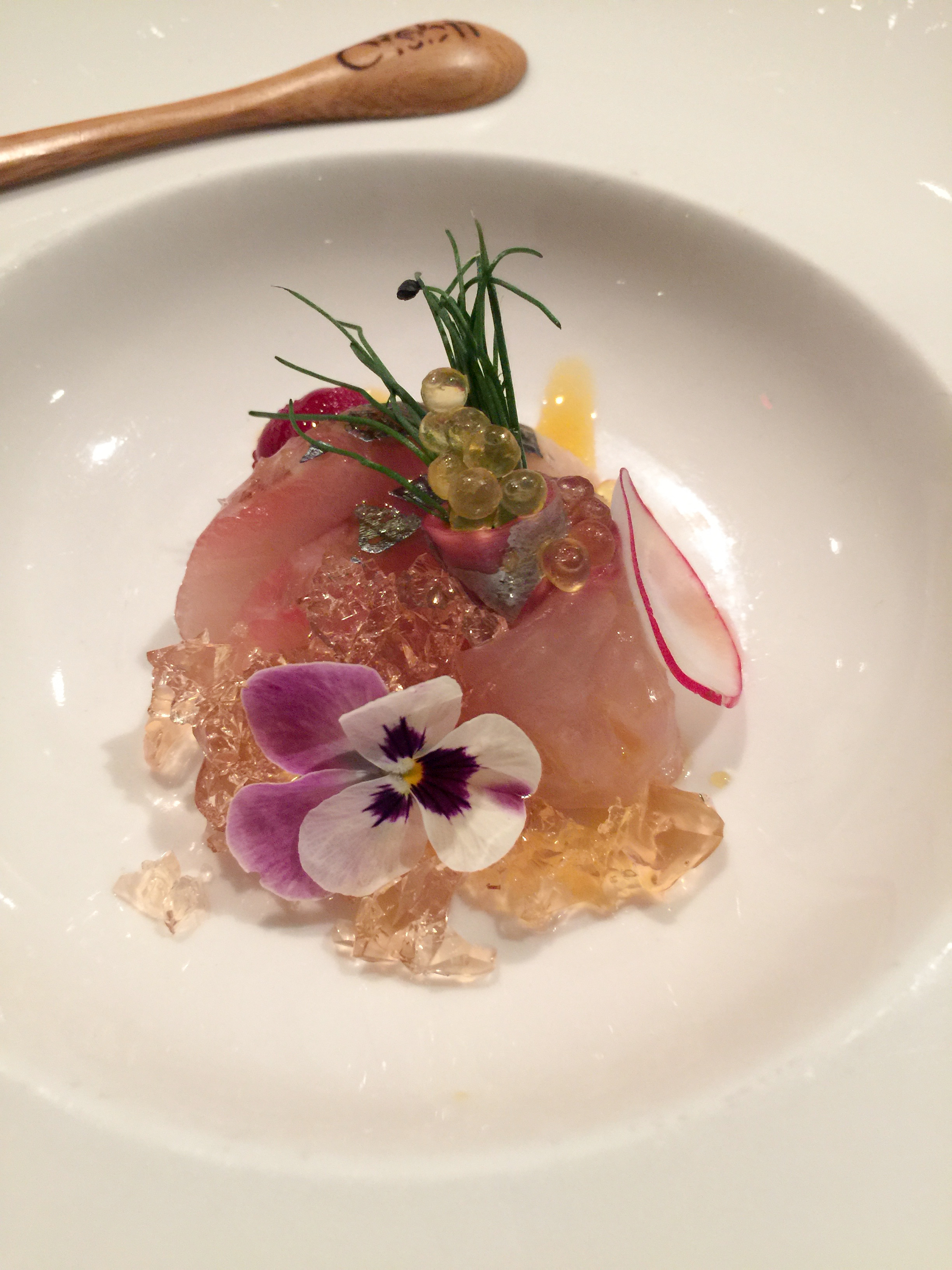 This was followed by a seared snapper covered in nori and scallions. At a sushi restaurant, I like when there is a quick torching of the skin or flesh to highlight the excellence of the raw fish but this was just seared snapper and any extraordinary freshness the fish might have had (might being the key word) was not evident.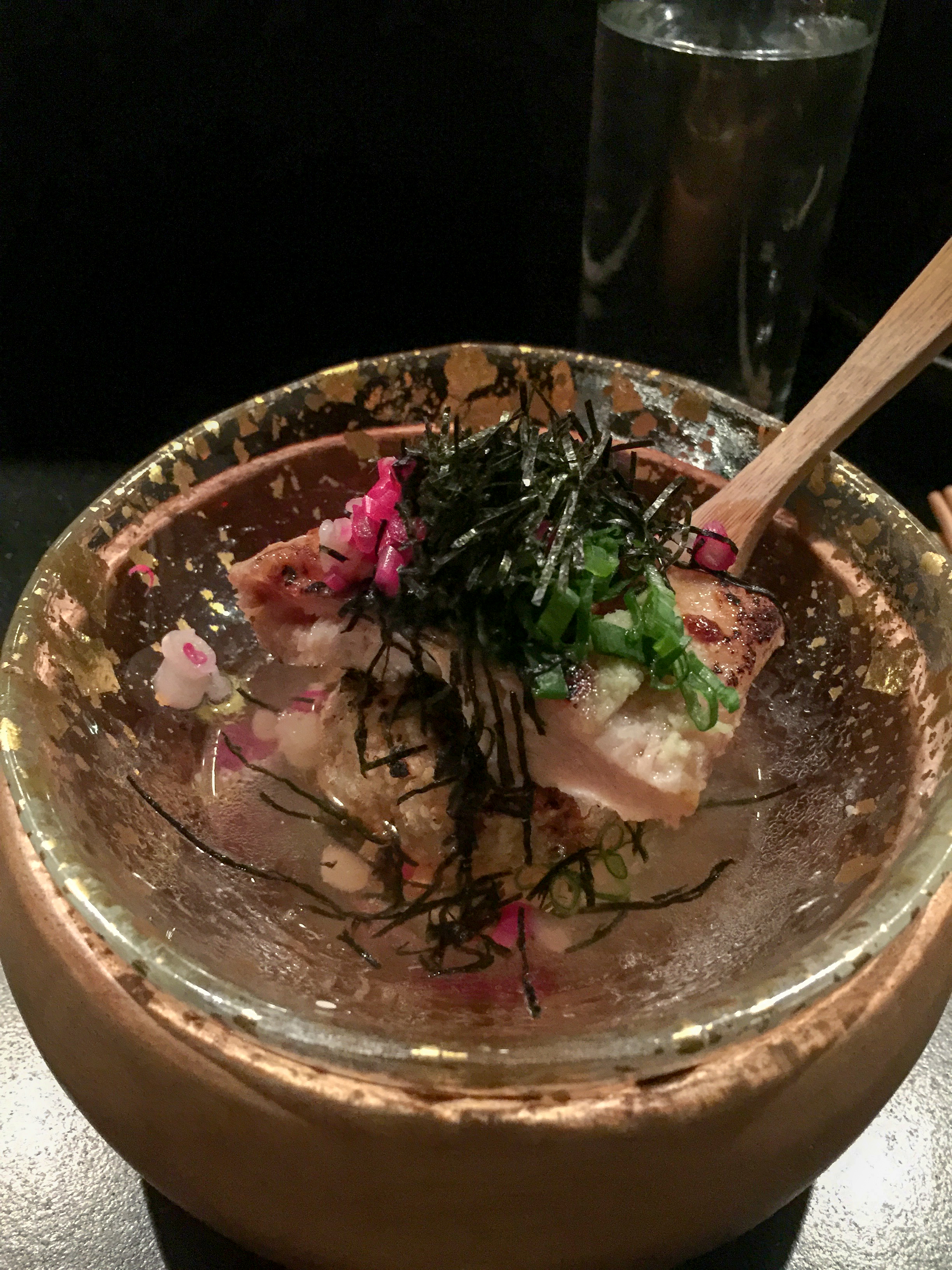 Oishii continued to show its love for 90s plating with the vertical sea bass dish that followed. The bones were deep fried and poked into a cucumber flower and the fish, which was topped with paddlefish, sat on strawberries and lemon slices. I tried to eat the strawberry with the bass but that was a mistake as it overpowered the mild sea bass.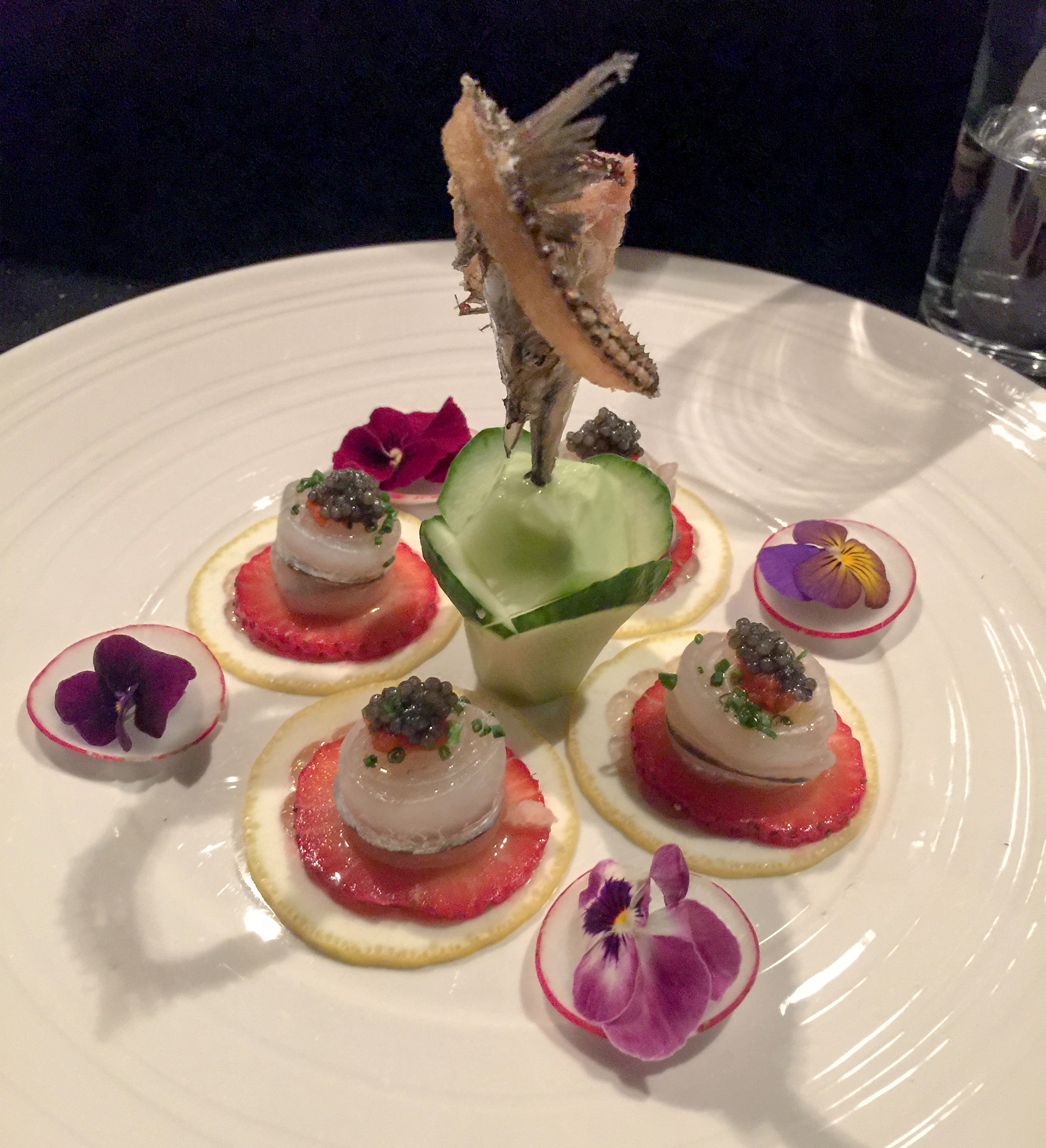 Tempura was the next course to arrive. For some, I am sure this would have been a delight but all I wanted was some exquisitely pristine raw fish.
Finally! A flight of nigiri arrives but sadly it was the biggest disappointment of the night. The fish tasted dull – no sparkle whatsoever- and was clumsily garnished with the likes of another slice of strawberry or a lime slice. A complete let down. At this point we ask our server if we could possibly speed up the remaining courses.
Poached lobster in a cream-based lobster reduction followed. The lobster was well cooked but the sauce was much too rich. And (I might have said this before :-)) all I wanted was some exquisitely pristine raw fish.
We are now entering our fourth hour and, but for the steak tartare (a meat dish – go figure), we have not had a single dish that we fully enjoyed. Desserts follow (the big ball appears again in a different form — they need to rethink using this trick more than once) but we are not in the mood. We finally get our check, pay a fairly hefty sum for a seriously disappointing meal and call it a night. Let's just say I will not be leaving it up to the chefs at Oishii ever again.