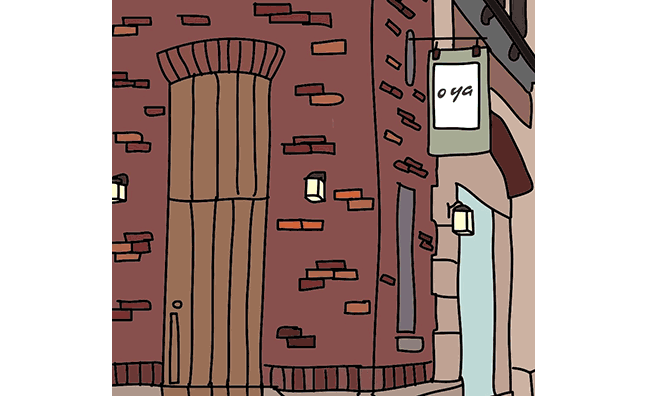 The year was 2008 and the New York Times food critic Frank Bruni was traversing the country seeking the very best new restaurants. He sang the praises of some terrific places such as Cochon in New Orleans, Coi in San Francisco, Michael's Food & Drink in Miami, Guy Savoy in Vegas and Ubuntu in Napa. (I would interrupt this write up to point out to Mr. Bruni that a certain little farm-to-table spot in northeastern Connecticut that opened in 2006 was notably missing from his list. Just saying Frank!) Anyway, I digress. At the end of the day it was the exquisite contemporary Japanese cuisine at Tim Cushman and his wife Nancy's restaurant in the Leather District of Boston that won the top honors. And deservedly so.
The space is a 100 year old former firehouse complete with beautiful brick walls and exposed wooden beams. There is a sushi bar that seats 17 and a scattering of tables. It is warm, intimate, and surprisingly relaxed.
You order from the extensive menu by circling the dishes you want with a pen. Plate after plate arrives in front of you with one tantalizing bite after another. For the most part, the nigiri section of the menu is two bites per order. The sashimi portions are larger (maybe four to six bites) and dishes on the back of the menu are slightly bigger as well. My game plan at O Ya is twelve to fifteen items for two people and I lean heavily on the lesser priced items (a few exceptions this trip) because I find them every bit as satisfying and it allows me to get as much variety as possible. On to the food!
First up was a silky hamachi belly nigiri topped with citrusy yuzu and soy marinated sea urchin. Just wow.
The delicate,expertly prepared rolled chive omelette was paired with a sweet dashi sauce.
As wonderful as the fish is at O Ya, the mushroom nigiri (variety of mushroom changes) are always some of my absolute favorite bites of the night (and also some of the best values). The warm braised shiitake mushroom nigiri with anise hyssop and truffle did not disappoint. Think earthy, minty, truffle goodness.
Next up may be the most perfect bite of food I've ever tasted. The nod used to go to Jean-Georges's uni with yuzu on black bread but the banana pepper mousse on the torched hamachi at O Ya has worked its way to number one in my book. I can never order just one round of this dish.
The Portugal Gooseneck Barnacle dish was a new one for us. Hailing from the Iberian northern coast, these little beauties are a real delicacy in Spain and Portugal. At O Ya, they were brightened with a tart citrus vinegar and finished with mitsuba (a wild Japanese parsley). To eat, you hold the barnacles by their "foot" (the shells are rock hard) and bite off the neck. Simply wonderful.
The salmon with torched tomato, smoked salt and an onion aioli was absolutely delicious but the least interesting dish of the evening. It lacked the fiery smokiness that it usually brings to the table. Normally it is one of the highlights of the meal but on this occasion is was just merely great.
The cured Arctic char arrives covered with a smoke-filled cloche. It is lifted to reveal little rolls of lightly smoked and cured char sitting atop a cumin aioli and dotted with sesame brittle. Brilliant.
Minty shiso leaves are battered and deep fried providing a delicious base for the charred tomato and grilled lobster.
The warm noodle soup is fantastically satisfying. The delicate somen noodles are paired with bits of rarely seen Japanese bigfin squid. The onsen egg, which gets its name from the hot springs were the eggs were traditionally cooked, is prepared in a warm sous vide bath for 45 minutes and results in a creamy almost custardy texture that elevates the stunning and slightly fiery anchovy and yuzu kosho broth.
Frank Bruni said the mushroom sashimi was the "best dish on the menu — maybe the best dish of my entire journey" and while I respectfully disagree and give the honors to the banana pepper mousse, I would concur that the combination of the Shiitake and Hedgehog mushrooms, rosemary, garlic, soy and sesame froth is a lovely burst of umami.
The chicken wine ballotine is work of art. A tea-brined deboned chicken wing is stuffed with a mousse of chicken, shiitake and napa cabbage. It is cooked to crispy perfection and paired with a housemade kimchee.
Our final dish of the evening was a seared Petit A5 strip loin. A5 wagyu is the highest grade available and this perfect specimen is served with potato confit and flaked with sea salt.
O Ya continues to be a complete delight and one of my favorite dining spots anywhere in the world. That I can call it one of my neighborhood joints is just pure bonus. If you find yourself in Boston, find a way to experience the pleasure that is a meal at O Ya.
O YA
9 East St,
Boston, MA 02111
Phone:(617) 654-9900
Website: http://o-ya.restaurant/o-ya-boston/