We have been coming to St. Barts for over 20 years and have seen lots of changes along the way. Some things on St. Barts, however, are constants. The ocean at Saline after a run in the morning is my happy place. I really do not need much more on St. Barts than a good book, a nice breeze and a view of the water (with a glass of champagne by my side of course). Over the years the restaurant scene on the island has undergone a lot of changes as well and our favorite places have varied from visit to visit. Some years Francois Plantation would vie with Sapotillier for the top honors. Sand Bar, in its glory, was hard to beat. Was any place more fun than the early days of Andy's Hideaway? We had one perfect meal at Gaiac that we were never able to replicate. Jean Claude's L'Esprit in January channeled a lot of the good memories. This trip? The meal that completely hit it out of the park was Maya's. Perfect setting, charming hosts, delicious food and outstanding wine – everything that is wonderful about St. Barts came together for a truly enchanted evening.
Everyone knows Maya's restaurant. Randy and Maya Gurley have been running this island institution in the same spot since 1984. The concept is quite straightforward – fresh ingredients prepared simply with a light hand. It was one of the first restaurants on the island to find inspiration from caribbean and creole cooking as opposed to looking to France for direction. As such, there is, and always has been, a small, rotating menu of appetizers, salads and main courses. Although we are serious Maya's-To-Go groupies (during our last visit one dinner, all but two lunches and most breakfasts were, in large part, from M-T-G), we had not been to Maya's for quite some time for whatever reason. Lucky for us, we rectified that situation in April.
We were seated by the justifiably adored Dora at a beautiful table by the railing with views of gently bobbing boats. Champagne was ordered and our server walked us through the small menu. Randy arrived to provide some much needed wine advice as we were seeking to duplicate an ethereal bottle of Gevrey Chambertin we had at Maya's years earlier. Randy's recommendation of a 2010 Henri de Villamont Corton Les Renardes Grand Cru was spot on.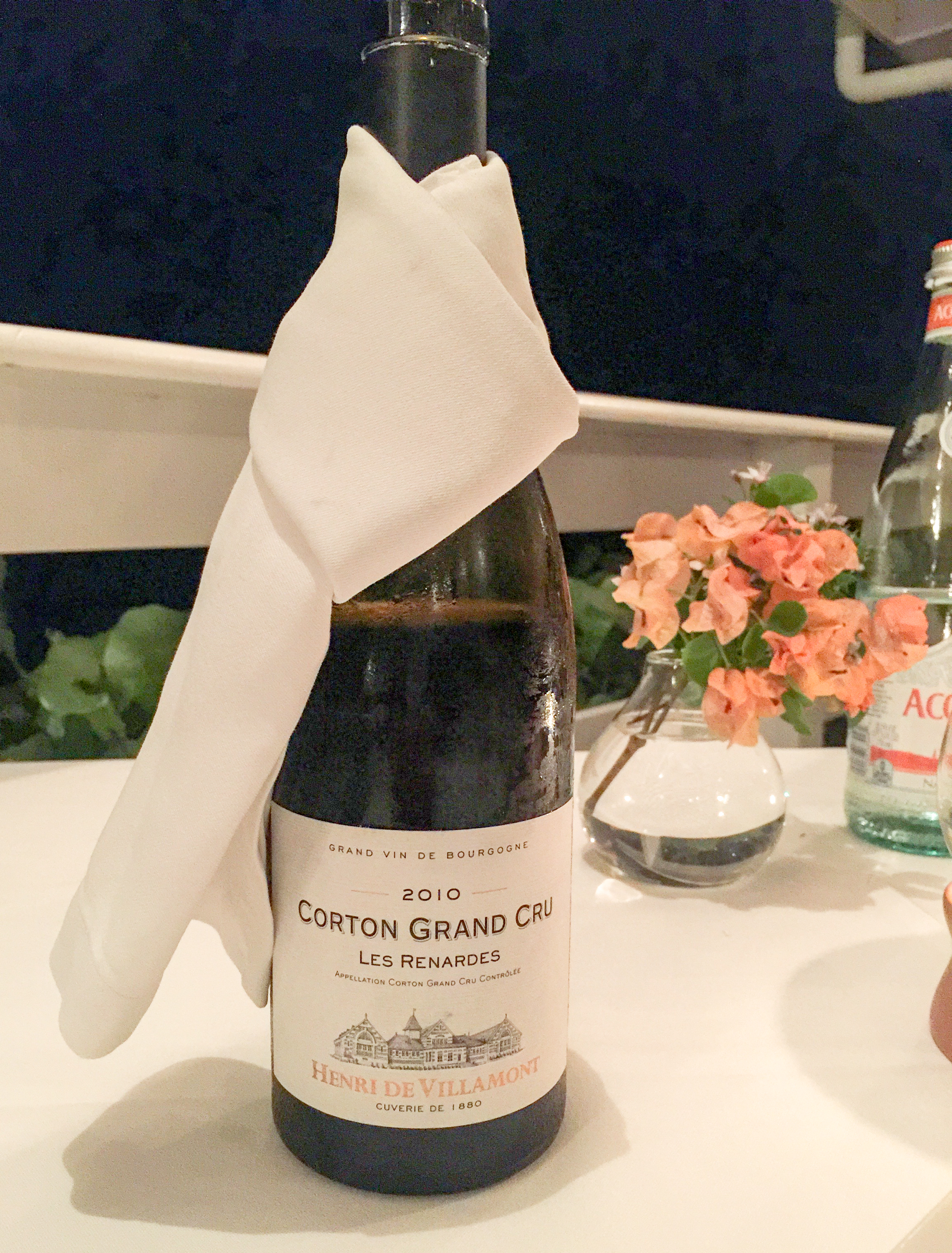 When he brought the wine over a few minutes later he quickly apologized as he noticed we were still drinking our champagne. He said his enthusiasm for the wine got the better of him. Obviously no apologies were required but what struck us was just how excited he was about not only the the wine but also the menu as he described what he was loving that night. It was interesting to see just how hard Randy worked (without making it look like work of course) to inject such a personal touch throughout the dining room. He has been at this since 1984 folks! This is to be contrasted with our days in the restaurant business. A few years after we opened our restaurant, Bob was out back in the gardens with our dog Max and a bike rider wandered on the restaurant property looking for information. Max, not quite a year old, barked at him. The bike rider yelled for Bob to "please call off your dog." Bob response? "He's a golden retriever and you're trespassing!" Although we must confess to being of the school of thought that golden retrievers can do no wrong, when you accuse potential customers of trespassing you know you are pretty much in the wrong business. Randy, on the other hand, is a complete natural and is still bringing the same energy and charm as he did when we first ate at Maya's years ago.
Randy recommended the fino tartare and the king crab. Fino is a local fish that bears a resemblance to saba or Spanish mackerel. It was silky and dressed with a light asian vinaigrette. The king crab was paired with ripe avocado and brightened with a flash of lime, jalepeno and thai chilis. Both were delicious.
Since Maya's opened, it has been the tradition that all of the entrees are served with the same three sides. The sides vary from night to night. On this particular evening, grilled plantains, basmati rice and haricot verts accompanied our chosen entrees. Dourade (mahi mahi) kebobs were perfectly grilled and garnished with a curried yogurt. Grilled chicken thighs brought the flavor with a coconut, lemongrass, garlic and chili sauce.
It is a rare occasion for us to order dessert but Bob was charmed by the description of the locally made Corossol ice cream which was served with the traditional West Indian orange cake. A perfect end before we bid good night to Randy and Maya.
As the years pass, we find that it is the small, enduring things about St. Barts that really draw us back. The vistas as you come around a sharp corner, the sounds of the doves, the charm of the people, the quality of the light and the small planes buzzing over the island to just name a few. Old age? Wisdom? Do I care? I know what I like. And I really like Maya's.