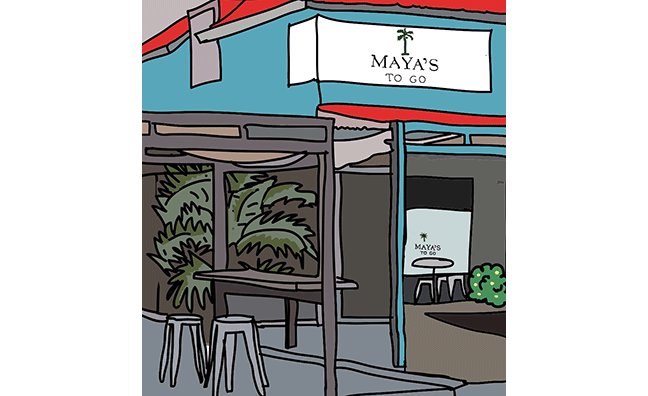 Eating at the villa is one of our favorite dining options on St. Barts.  When you are staying in a nice place with a great view (check!), have a nice outdoor dining table (check!) and total peace and quiet (ok – only two out of three this trip), it makes sense to enjoy the place you decided to hang your hat when on the island by eating some of your meals at home with a cold Carib and a nice bottle of wine.
Some folks love to COOK on St. Barts.  I am not one of them.  I like to EAT on St. Barts so I will happily leave the cooking to someone else.  Enter Maya's To Go.
A little package of goodness
Maya's To Go offers an eclectic selection of takeout that, for the most part, changes daily.  What I particularly love about it is  how you can get just a small amount of so many different tastes – braised fennel, roasted plantains, octopus salad, grilled eggplant, pickled zucchini, creole shrimp, roasted beef tenderloin, cranberry tabbouli, eggplant caviar, sweet pepper and arugula salad, tomatoes and burrata, glazed mushrooms, haricot verts, house made charcuterie and grilled mahi mahi are just some of the delicious tastes we experienced this trip.
The morning after a perfect first lunch on our travel day from Maya's To Go we realized the brilliance in incorporating the leftovers into breakfast!
Food this good demands a worthy wine(s).  One of the best places to wine shop on St. Barts is Le Cellier du Gouverneur in Gustavia.  They steered us towards a lovely Rousseau Gevrey-Chambertain and we were delighted to find a 2004 Dom Ruinart Blanc de Blancs (we had a wonderful time touring Ruinart this past fall  – described here – but have a very difficult time finding their vintage offerings in the U.S.).
Can't recommend it enough!