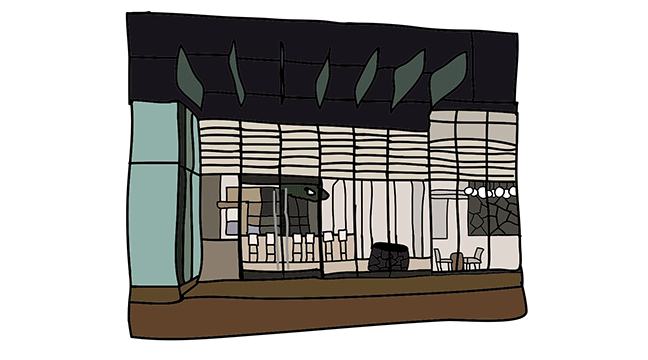 Cafe ArtScience has been on our radar screen since it opened a little over a year ago.  It is the offspring of Le Laboratoire in Paris which is the gallery and cafe that Harvard professor (and millionaire startup seller) David Edwards opened in Paris.  More recently Edwards opened a Le Laboratoire in Cambridge. Here, art, science and food all come together in unique (sometimes wacky) ways. My big fear and what kept me from going to Cafe ArtScience was, quite simple, molecular gastronomy.  I am not a fan.  I'll confess that back in my chef days I was known to occasionally dabble in the dark world of molecular manipulation (I did a shoot for Art Culinaire and I swear pretty much every dish had some sort of funky chemical in it  – not my proudest moment).  My least favorite meal of all time was at Alinea in Chicago.  It was so pretentious and gimmicky.  It actually made me feel depressed to be in the culinary world.  However, my fears were totally unjustified in this case as the food at Cafe ArtScience is gimmick free — and it's just terrific.
The restaurant is located in Kendall Square right near the new Genzyme building.  Right now the area is dressed for the holidays with twinkling white lights and a skating rink out front with skate rentals available.  A pre-dinner skate?  Highly recommend!
The interior is cool industrial with high ceilings, interesting light fixtures, a long bar and very comfortable seating in the dining room.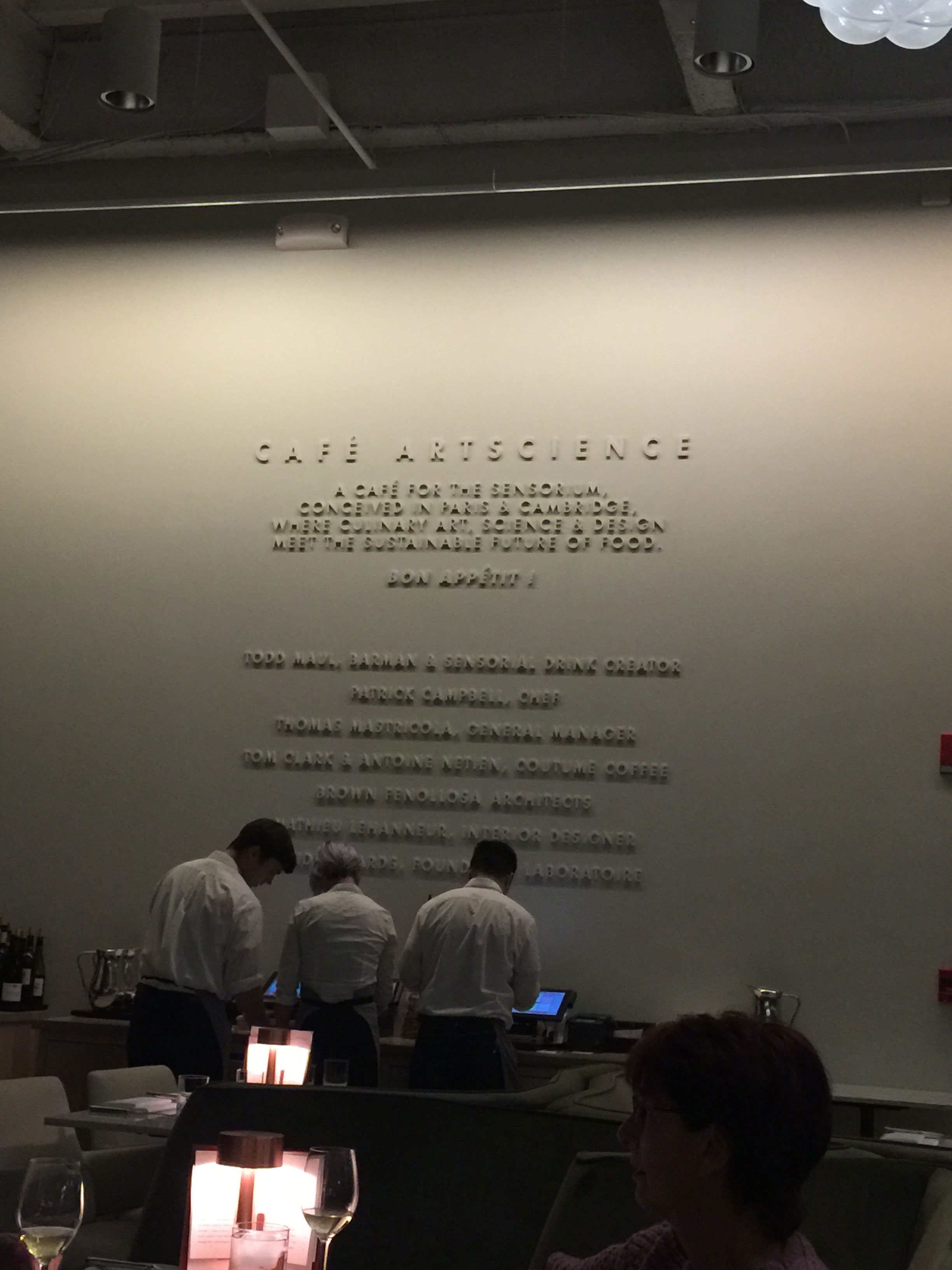 We decided to arrive a little early and have a drink at the bar.  This I highly also recommend.  These are some of the hardest working bartenders in the greater Boston area.  The drinks are elaborate but so well balanced.  We tried the Smoked Cocoa Nip Negroni with beefeater gin, cocoa nib infused carpano, and campari.  Very smooth.  The Scorched Earth was burnt lime tequila, grand classico, creole shrub and topped with a burnt strawberry that gave off this unreal aroma when you took a sip. The large ice cubes are cracked by hand with a hammer (bartender said he had nailed his thumb many times) and the smell of the place from the torching was just awesome.
After enjoying our drinks we moved over to our table.  Immediately you notice that the servers are in calm, constant motion.  Thomas Mastricola, who overseas the front of the house, was greeting guests but also straightening bar stools as soon as people got up .  It is these small details that add up to a great experience.
We started with an amuse of crispy chickpea fritters with chili chevre.  I could have eaten an entire plate of these.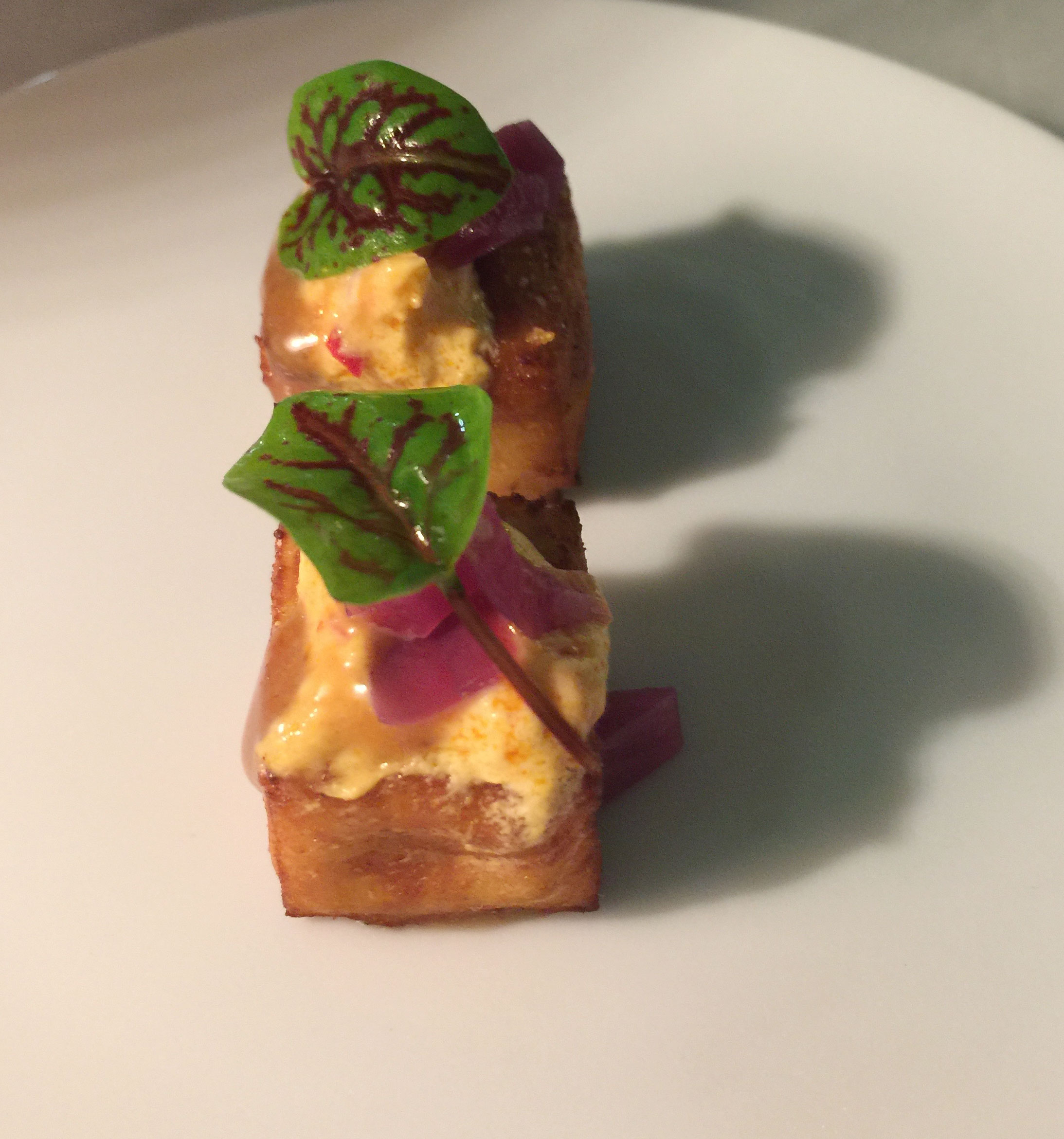 Our wine for the evening was a Prioriot.  The torched strawberry in the pre-dinner drink was a fairly intense flavor and aroma and the Prioriot was a nice complement.  A more subtle wine might have gotten lost in the shuffle.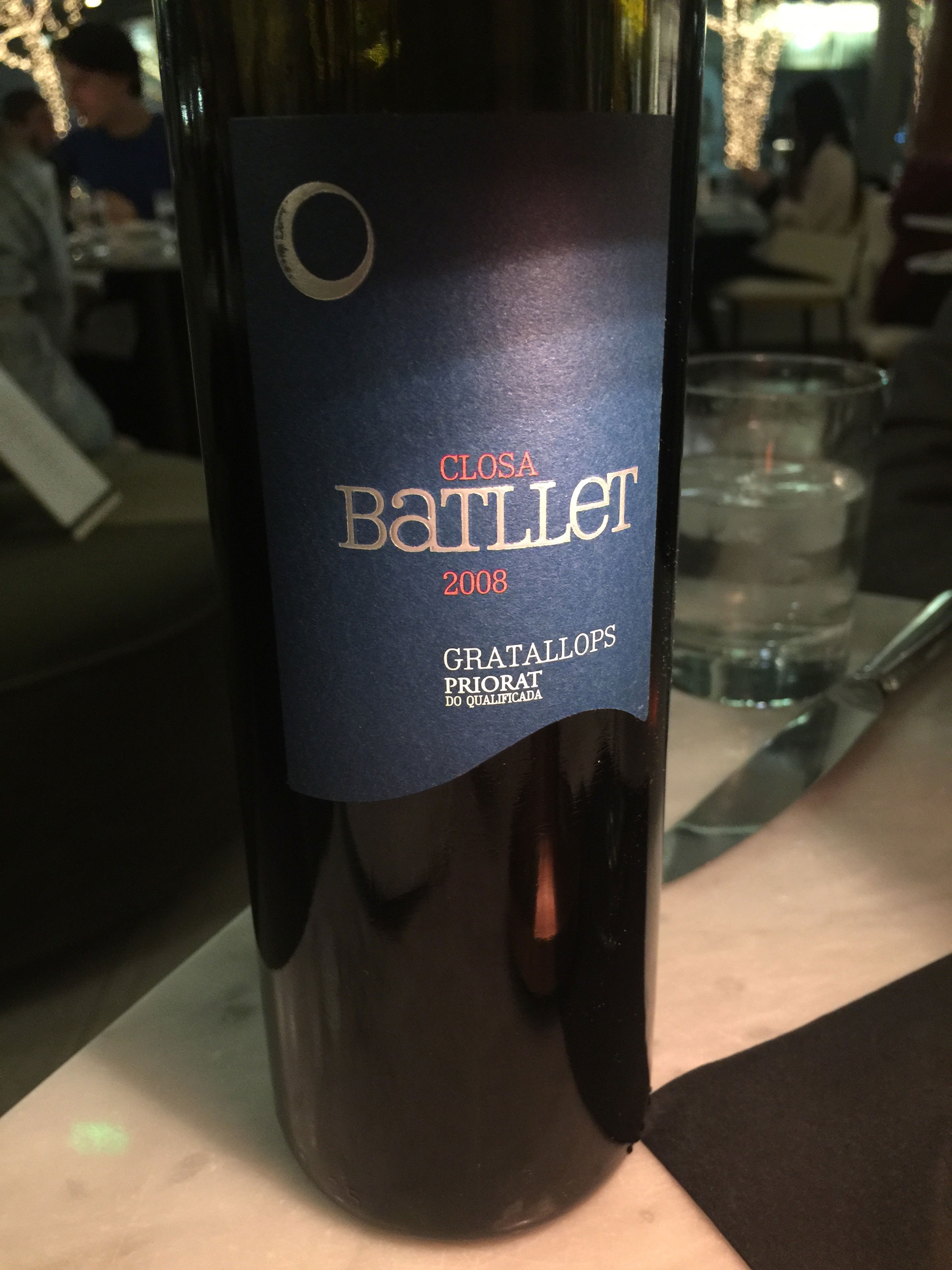 The hamachi starter was a special that night.  Sashimi style hamachi with harassi and blood orange vinaigrette topped with pistachios and micro greens.  The fish was sushi grade and the flavors of the dish were a perfect balance of acid, sweetness and heat.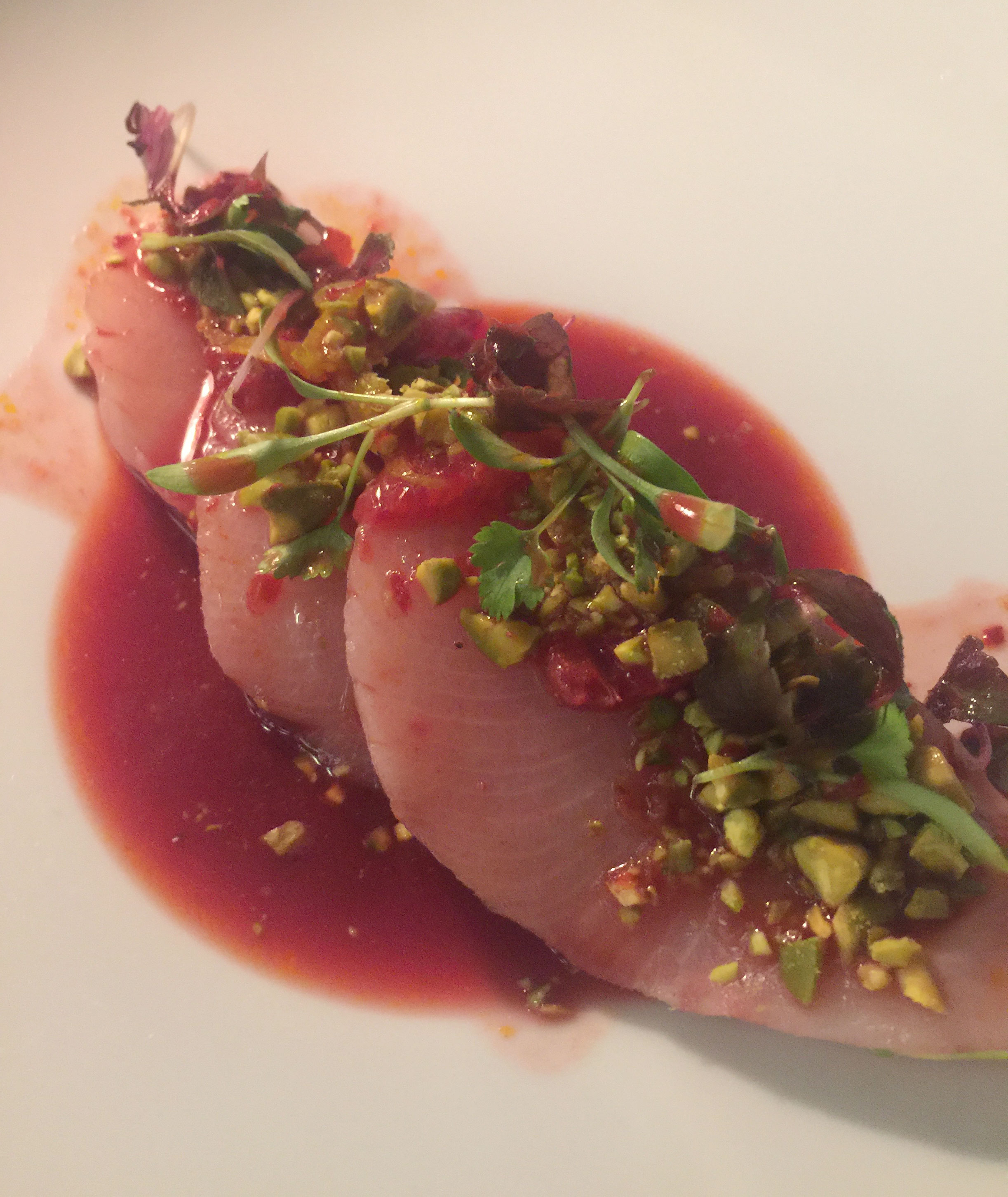 The beef tartare was an example of excellent knife skills and was topped with a truffle and apple salad.  A puree of mushrooms accompanied the dish as did excellent housemade potato chips.  Although the truffle flavor did not really come though, it was one of the best tartares I've had anywhere.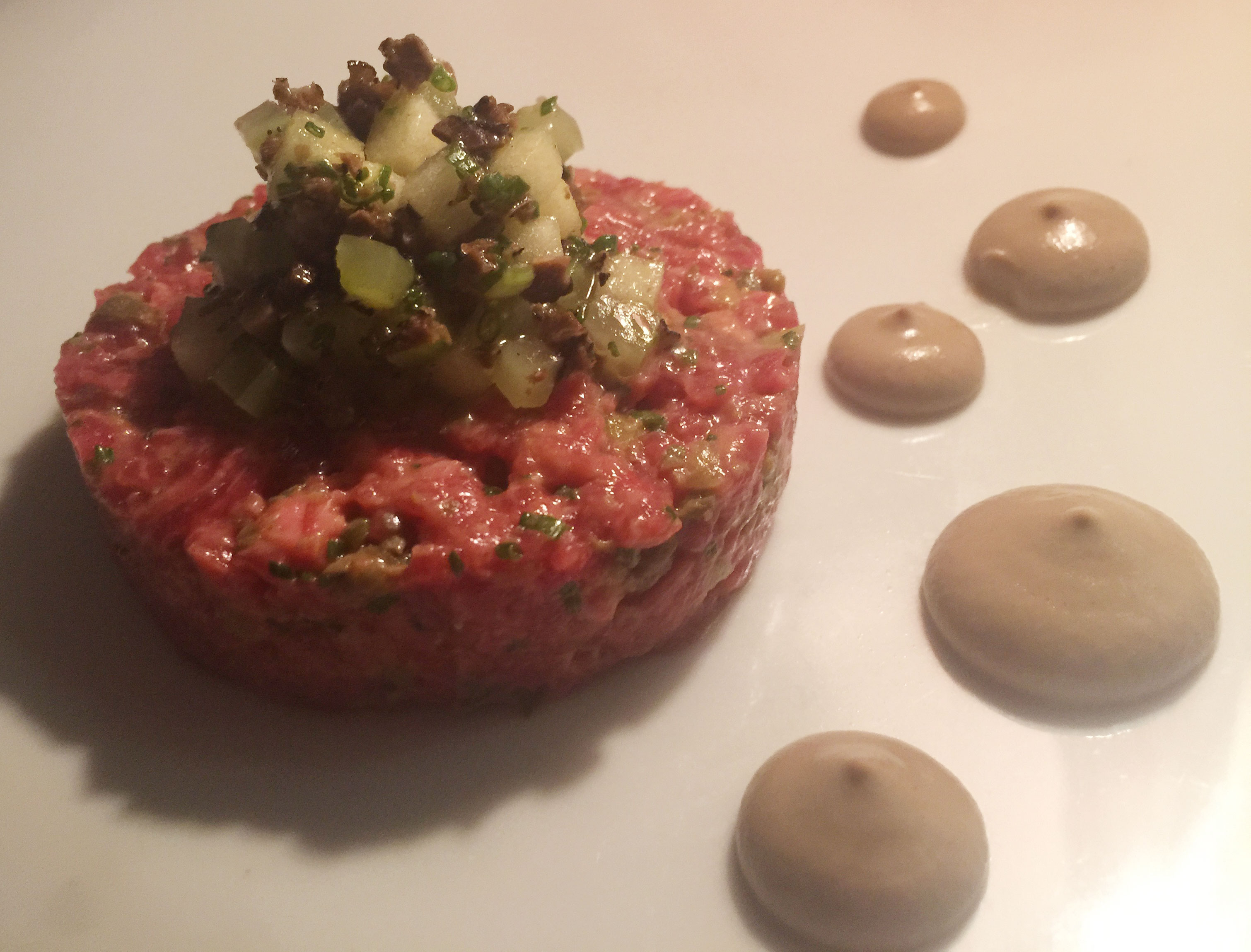 We shared the fried green tomatoes as a middle course.  We had recently had some excellent fried green tomatoes at the awesome Dinosaur Bar-B-Que in Syracuse but I have to give these guys the edge.  When the waiter delivered the plate he said he wanted to kiss both Bob and myself for both ordering his favorite wine and his favorite dish.  These tomatoes were pickled before being fried which resulted in a wonderful balance of acid and richness.  The dressing on the chicory greens was, as explained by our waiter in fantastic detail when we asked, made with creme fraiche which was infused with some of the pickling juice which was then emulsified with olive oil, ginger, salt, pepper and soy to bind it all together.  The greens were topped with puffed pork skin.  Just terrific.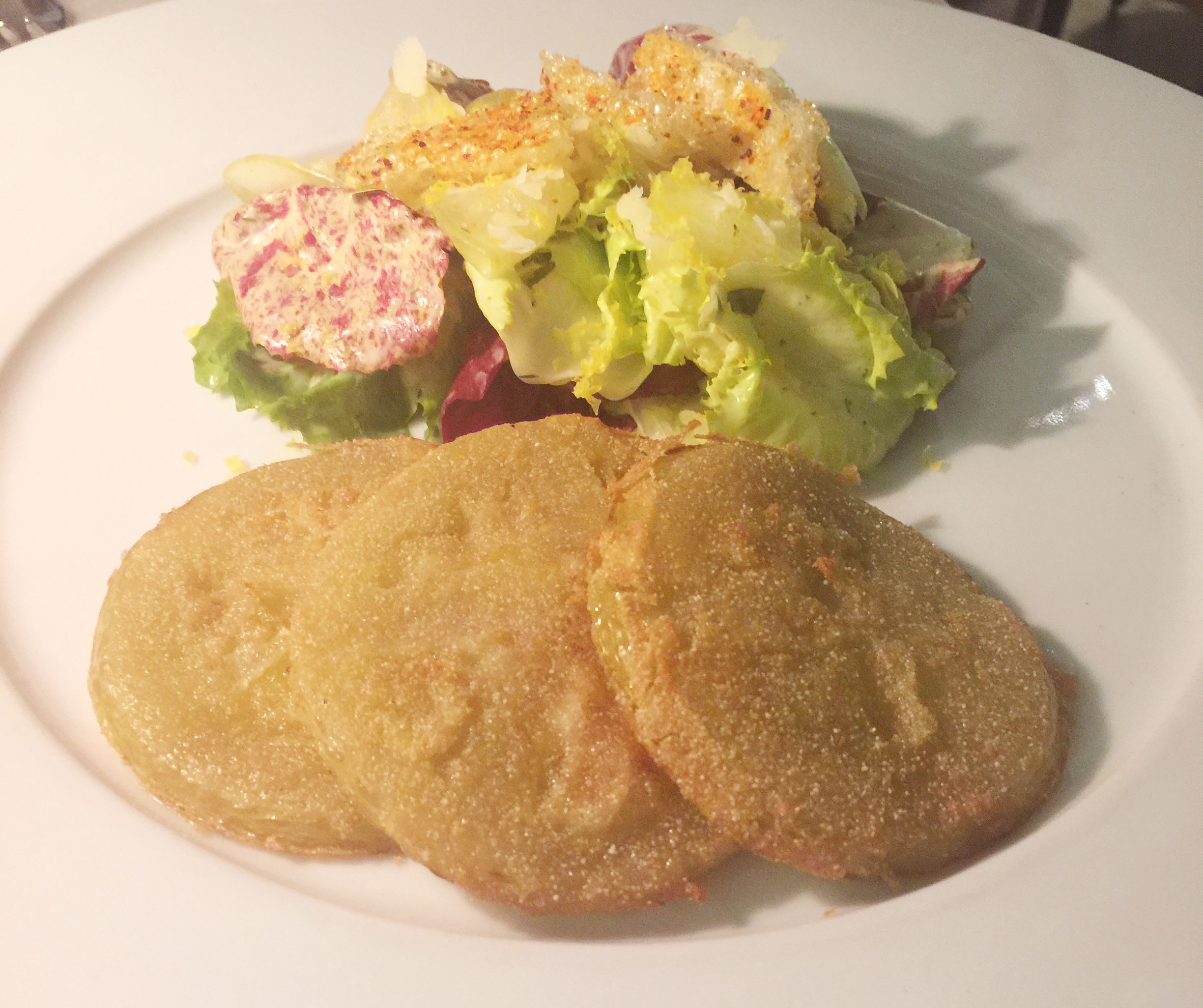 The venison leg was cooked in hay and served a medium rare.  It was wonderful but the boudin noir was the star of the plate.  The dish was finished with mushrooms, braised red cabbage and crosnes which taste a lot like water chestnuts – crunchy and bright.  This dish, like the hamachi dish, was sauced table side.
The final plate of the evening was a generous portion of octopus.  It had a great char on it but was not quite tender enough.  It was served with sautéed grape leaves, a burnt onion puree and roasted sweet potatoes.  It was the dish I was most looking forward to but was my least favorite.
Not to worry though that our meal might end on a slightly down note because as our waitress brought over the dessert menus she first warned us that the first item on the menu – the Délice de Bourgogne  – was in fact a cheese.  She had us at cheese!  Especially a cheese as amazing as this one.  It was served with a housemade jam, marcona almonds, and honeycomb.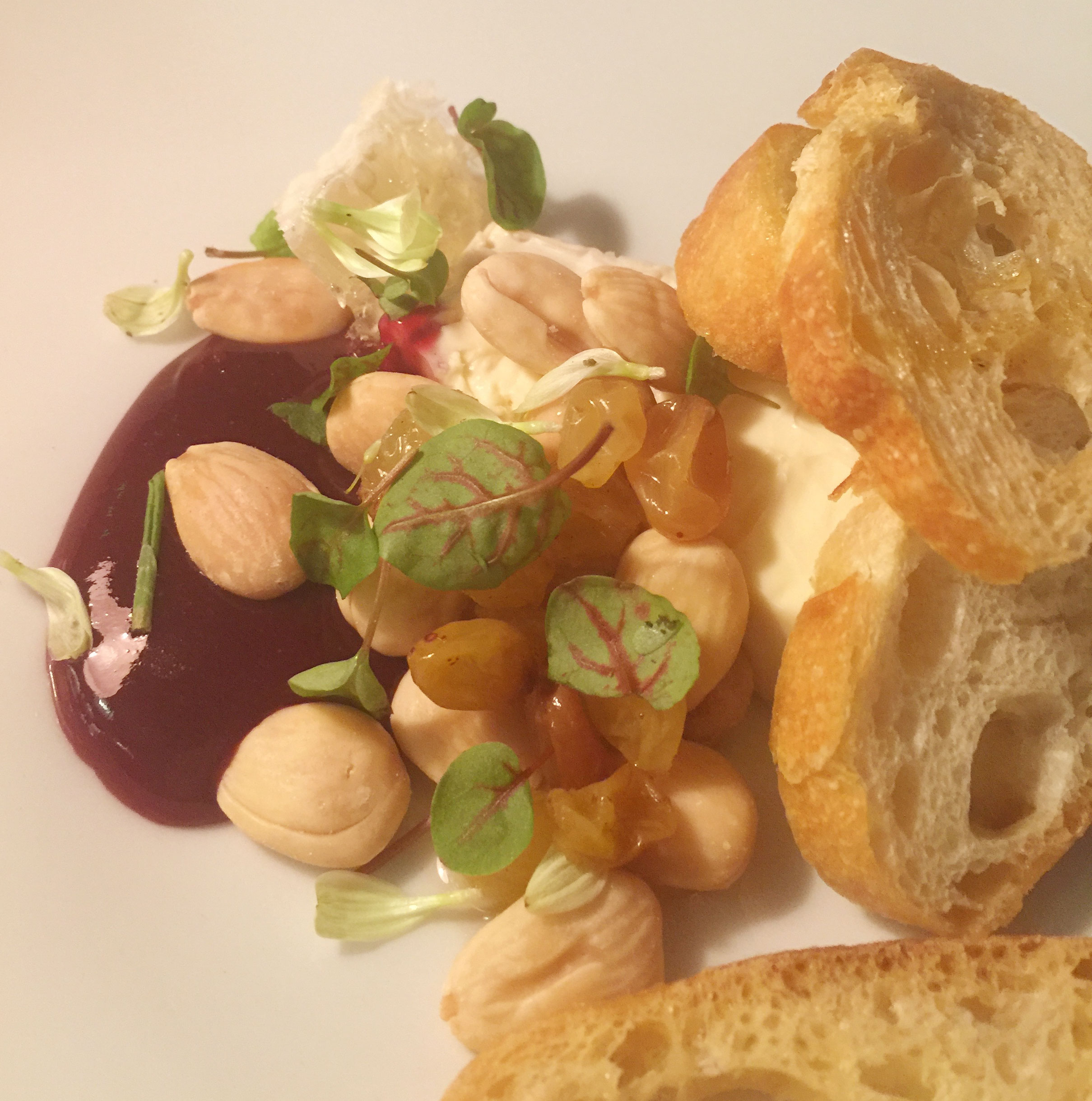 Our bartender Simone, when he heard how much we liked the burnt strawberry aroma, said we had to try it in a drink with roasted red pepper.  This after dinner drink is known as Tim's baby – vodka, roasted red pepper, burnt strawberries and champagne.  The perfect end to a near perfect meal.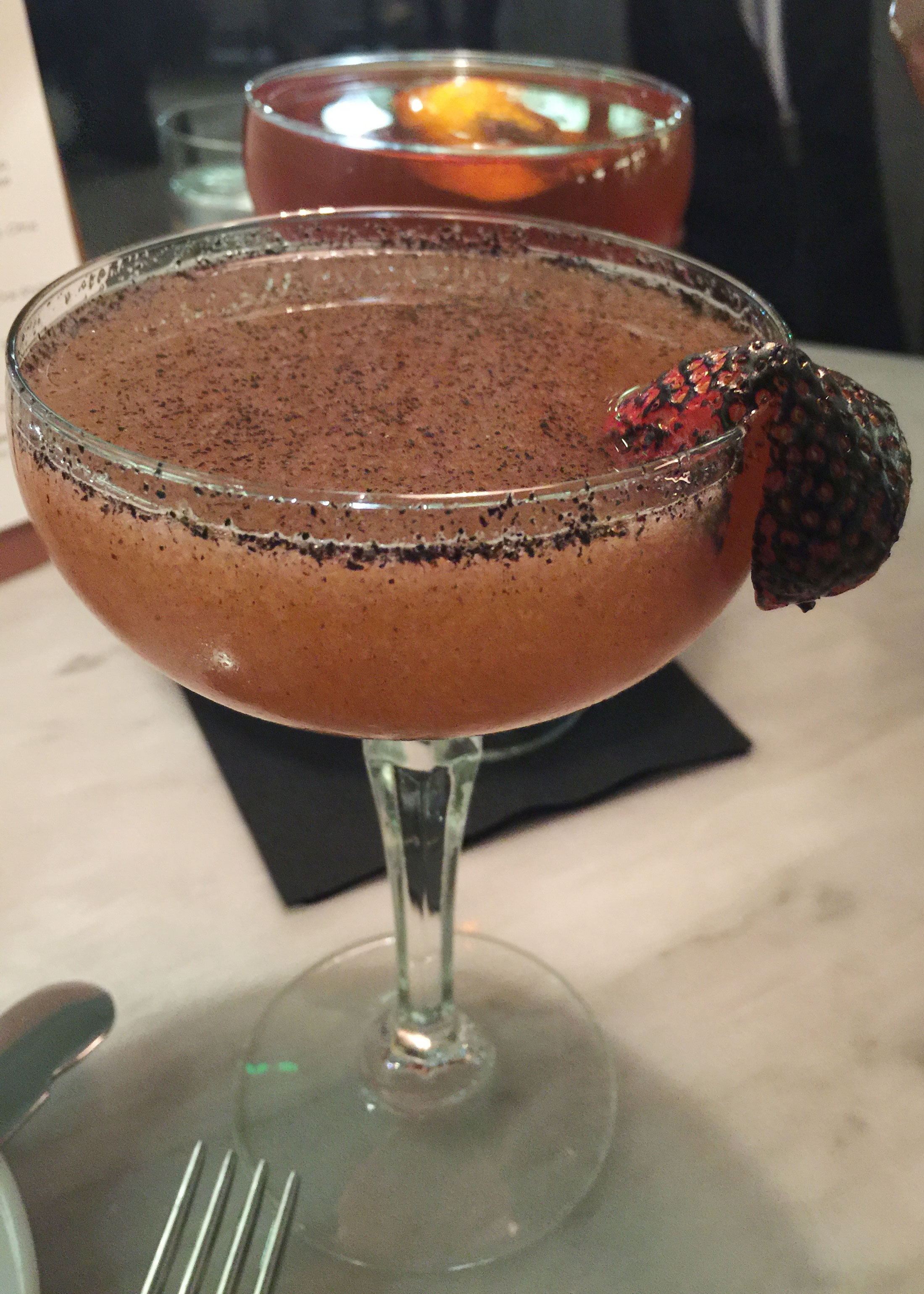 Cafe ArtScience
650 E Kendall Street
Cambridge, MA 0214
(857) 999-2193
Reservations – http://www.cafeartscience.com/#!reservations/cpzt