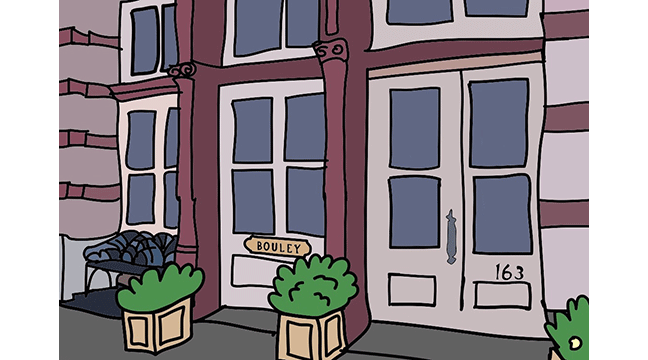 The first time we dined at Bouley was almost 20 years ago on Saturday May 11, 1996.  No – it was not so wonderful that the date is seared in my mind forever.  Rather, we saw Rent on Broadway that night (it had not even been open for two weeks at this point.)  Jonathan Larson's rock musical was a super hot ticket back then and Bouley was equally in demand.  Rent, with its original cast, was bursting with energy and talent (Idina Menzel we knew you when!) and dinner at Bouley was fun, exciting and very keeping with the times.
Fast forward a few years and we stop by Bouley Bakery for "maybe a sandwich and a bowl of soup?"  Several amuses, seven courses, a gorgeous white burgundy and a gooey cheese plate later we stumble on the street possibly changed forever.   It was the first tasting menu we had ever experienced that did not take place on New Years Eve where the kitchen was way out of its element.  It was pure decadence in the middle of the day for no reason whatsoever.  We thought we were popping into a casual sandwich shop and ended up having the most memorable dining experience in our relatively young lives.
Keep fast forwarding and we are making every effort to recreate that experience but Chef Bouley would make it a challenge.  Bouley Bakery would close, Danuabe would open, Bouley would move, Secession and Upstairs would follow and on and on.  We tried a number of his follow up restaurants but ultimately got our heads turned by other seemingly more focused and interesting places in New York.  But I'll admit that our Bouley Bakery meal, after all these years, has always held a very special place in my memory bank and rumblings on the street were suggesting that Bouley might be back.
Lunch at Bouley is a relative bargain.  There is an expensive a la carte menu but the 5 course lunch tasting menu is $55 with a number of choices for each course.  So we headed back to Bouley for lunch recently.  Despite our best intentions, our trip did not get off to an auspicious start.  We arrived into New York by train and thought we might beat the weather but, just blocks from the restaurant, the heavens opened up.  The cab driver was befuddled by the one way streets and could only get us so close.  We jump out and whip open our umbrella only to be nearly knocked to the ground by the swirling wind.  The trunk to the cab is jammed and we and the cab driver spend ten minutes trying to free our luggage.  We arrive at the restaurant doing our very best impersonation of the Griswalds.  Soaking wet, hair and makeup a complete fright, we are lugging suitcases and broken umbrellas.  We are sweetly greeted and brought to the downstairs dining room which, as our lunch would progress, became increasingly obvious that it is the place where they put the people who do not want to have a good time (and people who are soaking wet).  But, however disheveled we may have appeared, we were determined that a good time was to be had.
A quick visit to the powder room and a couple of glasses of Etienne Calsac Extra Brut start to make us feel slightly more glamorous as do the amuses that accompany the champagne.  Cream filled truffled gougeres, a crisp bite with potato mousse and caviar,  and a cool citrusy soup get the party started.
The fun continues with Hawaiian Hiramasa and Nantucket Blue Fin sparkling under unexpected dollops of caviar and brightened with a Meyer lemon, passion fruit and verbena vinaigrette.  Malibu sea urchin and house made soy flan (think the most delicious tofu ever) was served in the uni shell and floated in a lime broth and was topped with Osetra caviar.
A 2010 Gevrey-Chambertin Symphonie follows the champagne and the "Chariot de Pain" is wheeled over to us. The chariot carries at least ten different breads, you have your pick of the lot and they are sliced to order.  A table near us, who spent the entire meal texting and not speaking to one another, asked for one of each.  Their bread plates were comically piled nearly a foot high.  I guess everyone has a different definition of fun. We tried a few and, although the bread was fine and the variety was novel, this was not bread worthy of a "chariot."  Less would have been more in this case.
The next few dishes that followed hit some high notes such as a dish of wild mushrooms with grilled toro, sweet garlic, and a black truffle dressing.  It was earthy, warm and satisfying.  The chicken "En Cocotte" was baked on alfalfa and clover hay.  It was tender, juicy perfection.  A Mediterranean rouget did not soar quite as dramtically as it was ever so slightly over cooked and was weighed down a bit with sun dried tomatoes and olives.   The kobe style beef cheeks were braised and, while tasty, the flavor was hardly original.  The blue kale gnocchi they were sitting on was, however, a real winner.
The chef sent us each out a complementary dish which was a Connecticut egg and Comte cheese cloud with shaved black truffle.  Was this an apology for the basement seating?  Does not matter – it was great.
Two delicious palate cleansers were next.  Chilled coconut soup with pineapple granite, exotic ten fruit sorbet. passion fruit and amaretto ice cream and a cranberry-hibiscus gelato with a grape sorbet.
Being a cheese lover I was happy that the cheese was worthy of its "chariot" status.
The other dessert of choice was a caramelized Anjou pear in a hot toffee sauce. The chocolate souffle had coffee ice cream and chocolate mousse and was another gift (apology?) from the kitchen.  Were they good?  Decidedly so although I could only summon a tiny bite at this point (had pretty much polished off the cheese).
The final treats of the afternoon.  We admired their beauty but did not dent the tray.
Overall it was a lovely experience.  The service was gracious and well-timed and the extra dishes were appreciated.  But, let's be honest, the downstairs dining room was a bit of a buzz kill.  In part because no one down there seemed to be having a good time.  Chicken or egg?  I am not sure.  Bouley is a very nice restaurant but we, once again, could not recreate the magic of that lunch so many years ago .