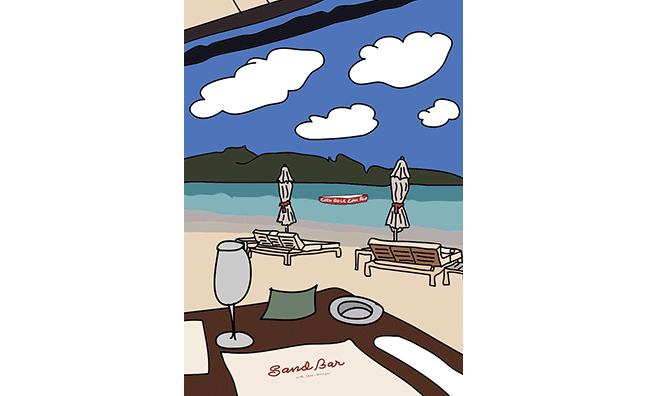 The last lunch of the trip.  While walking on Saline that morning we made a command decision that were we going to give The Hideaway the honors.  In fairness, we were never a big fan of the Hideaway for lunch back when it was possibly our favorite place on the island and we just called it Andy's.  The tall Englishman was rarely there during the day and, as such, a certain je ne sai quoi was missing from the experience.  We always liked Hafida, though, and felt like we would be missing out if we did not stop in and see what the latest incarnation was up too.
We arrived without a reservation around 1:15.  The patrons were almost all locals save an American dining alone.  There was a large table that was clearly wrapping up as desserts were making their way to their table while we waited in the front.  There was no sign of Hafida or anyone else who appeared to be seating guests.  After an awkwardly long time standing in the doorway, we took a seat and continued to wait.  Maybe 15 minutes later a server and/or manager came to our table.
"What do you want to eat?"
"Is there a menu," we asked.  Hand gesture toward the special of the day.  Might have been lasagna.
"Is that it?"  Eye roll.  A chalkboard appears and he stands and waits.  We hesitantly order a couple of dishes.  He starts to walk away.
"Um, is there a wine list?"
"Red or white," he grunts.
"Red I guess."  Oh my, where is the big guy when you need him?  For that matter, where is Hafida when you need her?  Long story short, we try to get the waiter's attention a few times (the lone American recommends that we shout at him which was not how we envisioned this last lunch going).  Another 20 or so minutes pass and the only thing we have consumed is copious amounts of secondhand smoke as we and the lone America are the only people NOT smoking in the restaurant.  We have not seen the waiter, silverware, our wine or any sign that anyone is preparing food.  We call it and walk out.
When ever we are in situation that needs serious improving we always quote Liam Neesen's line from Love Actually when he is trying to help his stepson Sam who is suffering from the "total agony of being in love" feel better.  "We need Kate, and we need Leo. And we need them now."  After the agony of our botched experiment at the Hideaway "we need Jean-Georges and we need him now!"
We arrive at "Sand Bar with Jean-Georges" without a reservation.  Generally speaking I do not recommend this but we're talking a Kate/Leo situation.  Immediately one notices the little things.  A smiling host!  Menus!  A wine list!  We apologize for arriving unannounced and within a few minutes are seated at a gorgeous table overlooking the water.
How to get this day back on track?  Champagne of course.  A couple of glasses of Billecart-Salmon Blanc de Blancs are served with three different spiced nuts.
The tartare of the day is mahi mahi and it is on an avocado puree topped with radishes.  A soy broth is poured table side to finish off the dish.  I saw it coming and wanted to intervene because I find that the soy overpowers the dish a bit but when the service is as polished and charming as it is at Sand Bar I feel that you need to just step back and let them do their thing.  It is part of the show.
Cucumber and dill gazpacho with salmon ceviche was dotted with basil oil and was a special.  This (along with the champagne) would make the highlight reel.
I am a fan of the kale.  Sand Bar 's kale salad is topped with chilis and mint and garlic croutons and tossed with a parmesan vinaigrette.  Even Bob (not a lover of the kale) enjoyed.
If one is in a a Kate/Leo situation one might decide that spending 48€ on a pizza is a good idea.  This particular pie is topped with fontini and black truffle and garnished with frisee.  Full disclosure, we have ordered this in non-emergency situations and it was ethereal.  On this day, however,  the dough was a bit on the dense side and the pizza felt a little heavy.  The fontini-truffle combination, however, remained a winner.
Overall, a good save.  It goes without saying that the location and view are tremendous.  The service was everything you possibly hope for – knowledgable, attentive, and friendly.  The food and wine were quite enjoyable.  But was I completely satisfied?  I wasn't.  This issue?  I hate to say it but eating at Sand Bar feels like I am partaking in Jean-Georges Inc.  Don't get me wrong – Jean-Georges Vongerichten is a brilliant chef.  Some my favorite meals in my lifetime have been at Jean Georges in Columbus Circle in New York City.  We have celebrated birthdays, anniversaries and Tuesday afternoons overlooking Central Park.  We took our kitchen staff there to celebrate after a good run.  The man himself blurbed Paradise Found when we wrote it back in 2002.  I am a huge fan of his talents.  But Sand Bar is not "Brilliant Jean-George".  Sand Bar is "W Hotel Jean-George".
There is a saying that familiarity breeds contempt and, although my emotions by no means rose to the level of contempt, my familiarity with the food certainly dampened my enthusiasm.  The kale salad?  Ate the same thing at Jean-George's ABC Kitchen in New York.  How did I know the soy would over power the tartare?  Because I've had that dish when Jean-George's Market was briefly open in Boston at the W. Ditto the fontini and black truffle pizza.  It cost a lot less in Boston and you can also give it a try at Jean-George's restaurant in Shanghai.  Does the pretzel dusted calamari sound familiar?  The lobster salad with the champagne beurre blanc?  I had both at J&G Steakhouse in D.C. (also at the W) before it, like Market in Boston, closed.  At the end of the day, the food at Sand Bar unfortunately feels formulaic.  And this is a spot that used be nothing but heart and soul.  The former chef Jean Claude Dufour, when he interviewed with the owners of Eden Rock David and Jane Matthews, told them that their kitchen was a race car sitting in a garage and that he was the guy that was going to put it through its paces.   With Jean Claude at the helm the Sand Bar was arguably the finest restaurant on the island and with his innovative and precise cooking, Jean Claude made a name for himself at Eden Rock.  Jean-Georges, unfortunately, has merely lent his name.
The good news, however, is that the race car driver that put Sand Bar on the map is still pushing the petal to the medal at L'Esprit in Saline.  As you can probably guess, Jean Claude's amazing restaurant will be my next (and final) post from our recent time in St. Barts.  Coming soon . . .