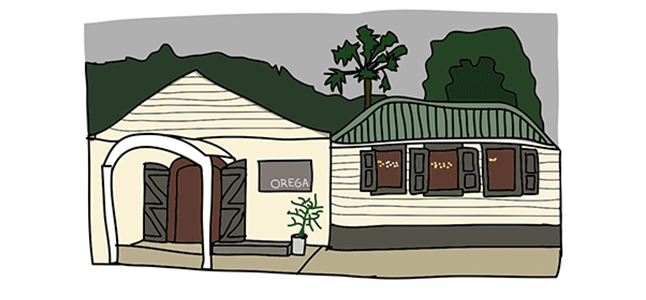 Le Sapotillier opened its doors on November 11, 1985 when I was still in high school and my idea of French cuisine consisted of the sad excuse for creme puffs I made for my French class.  A little over a decade later, Bob and I found the island of St. Barts and discovered Le Sapotillier and the restaurant quickly became one of our favorite places anywhere.  It was very traditional French food – frog's legs made with the best butter from France, pigeon stuffed with foie gras, duck confit, and light-as-air soufflés.  After a few visits, Adam Rajner, the owner, would flatter us by insisting that we have been dining with him for "What?  Ten years now?" "Something like that," we would reply semi-embarrassed as it was decidedly not true but secretly pleased that he mistakenly thought we such island regulars.
But things change and Le Sapotillier changed hands, changed names and changed concepts with some being more successful than others.  We gave them all a miss.  Until this trip.  The new kid on the block this year is Orega and it is in the building where all our good Le Sapotillier memories were made.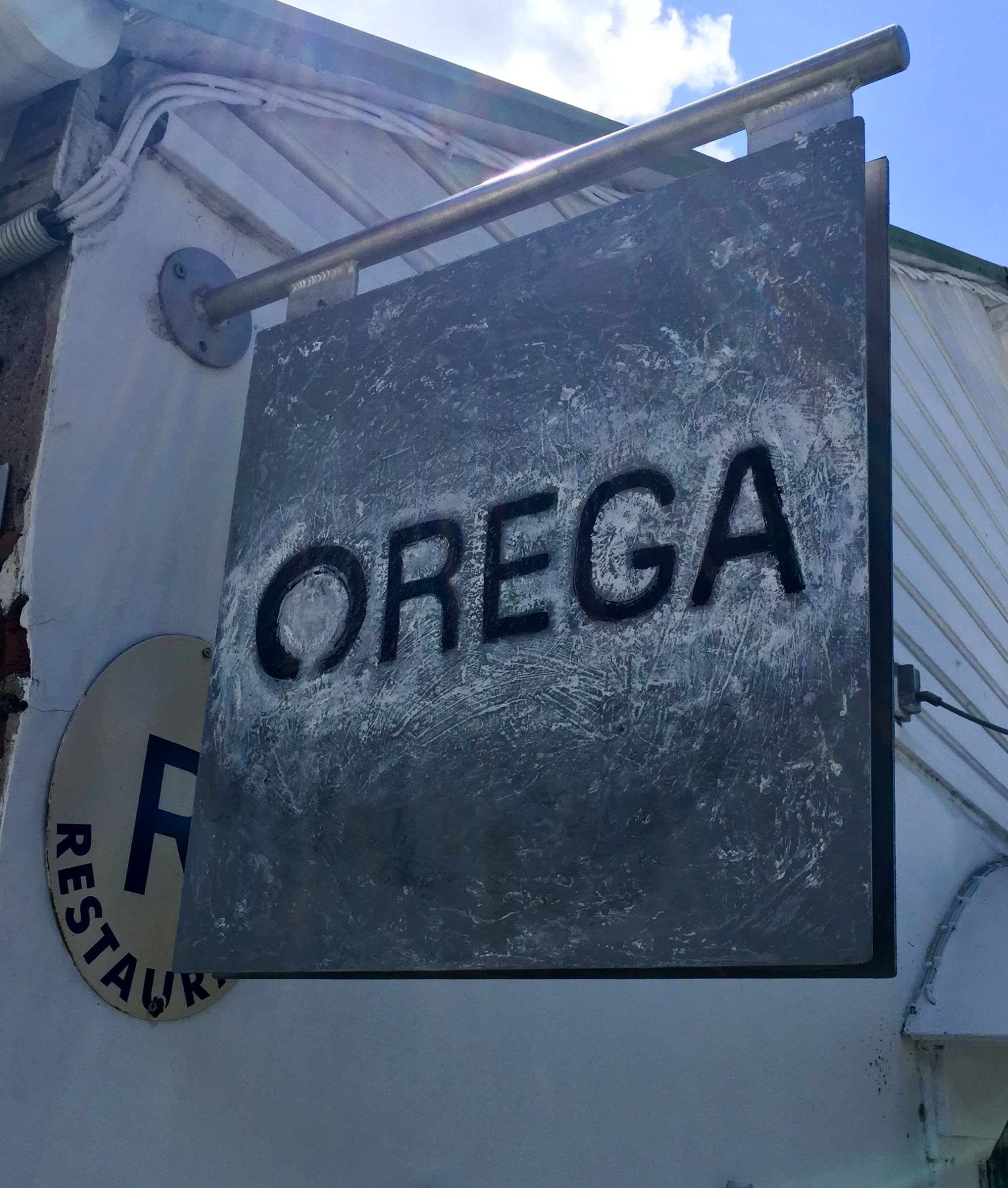 The space is gorgeous, warm and inviting.  You can dine in one of three rooms – the front room which has a sushi bar and a cocktail bar, the-open-to-the-stars main dining room or the elevated room overlooking Eddy's.  The tables and chairs are works of art.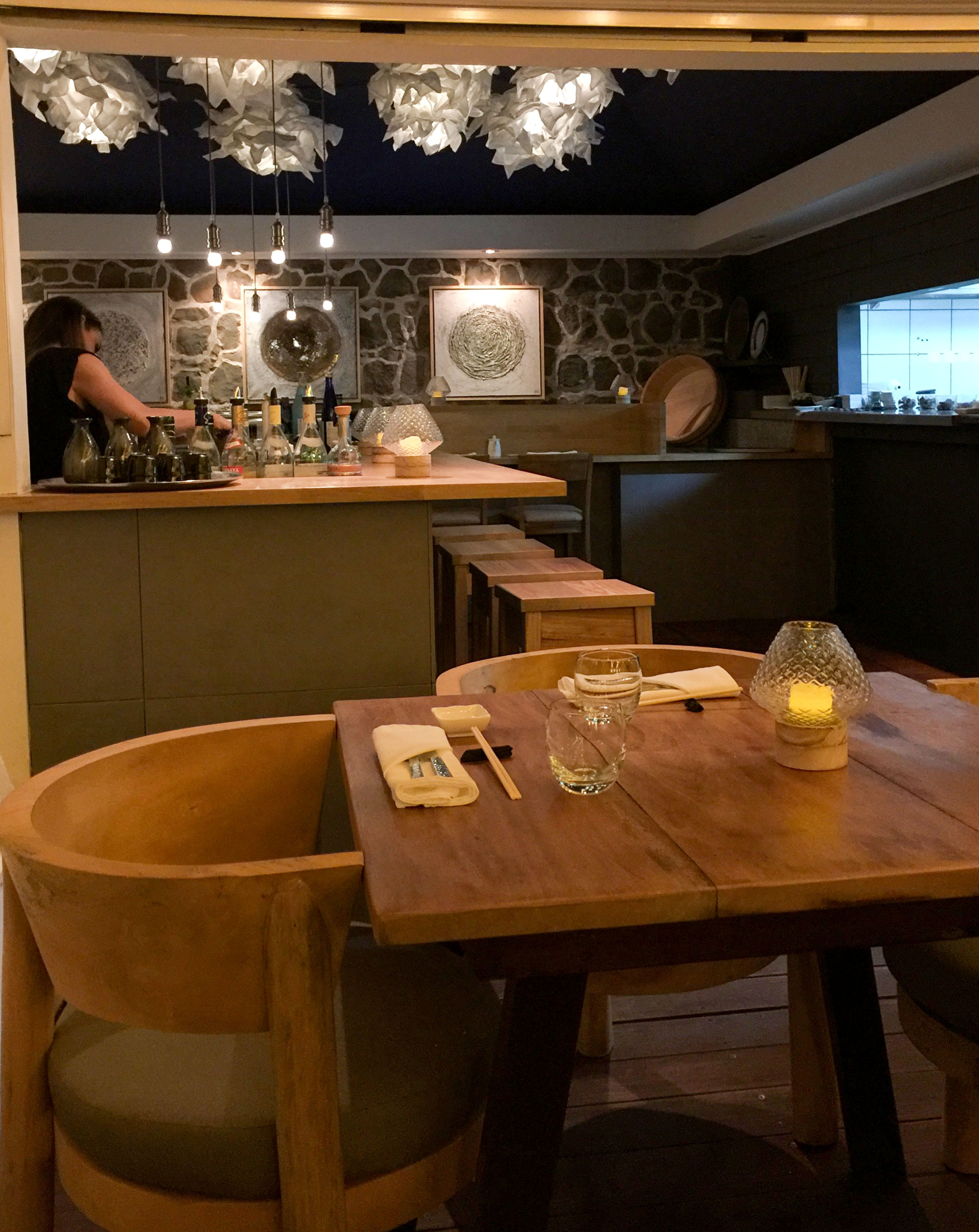 The menu is Japanese meets French which is something we saw a fair amount of on our last two trips to Paris.  I personally think it is a great fit for the island where a slightly lighter touch with the food is a welcome option.  Starters, for the most part, are in the 8€ to 25€ range and entrees are around 30€ – 45€.  There is also a selection of maki and sashimi.
Service was thoughtful and attentive.  Bob instantly recognized our waiter from his days at Wall House and then later as a partner of Franck's at Le Carre.  The owner was checking on each table to make sure everything was perfect.  We had a party of big spenders at the table next to us.  They told the waiter to have the chef bring them whatever he wanted and consumed many a bottle of champagne and wine.  Did our service suffer as a result?  To the contrary.  The owner and servers buzzed about making sure everyone was well cared for and had everything they needed all the while giving guests space to just relax and enjoy the experience.
Each meal begins with an amuse.  On one evening it was a turnip velouté with soy and wagyu jus and, on a second visit because they knew we had already been there that week, the chef prepared a different amuse which was a delicious sweet potato broth.
Our first meal was early into the trip so we (me) kept it pretty light.  I had the "Organic Bouquet" which was a shaved raw vegetable salad with a spirulina vinaigrette on the side.  For those unfamiliar with spirulina it is basically an blue algae that has a nice earthiness to it (and it is loaded with nutrition by the way).  They paired the spirulina with lots of citrus.   Combined with the raw vegetables it was basically one of the most delicious, healthy things one can eat.
Bob was not feeling the need to be quite as virtuous and choose the Wagyu Gyoza which were perfect little dumplings filled with braised wagyu and mushrooms and topped with crispy bonito.
One another night our excellent starters were Ebi and Mango wraps and a Kova Roll.  The soy paper wrap was filled with shrimp, mango, lettuce, salmon roe, and cucumber.  The maki (Kova) was lobster, salmon and avocado.  Both were terrific.
The first night we shared the sashimi plate.  It was beautifully presented selection of delicious raw fish.  As I mentioned above, the table next to us were pretty much eating everything on the menu so we got to see the non-sushi offerings as well.  Spoiler alert – they looked terrific and we knew we would be back to try them first hand.
And back we were a few nights later.  The New Zealand lamb with eggplant caviar and sweet potatoes was one of the best dishes of the trip as was the Mahi Mahi on a wasabi pesto with parsnip puree.  It was great to see a place that rocks the sushi do more conventional dishes with such finesse and flare.
The meal ended triumphantly with a lychee rhum.
There is a lot of history in those walls.  If you listen carefully as you sit under the stars you can still hear the swaying branches of the ghost of the Sapotillier tree that was lost in a hurricane many years ago.  I suspect that it is a pretty happy tree right now with the folks at Orega creating fantastic memories for everyone who is lucky enough to dine there.