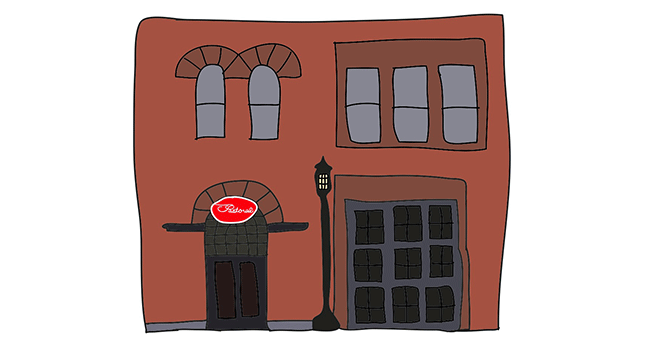 Pastoral in Fort Point – my neighborhood vegetable joint!!  We have been stopping by Pastoral for lunch or dinner since it opened in early 2013.  It is an easy walk for us and my husband loves him some good pizza.  After eating here twice in one week very recently (once with visiting family and again the night they left) I figured it was time to give this place some love.  My affection for Pastoral comes not from the pizzas which have been terrific but the wonderful vegetables that come out of Todd Winer's massive wood fired oven.  I'll confess to not being much of a pizza eater so these wonderful vegetable dishes make it the perfect pizza place for me.
Recent meals had us sampling a wide array of plates and pizzas.  Spot on salads included an arugula salad with frisee, fennel, egg and smoked pancetta and a caesar salad of kohlrabi and black kale (a.k.a dinosaur kale, lacinato kale, Tuscan kale – how many names can one little strand of kale have?).
Vegetables dishes were a huge hit with everyone.  The carrots stole the show.  The were roasted until they were crispy on the outside but meltingly soft on the inside.  They were pleasantly sweet without the slightest hint of cloyingness.  They were garnished with pistachios and a garlicky aioli.   Serious perfection.  Everyone enjoyed the beets which were served with almonds, burrata and horseradish.  Wood roasted brussels sprouts tossed with guanciale, apple and pecorino were a great version of one of my favorite vegetables.  Finally, the cauliflower with currents and almonds were roasted deliciousness.
On our most recent visits, the big guy was in the kitchen manning the pizza oven so we knew the pizzas would be sensational and we were right.  Of course we had the margherita.  It has never disappointed.  It is the perfect ratio of dough, sauce and cheese – charred to perfection.  We also sampled the fennel sausage pizza, the prosciutto pizza and the artichoke and lemon pizza.  The sausage and prosciutto (along with the margherita) disappeared in an instant.  The artichoke with lemon was the only one of the bunch that came home with us.  On our follow up visit (I HAD to have those carrots again) we tried the special pizza of the day which was black truffle and veal meatball with fontini.  If it is on the menu I highly recommend it.  I could happily eat a giant plate of those veal meatballs.
In lieu of dessert, both meals ending with us ordering glasses of Fernet-Branca which is a wonderful bitter herbal liqueur made from over 25 herbs.  A perfectly bitter way to end a truly enjoyable meal.
***Unfortunately no photos of the lovely plates at Pastoral because my camera failed to make the trip on both occasions.  An excuse to return soon!!!
PASTORAL 
345 Congress St, Boston, MA 02210
(617) 345-0005
Reservations – http://pastoralfortpoint.com/