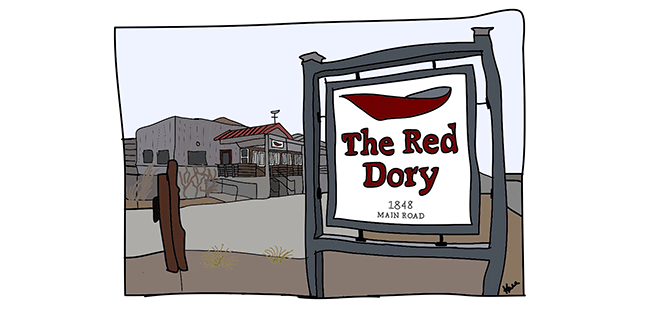 I know that "Winter is Coming" and all of that but what a Fall we have had here in Boston.  It was a beautiful December day and we decided a trip to the beach was in order.
A mere hour from Boston you will find Horseneck beach and Cherry & Webb beach – two places that really shine in the off-season especially since dogs are allowed on the beaches after mid-October.  Our usual lunch spot in the area is Back Eddy's but they have gone brunch heavy on Sundays (why brunch??) so we decided to change it up and head to Tiverton, RI for an early lunch at The Red Dory.
Stephen Johnson owned the beloved Rendezvous at Central Square in Cambridge, MA for almost a decade before selling it in 2014.  We were early patrons of Rendezvous and even participated in an Improper Bostonian review meal back in the day.  It was a place we frequented a lot over the years and we were sad to see it close.
Lucky for us, he opened The Red Dory, right on the banks of the Sakonnet River, this past year.
It is a stylish little place. There are polished cement floors, blonde wood and green and white striped canvas panels hanging from the ceiling.
There is a beautiful wood burning fireplace which makes this an especially appealing spot on a winter day.
And the food?  It was great.  There is, as you might expect given its location, lots of impeccable seafood including a raw bar and a ceviche of the day  Everything we had was cooked and seasoned perfectly and the prices are very reasonable to boot.  Although there are pasta dishes (linguine and clams, risotto of foraged mushrooms, and pork and veal meatballs to name a few) as well as mains such as grilled salmon and roast chicken we decided to approach the menu tapas style and split a number of the appetizers.
The ceviche of the day was a very bright and just barely (aka perfectly) cured halibut with pomegranate seeds, smoked paprika and a spicy chili oil.
The richness of the grilled sardines were balanced with a lemon-fennel vinaigrette.
The chilled seafood salad at Rendezvous was one of my go to dishes and it made the trip to Rhode Island.  Mussels, calamari, lobster, scallops. shrimp and cannelloni beans are tossed with an anchovy dressing.  Just as good as I remembered.
The grilled octopus dish with chickpeas and a romesco sauce was absolutely perfect.  Tender but with a smoky almost crispy crust.
Our final dishes were an escarole and parsley salad with shaved pecorino and a bowl of shrimp and grits in a spicy pepper sauce.  For me, the shrimp and grits was the least interesting dish of the meal but that says more about how good everything else was than any sort of criticism of the shrimp or grits.
All of the appetizers were in the $9 – $13 range and our total bill with a couple of drinks was less than $100.  Steve was tendering to the fireplace as we were wrapping up our meal and, like his days at Rendezvous, wandered the dining room chatting up his guests.  After our lovely meal we made the relatively short drive to the beach for a long walk along the ocean.  A perfect afternoon out of the city before winter is, indeed, upon us.