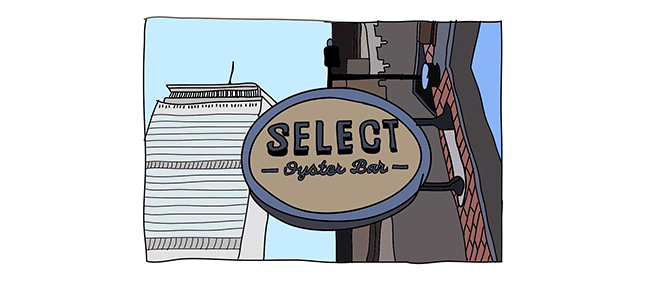 We have a real love of all thing bivalve but none more than the oyster.  Over the years we have eaten copious amounts of oysters and, as such, have found ourselves at all the usual suspects: Neptune Oyster, B&G, Island Creek and Row 34.  They are all solid.  In my book, Neptune (where chef Michael Serpa used to be) loses points with its cramped space and mobs of tourists.  B&G and Row 34 sell only beer and wine and I'm a martini girl.  Island Creek's limited lunch menu (and sporadic hours) leaves me a little cold.  But Select Oyster Bar?  To borrow a line from Ms. Goldilocks – Select Oyster Bar is "just right!"
It is a beautiful room.  It is the kind of room that makes people want to open their own restaurants (thankfully have already gone down this path and have been broken these sort of urges).  The combination of the exposed brick and the weathered wood of the ceiling is warm and inviting.  The zinc bar is gorgeous and the service is friendly and extremely knowledgeable.  We recognized one of the servers on our last visit from her days first at B&G and then at Row 34.  Her employment trajectory mirrors our eating patterns.
Of course we started with some oysters.  We decided to try a couple of new (to us) varieties –  the Moon Shoals from Barnstable, MA (on the right) and Spearpoints from Martha's Vineyard, MA (on the left).  Both were terrific.
We started with a couple of crudos.  First was the Madai with tamari, ginger, wasabi oil and scallion.  Madai is a type of sea bream and it was stunning in the crudo.
If there is hamachi on the menu chances are I am going to order it and this one did not disappoint.  It was topped with toasted pistachios, citrus zest, chilis and a splash of chili oil.  Just perfect.
We shared the octopus which was cooked to absolute perfection (the only dish that disappointed recently at Cafe ArtScience).  It was paired with roasted tomatillos, seared snap peas, and a garlicky (in a good way) parsley salad.
The final dish was the whole roasted sea bream on roasted fennel and potatoes which fell off the bone.
We have probably eaten here six or seven times and we've never hit a false note.  What is exceptional about the food is its simplicity.  Perfectly sourced fish with a combination of a couple of interesting ingredients that manage to enhance the fish but never overwhelm it.  The best oyster bar in town in my book!