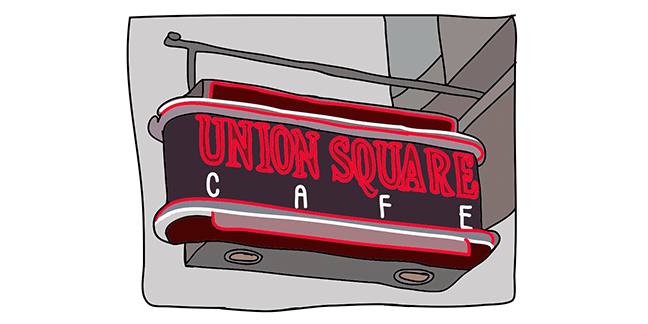 One last hurrah at Table 49!!
Before we are painted as Danny Meyer groupies, I must point out that our late night dinner at Gramercy Tavern mere hours earlier was purely an impromptu idea given our location and the late hour.  I will confess, however, that we did plan for our final lunch to be at Union Square Cafe.  USC is our favorite neighborhood restaurant even though we don't, in fact, live in the neighborhood (or even the state for that matter).  It is (soon to be was) a place we would pop into for a drink, a quick bite at the bar or a weekend lunch almost every time we found ourselves in NYC.  We met friends there and took family many times over the years.  As such, it was a real blow to hear that the restaurant would close at the end of 2015 after 30 years on 16th Street. I know that it is moving but will it ever be the same?  We decided that one final lunch was in order before the lights went out forever.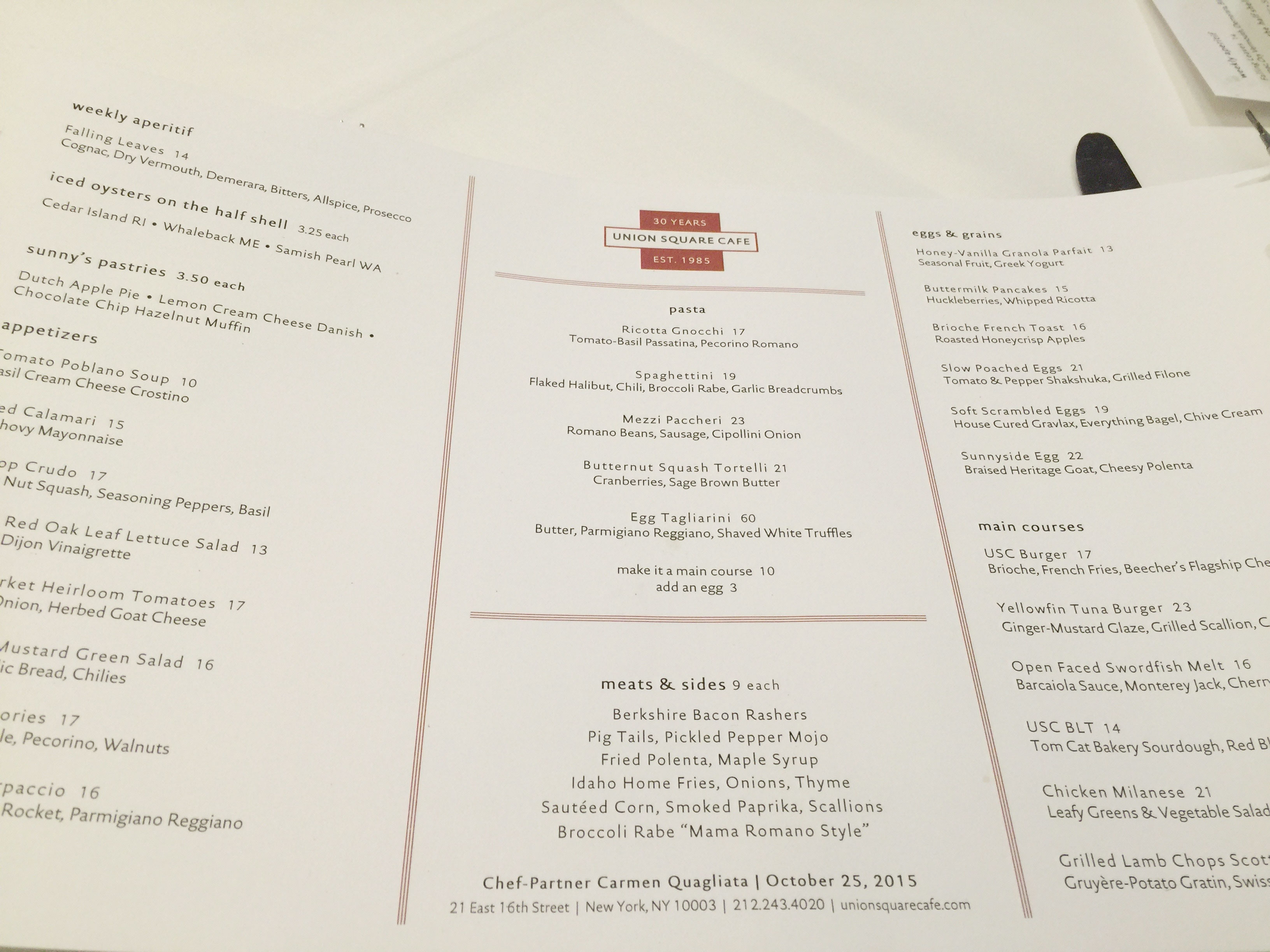 We have a favorite table at USC.  It is the cozy corner banquette in the room behind the bar and it is known as table 49 (I used to be a Niner fan back in the Joe Montana era so this is easy to remember).  When we arrived there was an elderly couple (clearly regulars) angling for our requested table but the staff held firm so we got to enjoy our final meal at our favorite vantage point.
Our waiter was charming if not the most focused of gents.  When he saw that our drinks were getting low he asked if we would like another round.  We said we would indeed but that, if possible, we would also like the oysters we had ordered before we ordered the first round of drinks.  He fessed up that he had forgotten to put in the order (honesty is so refreshing) because he was "so enjoying watching us enjoying our cocktails".
The oysters which were Whalebacks from Maine eventually arrived and were worth the wait.  The menu does not vary all that much – a seasonal twist and turn – but we love it for its simplicity and consistency.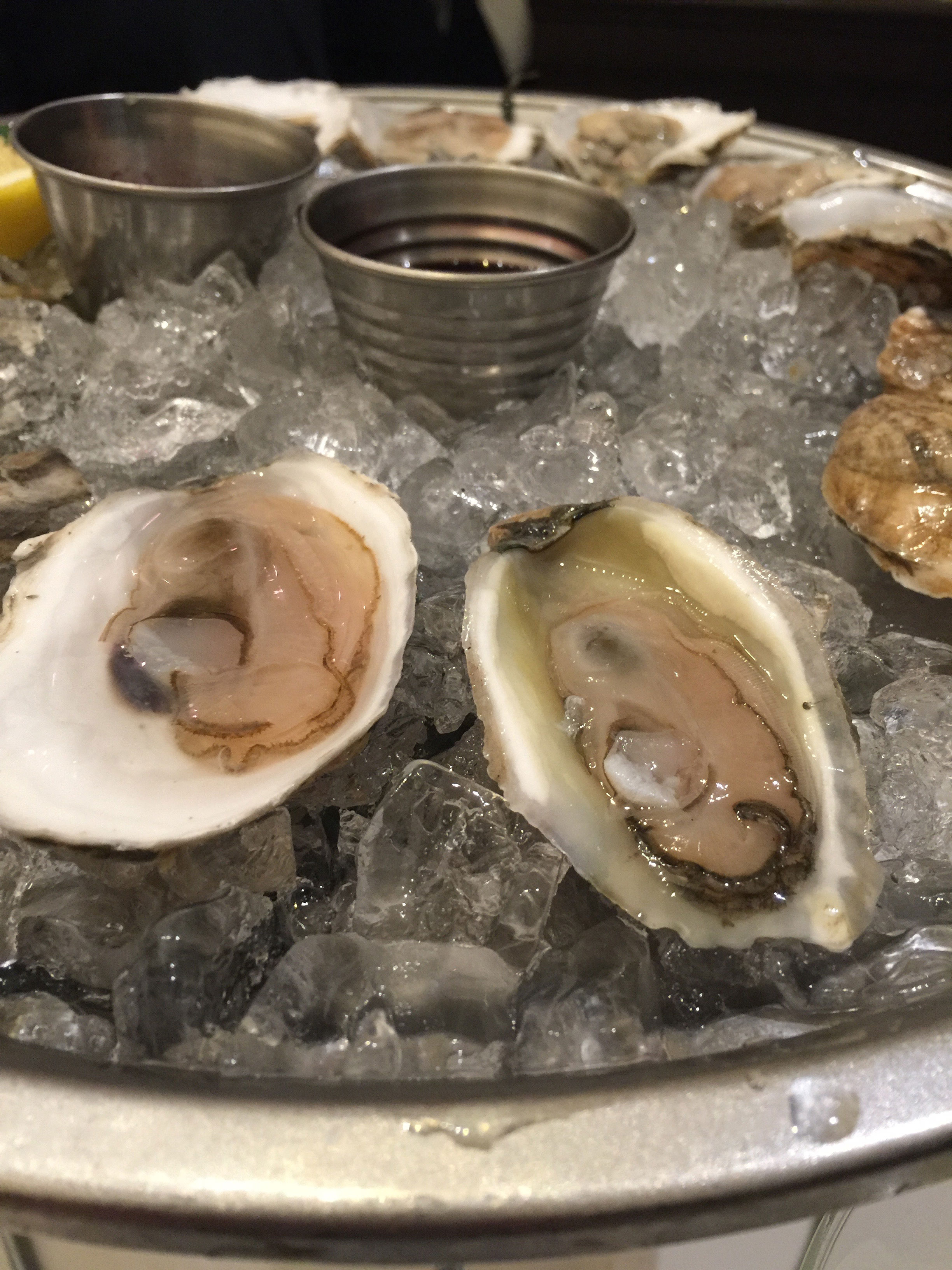 Some sort of chicory salad – on this day the bibb and red oak leaf salad with gruyere and a dijon vinaigrette  – is always on regular rotation for me.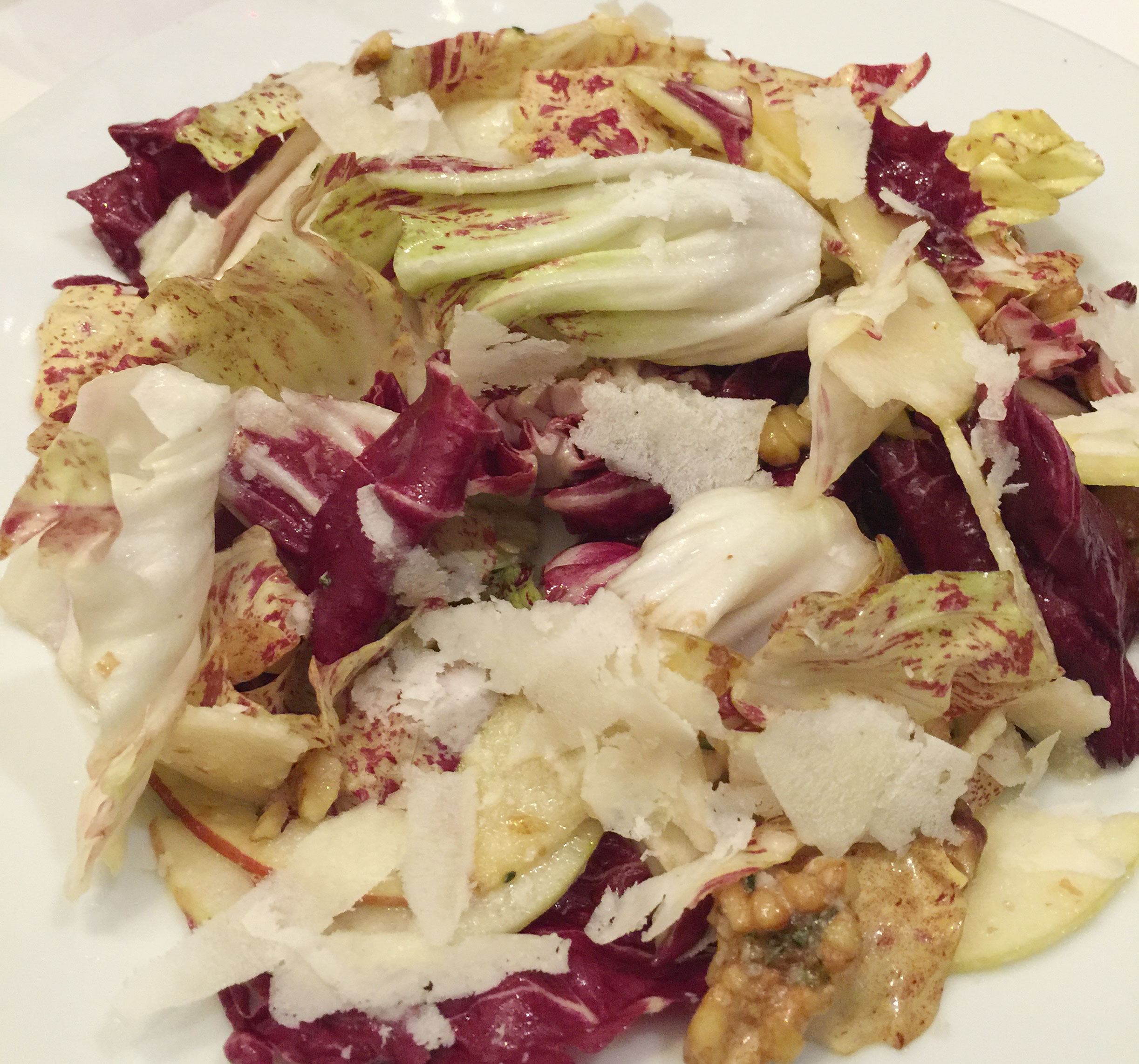 We also shared a mustard green salad with crispy chilis adding a little heat.  The bitterness of the crispy mustard greens paired beautifully with the rich burrata.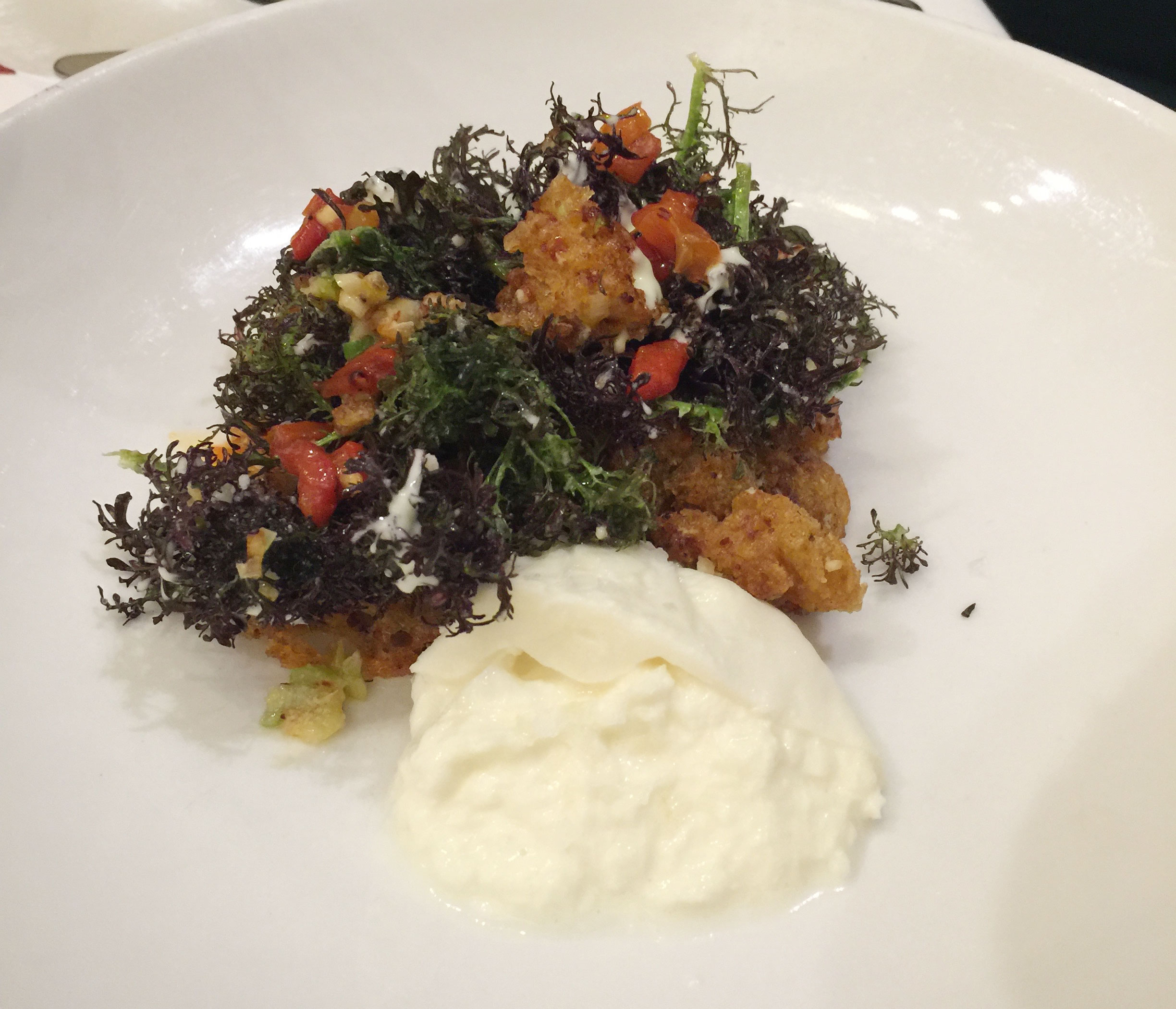 Another tradition for us at USC is to spilt a middle course and it is almost always the ricotta gnocchi with tomato sauce and pecorino cheese.  Little pillows of cheesy goodness.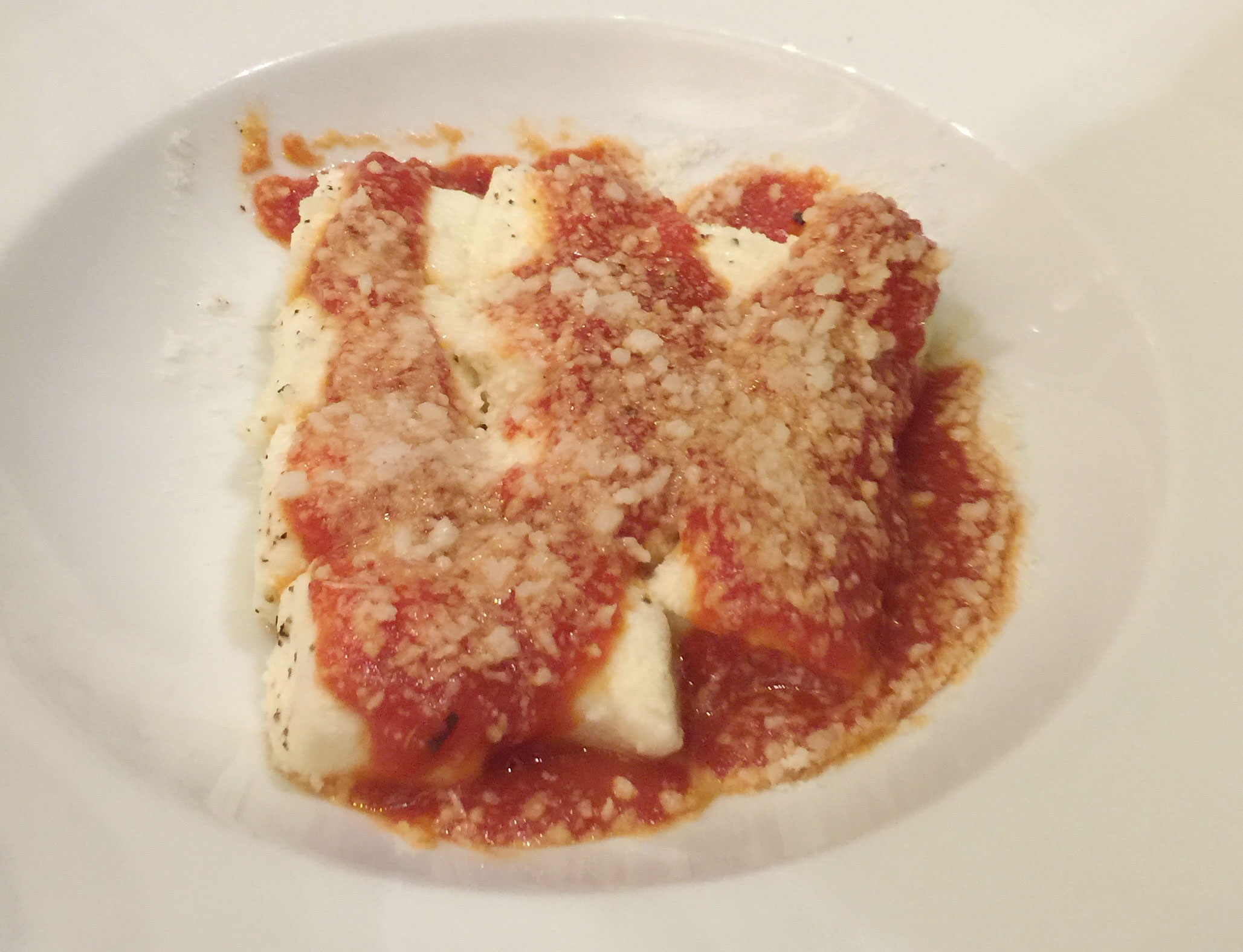 I always get the beef carpaccio with the arugula and parmesan and crispy artichokes as my entree.  There is nothing particularly exceptional about it but I love it for it's familiarity and perfect, albeit simple, execution.
We also had the lamb chops (terrific) and a nice bottle of Clendenen Family Vineyards Pinot Noir from Santa Maria Valley.  It was an extremely satisfying way to spend a Sunday afternoon before catching the train back to Boston.  It will be interesting to see if the old magic can find its way over to the new location but the time spent at the 16th Street location over the years will always be fondly remembered.  Yikes – maybe I am a Danny Meyer groupie!