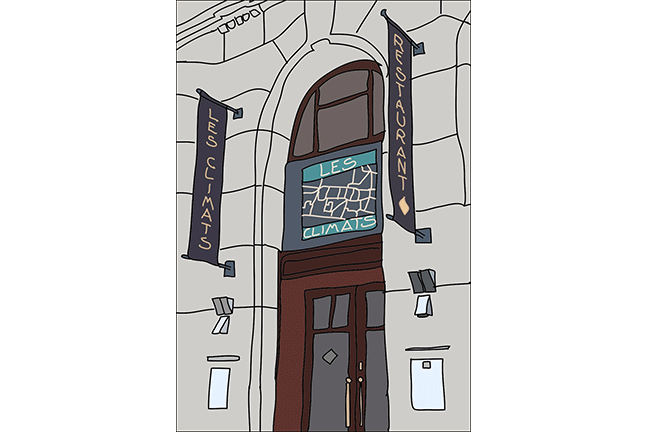 Our final full day in Paris found us at the Musée d'Orsay in the morning which is one of our favorite museums in Paris.  As I mentioned in a different post, if you are also visiting the lovely Musée de l'Orangerie during your stay you can purchase a ticket at the l'Orangerie which will also get you into the d'Orsay on another day.  The real advantage of this is that you get to skip the line at the d'Orsay and get right to the good stuff.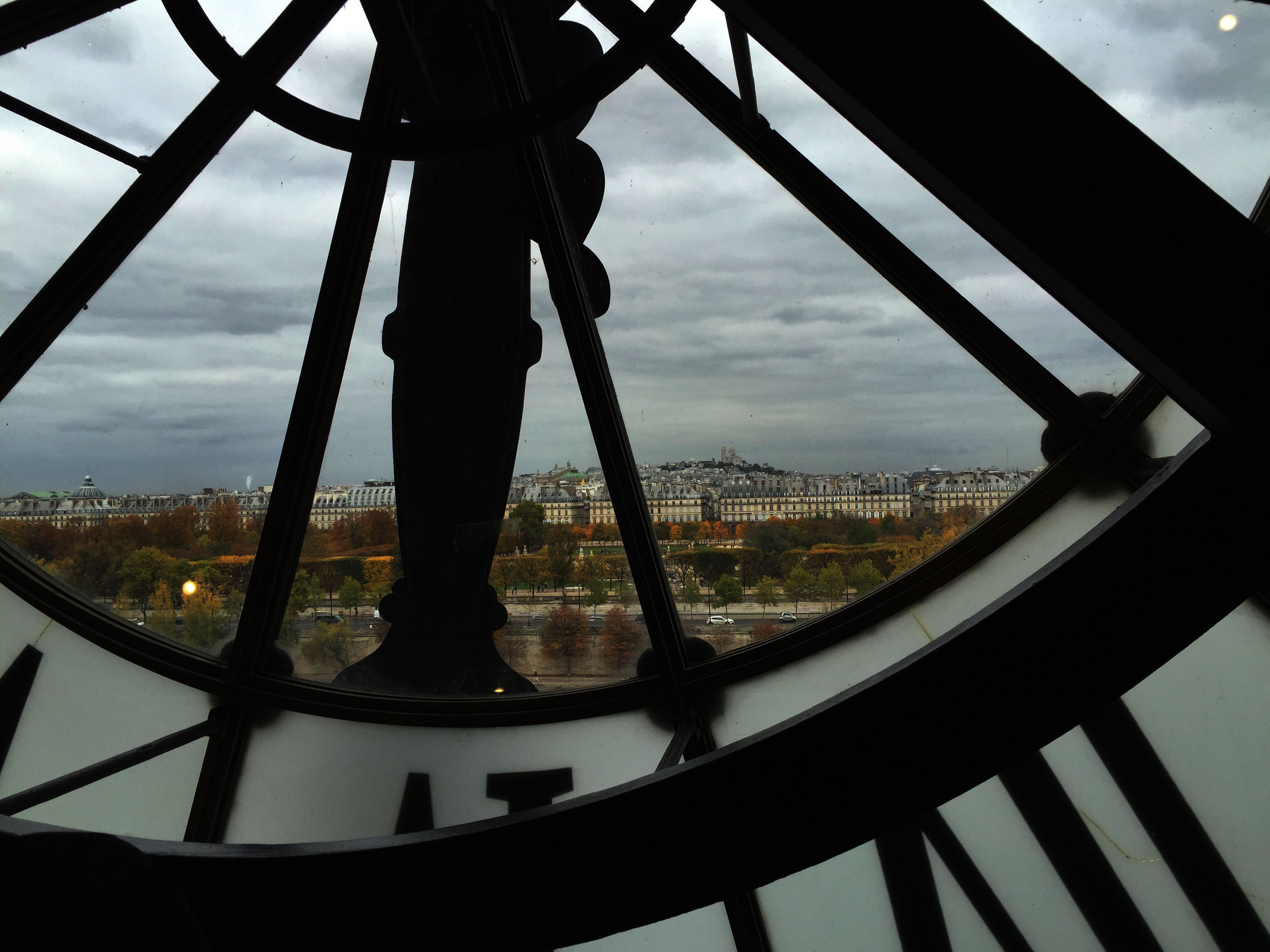 After several hours of soaking in the museum we made the short walk to Les Climats which recently received its first star from Michelin.  It is located on rue de Lille in the 7th.  This is a terrific restaurant that is well deserving of its Michelin star.  The service is very adult in a good way.  The waiters are amusing but very professional.  The food is leaning towards classical fine dining French but surprises with interesting touches and flourishes.  It is an extraordinarily enjoyable experience.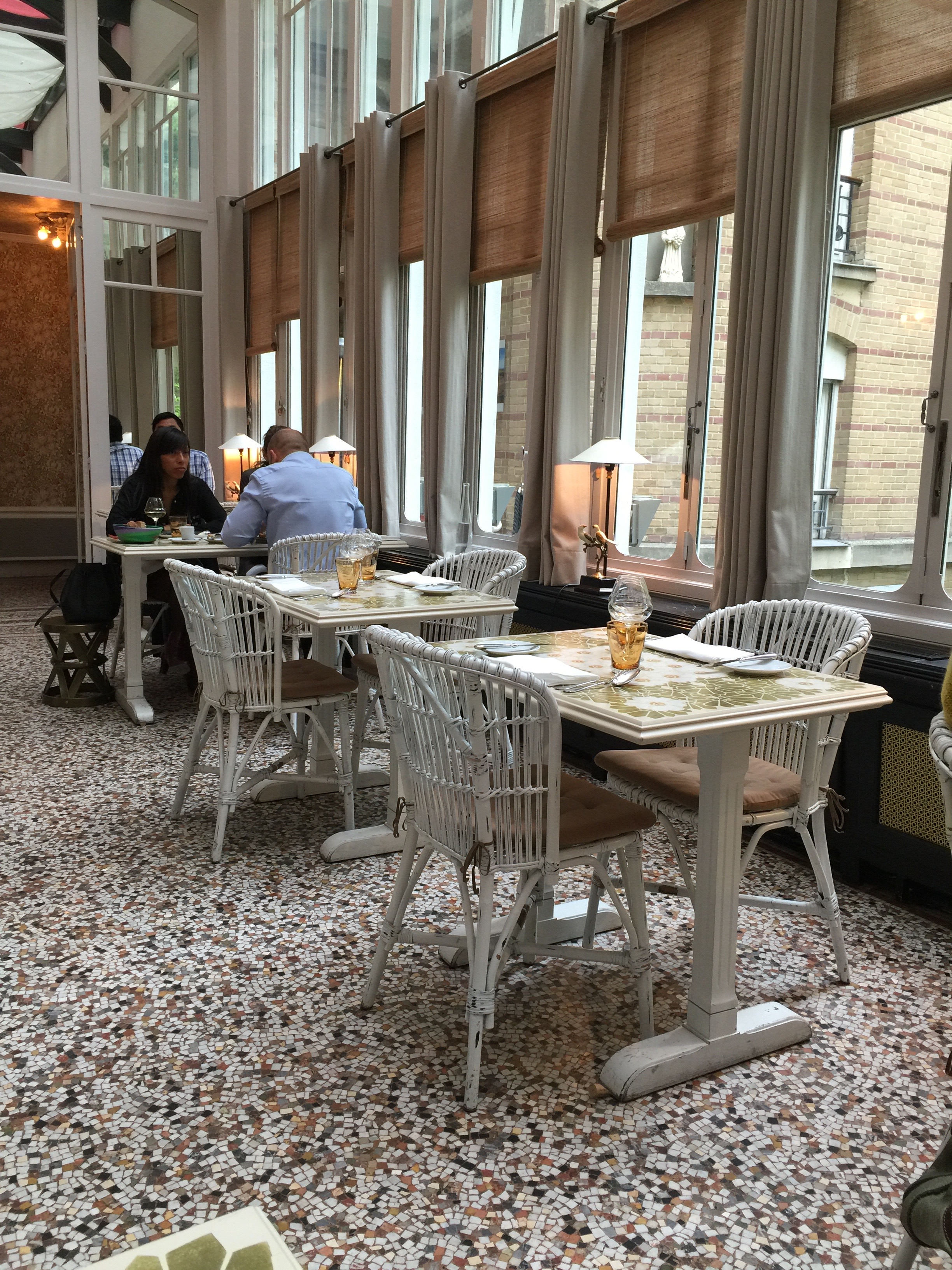 The wine "list" (think book) which you can sort of see in the photo below is over 220 pages and contains only wine from Burgundy.  We worked our way through it while enjoying warm gougeres and parmesan sticks with a trout mousse.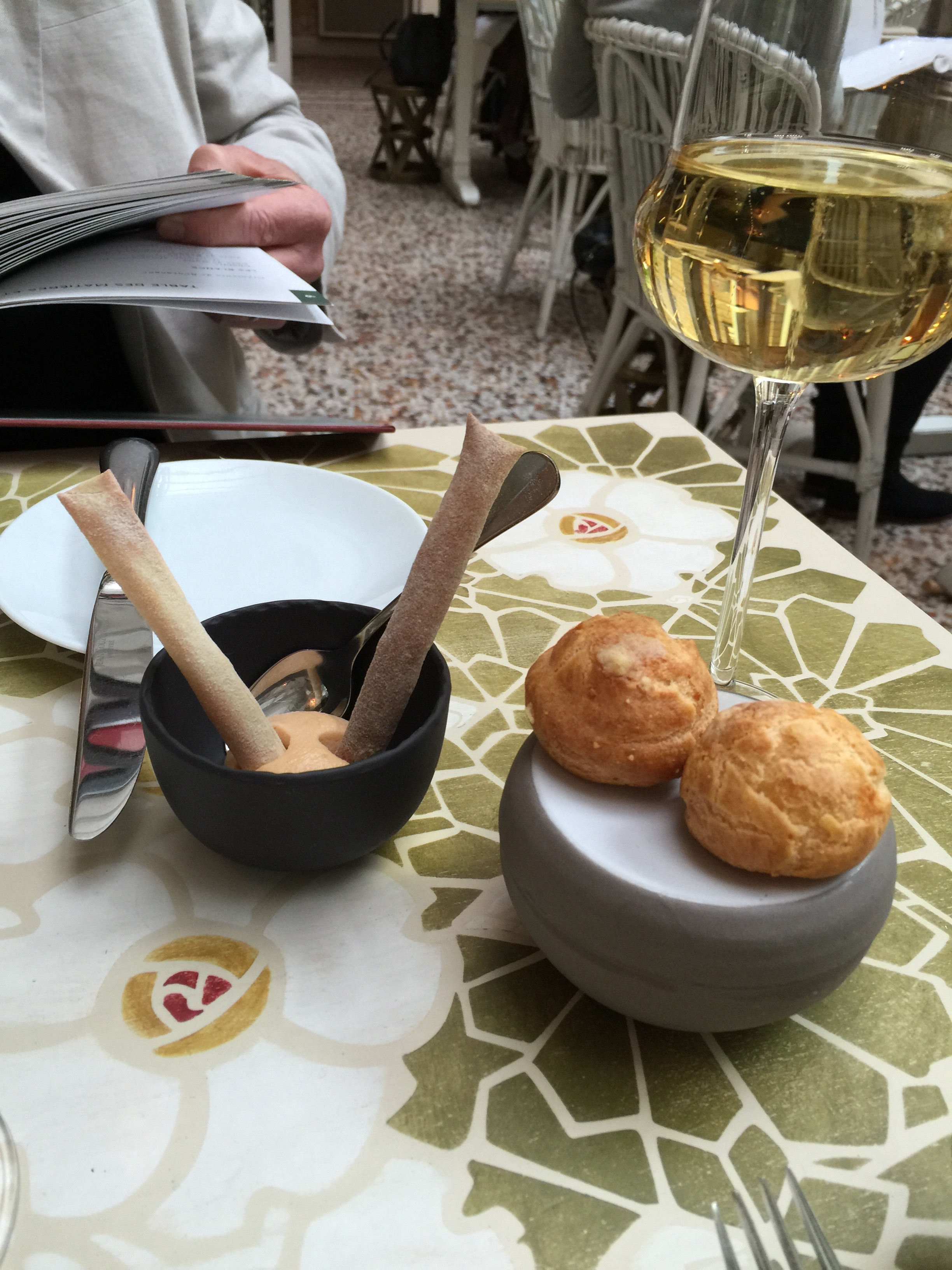 After a discussion with the extremely friendly sommelier, we decided on a 2010 Château de Marsannay Gevrey-Chambertin 1er Cru Champeaux which was quite nice especially after it opened up a bit.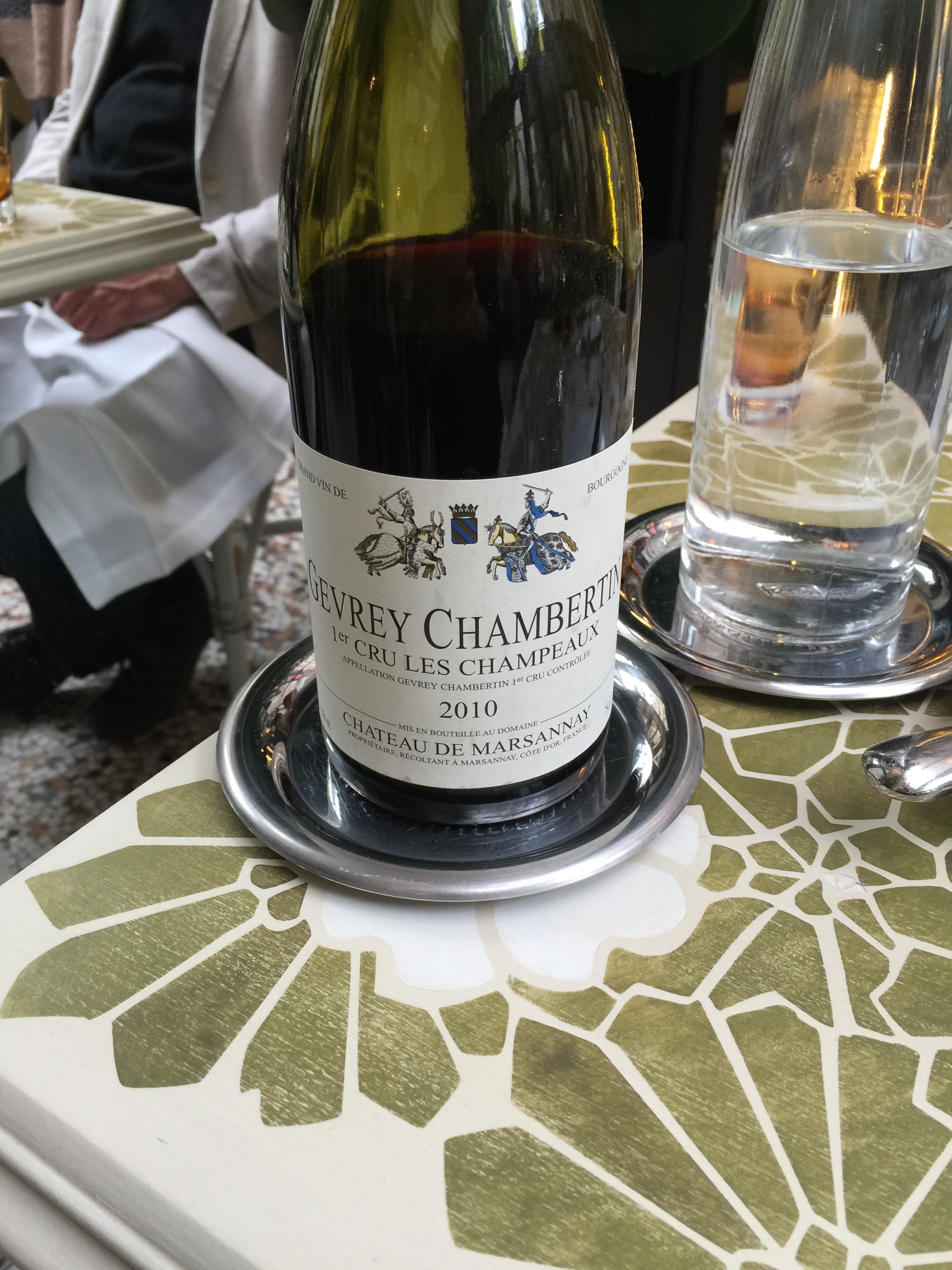 There are a couple of options for lunch.  A 36€ two course lunch, a 42€ three course lunch or a la carte.  Although the choices on the fixed price menus sounded great (whelks, pheasant, cod etc.) we could not resist the items on the a la carte menu.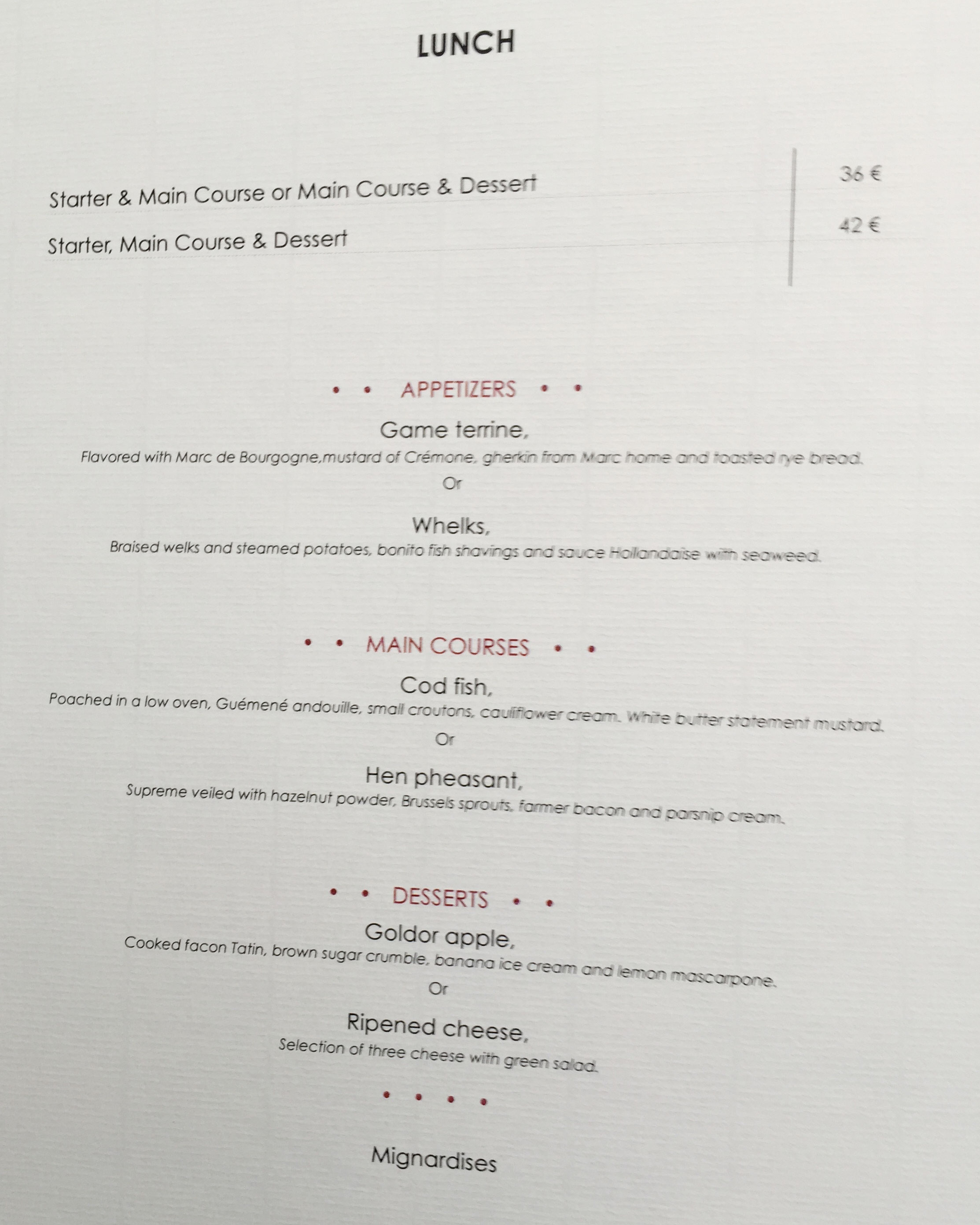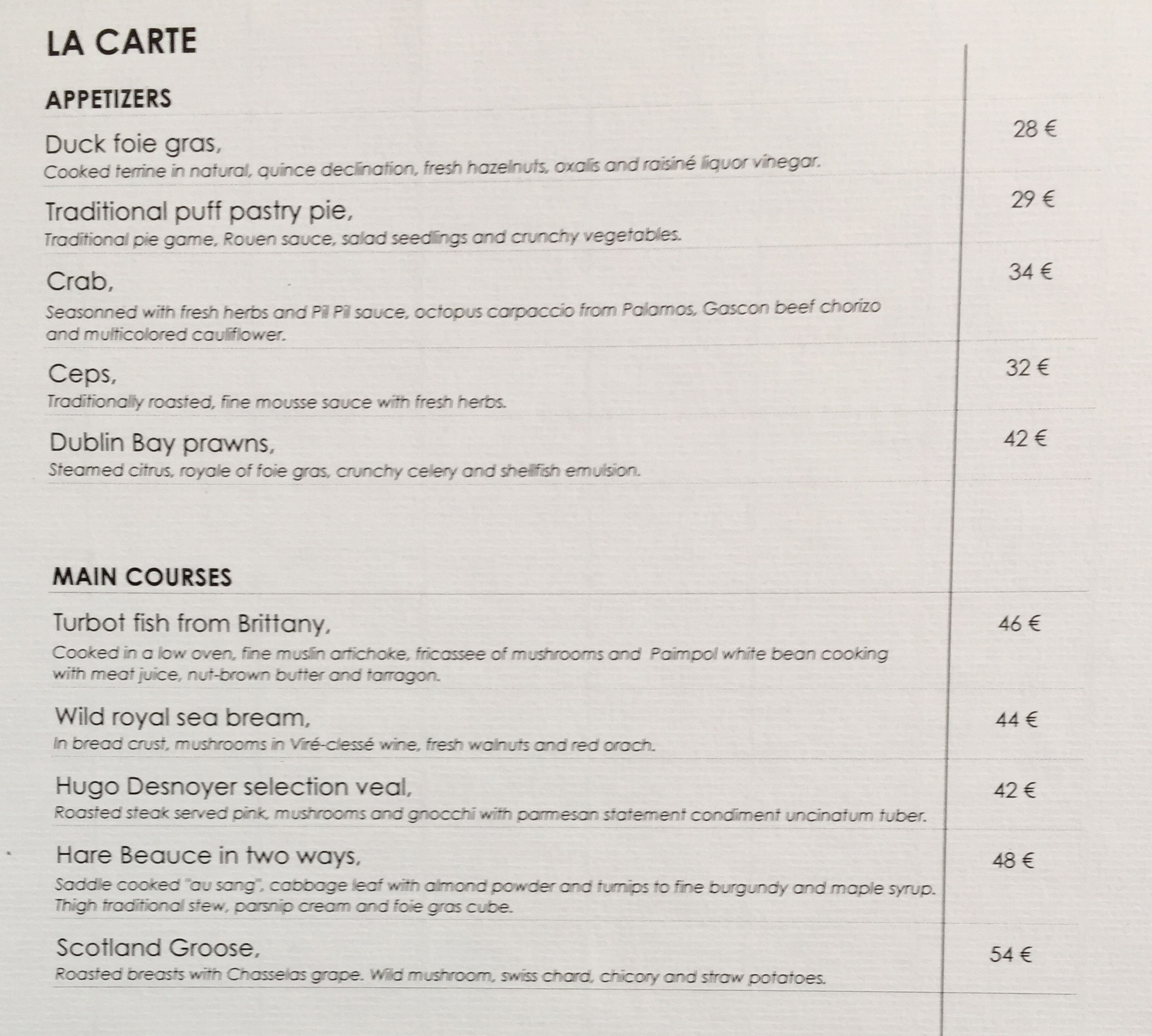 After ordering we were presented with a stunning amuse of raw fish on a citrus sabayon with crispy puffed rice and daikon.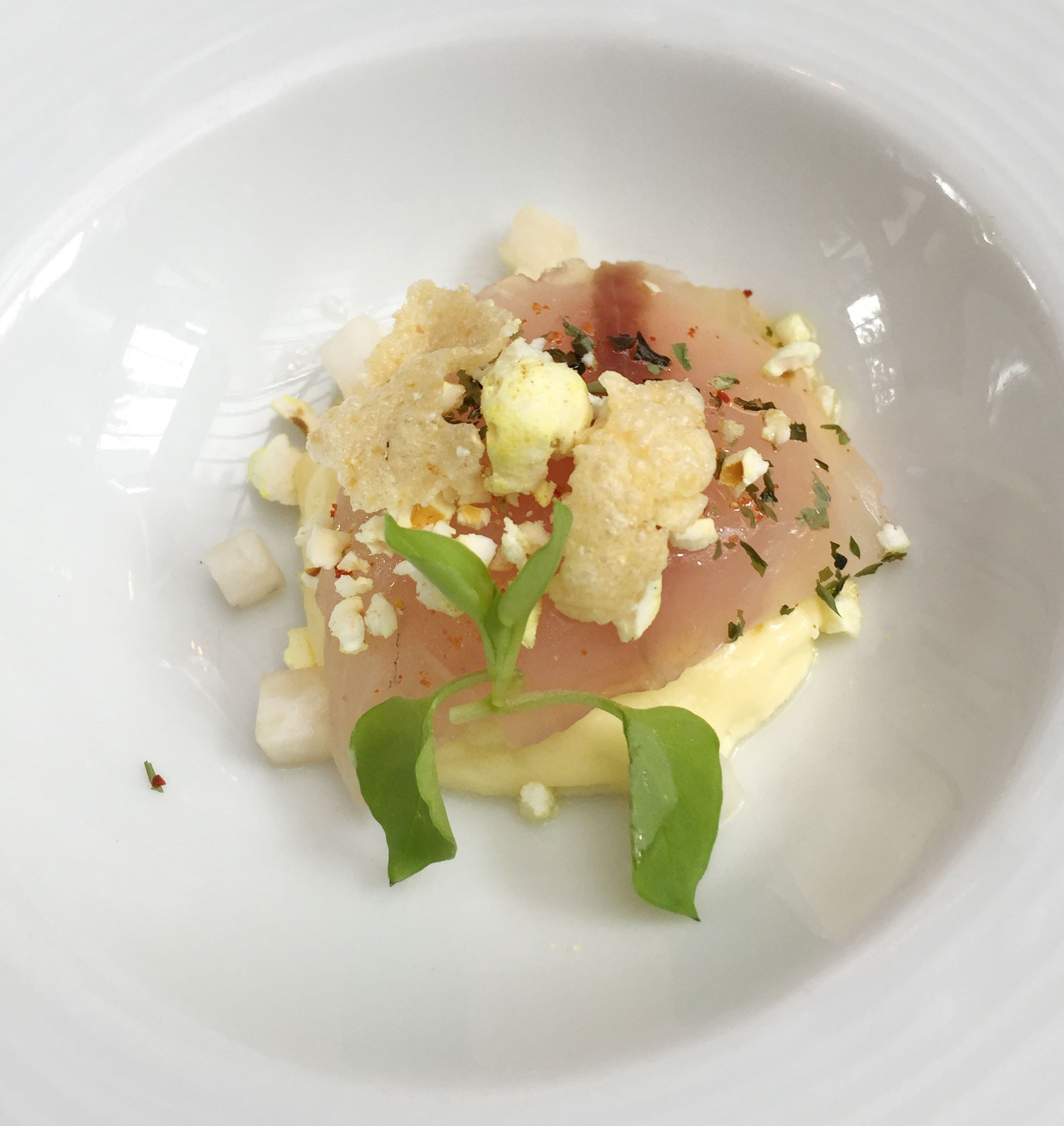 The Dublin prawns were served with a foie gras mousse, edible flowers and a shellfish broth and were heaven.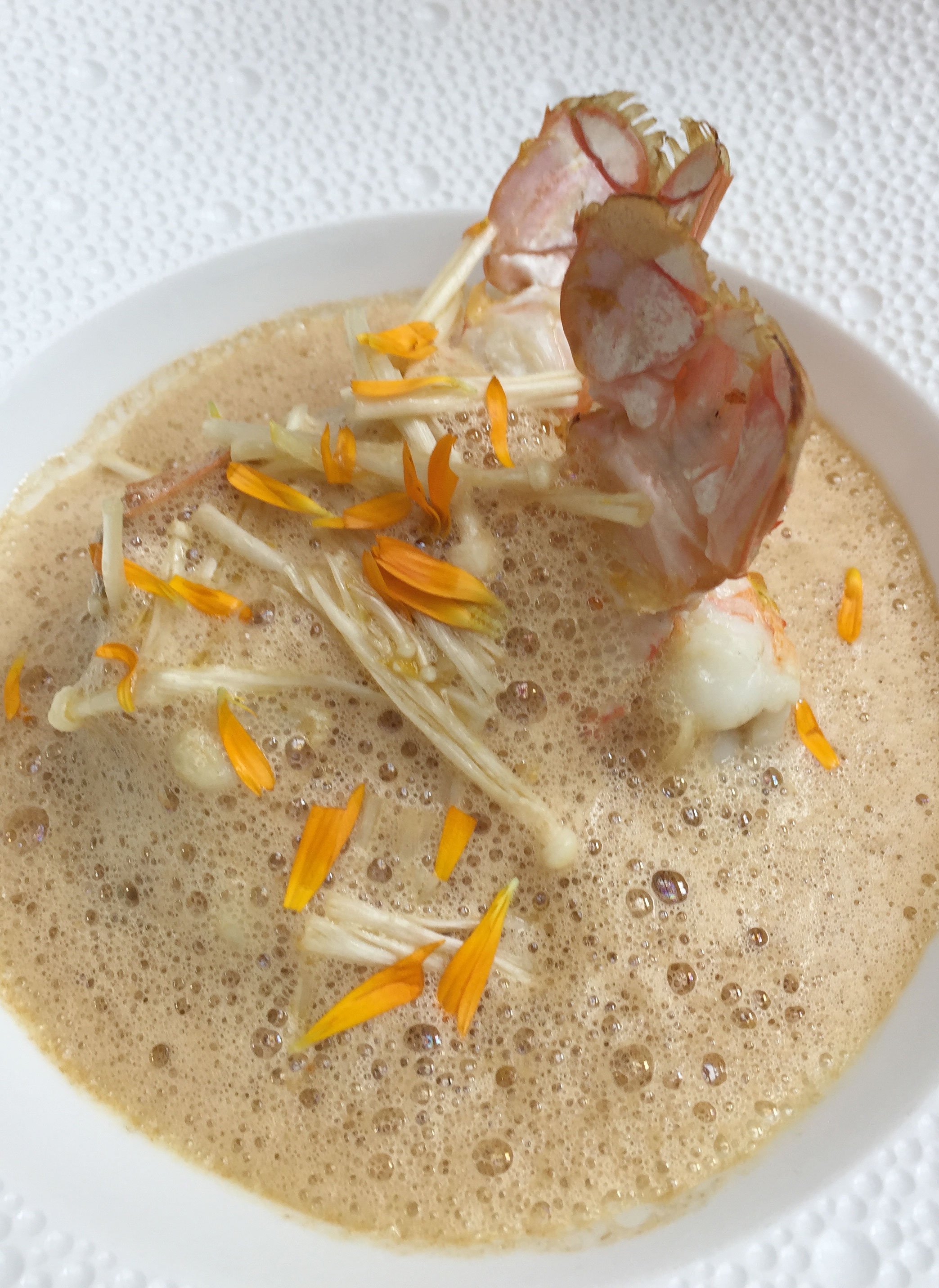 The crab salad was served with a spicy sauce spiked with peppers (a riff on pil pil) with chorizo, lightly dressed greens and cauliflower.  It was paired with a melt in your mouth piece of octopus.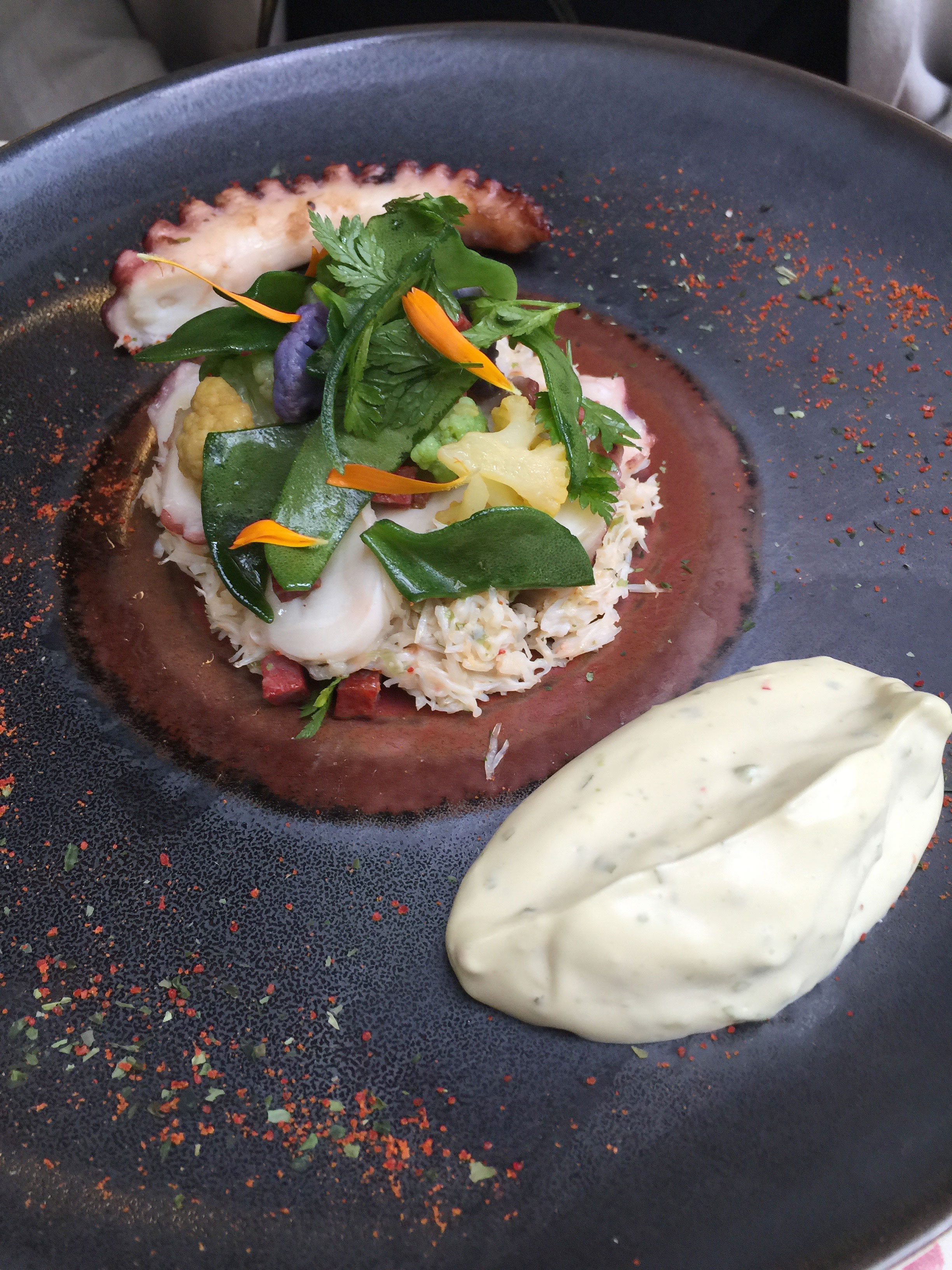 The turbot from Brittany was with an artichoke puree, white beans, porcini mushrooms and a tarragon butter sauce.  The fish was cooked to flaky perfection and the overall dish was truly a fall delight.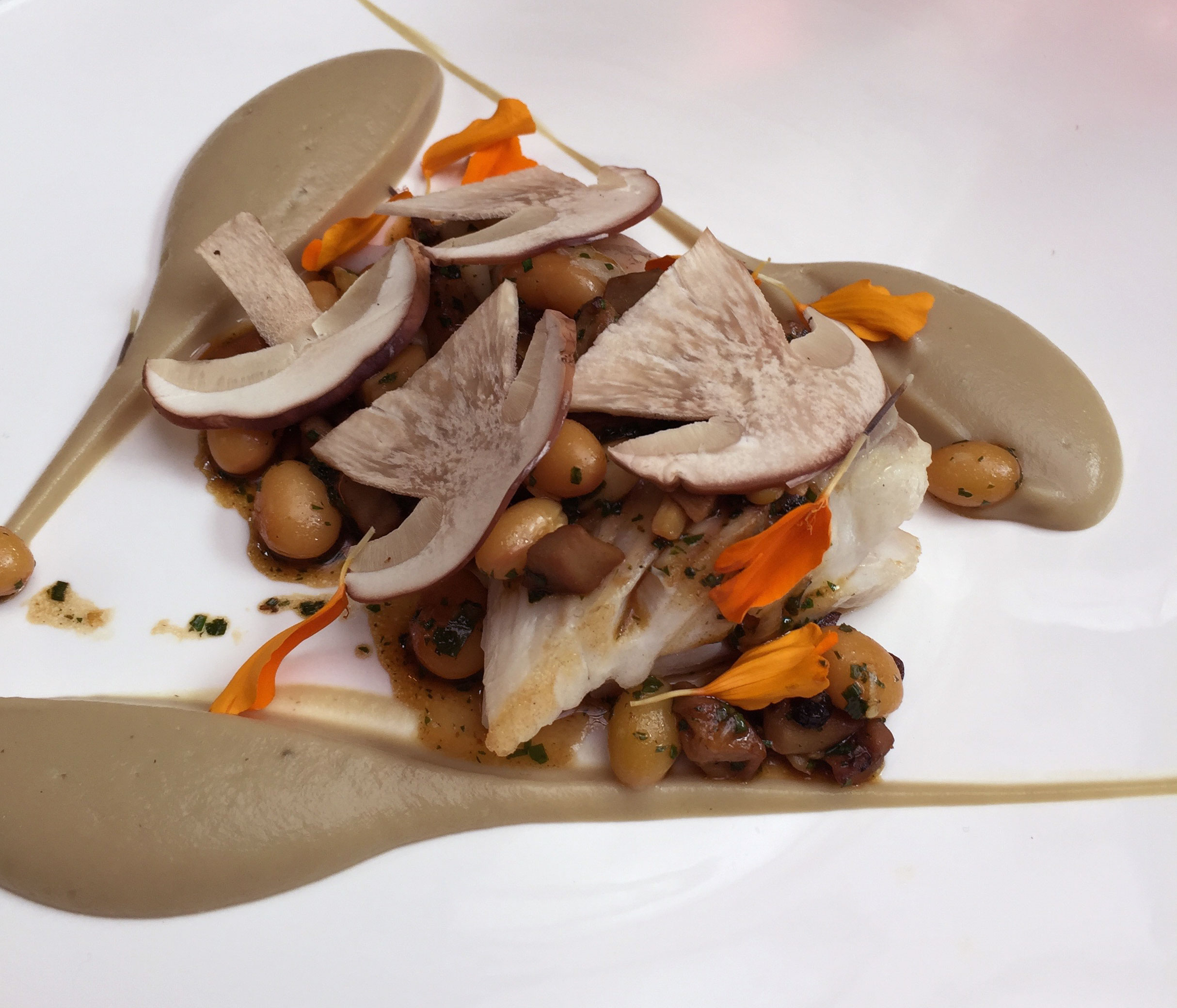 The final savory dish was the hare two ways.  First the saddle was cooked "au sang" which I believe is in a blood sauce of sorts.  It was served with crispy cabbage greens and poached turnips.  The second presentation was a very decadent hare stew.  Overall an excellent dish but a bit on the rich side especially given the amount of eating that had taken place in the last seven days.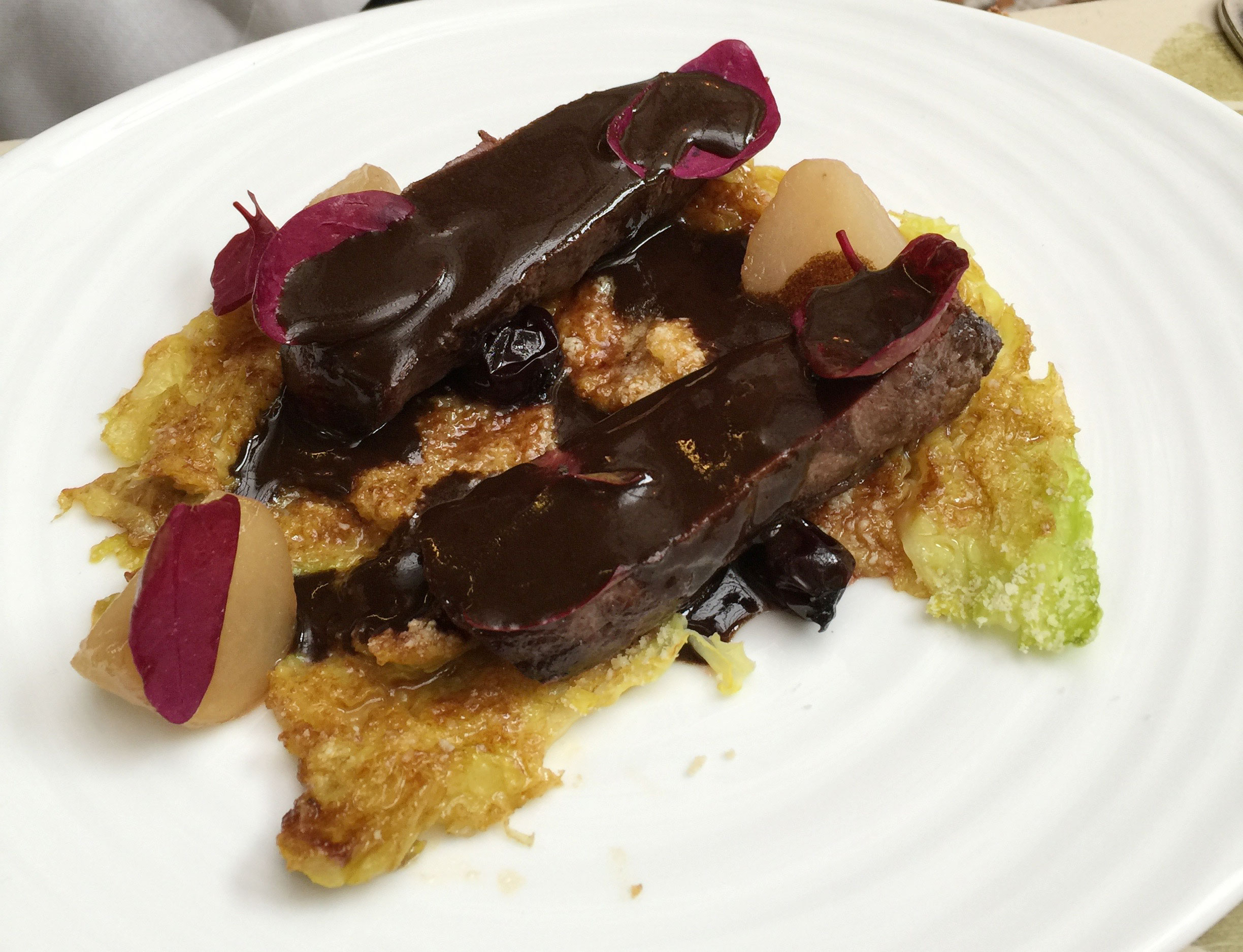 The richness of the hare was quickly forgotten however when the cheese trolly was rolled out.  Gorgeous.

We had some wonderful cheese on our trip but Les Climats wins the cheese plate award. The almost crystalline blue was particularly interesting.  What was funny was that we were the first table to order the cheese but once the trolly came into sight several more tables jumped on the cheese bandwagon.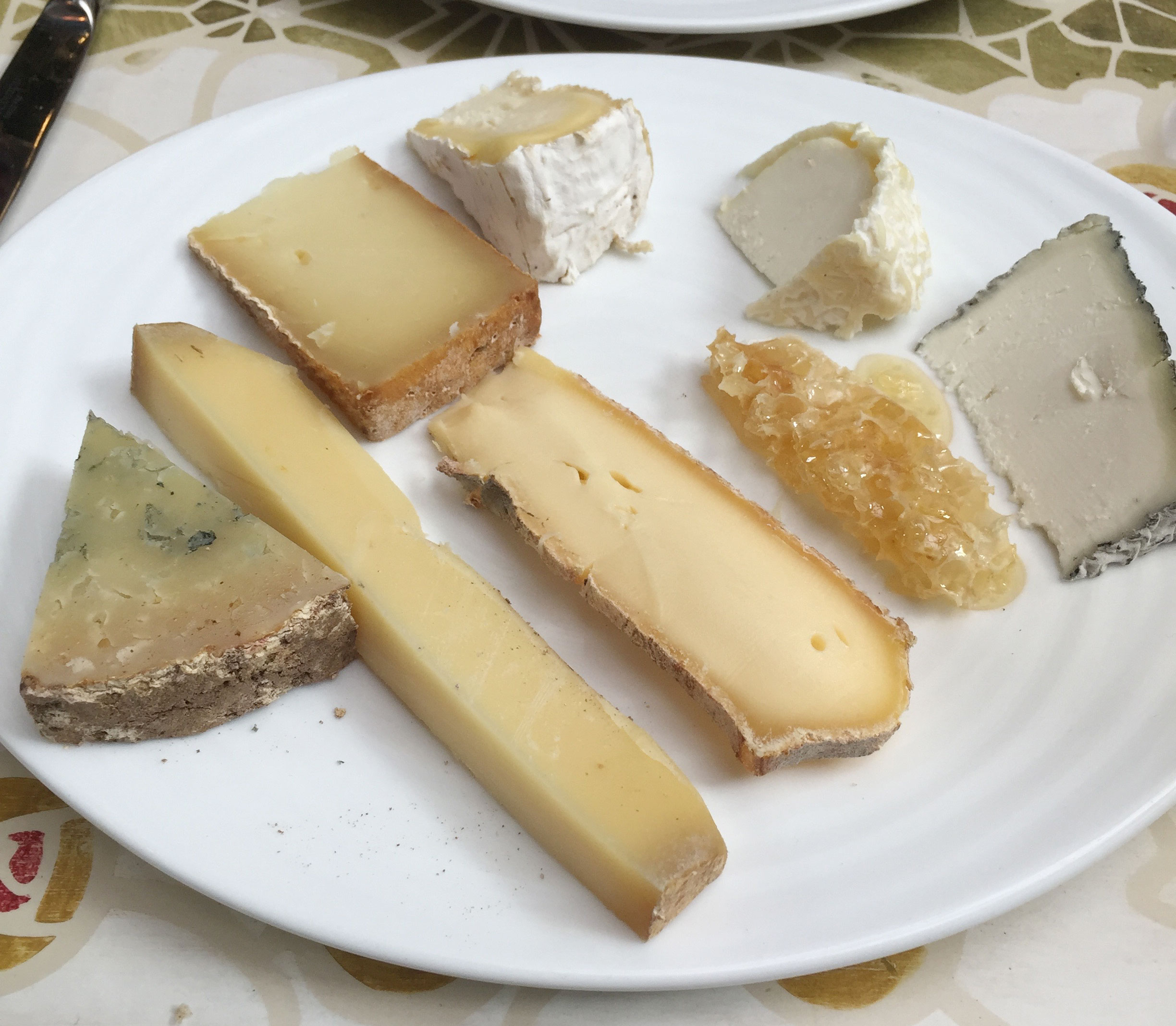 Of course there was more – mignardises to truly finish us off.  It was a wonderful experience.  But it was pretty much the end of us from an eating perspective.  We had dinner reservations that night at Ze Kitchen Gallery (a favorite from a past couple of trips) that we had to cancel because we simply could not consume any more food.  We ended up sharing a kale and quinoa salad at a local cafe later that night.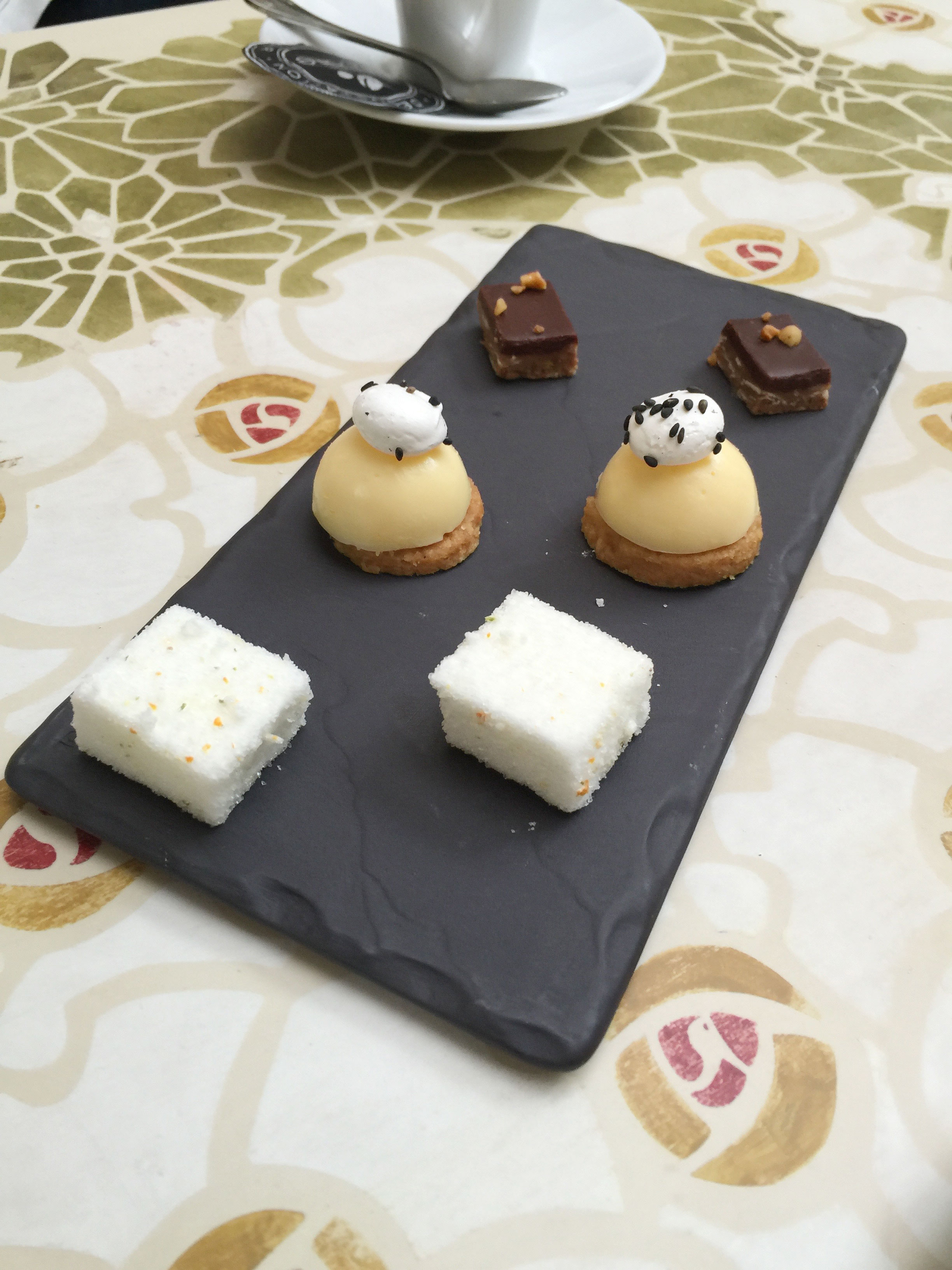 After lunch, we made our way out to Musée Marmottan in the 16th.  It has the largest collection of Monets including Impression, soleil levant (Sunrise) which gave rise to the name of the Impressionist movement.  Apparently photos are not allowed in the Musée Marmottan which I learned after snapping this photo.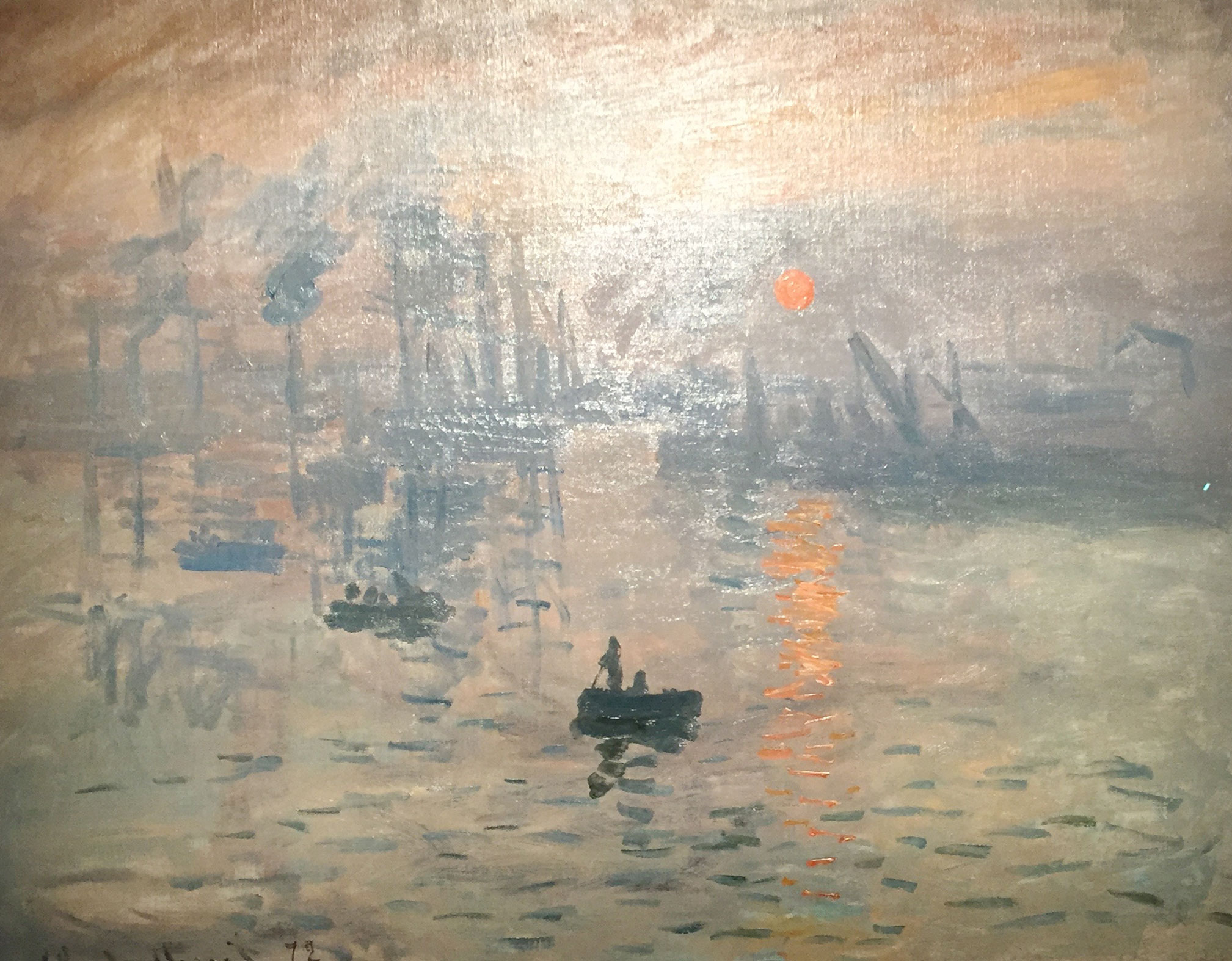 It is with a little sadness that I finish this last post about out most recent trip to France in late October because it was such a wonderful trip for us and because reliving it has been quite enjoyable.  But it was with deep sadness and horror that we witnessed the unfolding of the terrorist attacks on November 13, 2015.  It has been inspiring to watch the reaction of the citizens of Paris and all of France in the face of such tragedy.  There is something unique and magical about the French way of life that cherishes what is beautiful and pleasurable and we feel blessed to, however briefly, share in that experience.  Thank you to the people of France who made our time there so memorable.  We truly appreciate it and we will always stand with Paris.