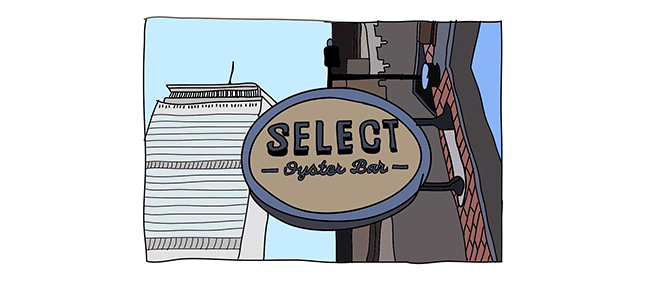 Life just called out for a return visit to Select Oyster Bar (an earlier write up of this marvelous place can be found here). Take one cracked iPhone screen, the need to kill a little over an hour to get it fixed (the Boylston Street Apple store is just one block away from Select) and add a 100 degree day that demanded something cold and refreshing on the plate. A few orders of gorgeously prepared raw fish and a couple of glasses of Muscadet maybe the most perfect way to let the Genius Bar folks do their thing.
Couple of fun facts about Select Oyster Bar before I get to the food today. There is no freezer. There is no deep fryer. There are no desserts. I'll confess that these facts only increase my love for Select. Chef Michael Serpa has crafted the restaurant HE wanted to create not one catering to mobs of tourists looking for fried clams and piles of fries. If you dream of dessert before placing your dinner order this is not the place for you. He is committed to cooking the food he knows and the food he loves. Lucky for us Chef Serpa knows and loves fish!
We shared four of the raw preparations for lunch. It was an ideal amount of food when paired with some of the delicious sourdough bread served alongside to mop up any leftover sauce.
Tangy white anchovies on whipped fava and ricotta were sprinkled with toasted sunflower seeds and brightened with lemon. A lovely combination.
A black bass crudo was pure summer and adorned with pickled fennel, mint, a calabrese ("devil's kiss") chili puree and crispy capers.
I have loved every version of the hamachi crudo I have tried at Select and today's offering was no exception. Roasted cubanelle and poblano chilis and a fiery chili oil sharpened the pristine fish and gave it a welcome bit of heat.
The special of the day was exquisite Santa Barbara uni paired with poached beech mushrooms, picked diva cucumbers and a sour cherry puree. Pure heaven.
Hard to imagine a more ideal, light lunch under any circumstances but certainly perfect with the temperature soaring to absurd levels here in Boston. Made even more fun when we realized with we seated next to Select regulars, Serious Eat's contributors and bloggers Penny & Ed Cherubino of Boston Zest fame who share our enthusiasm for all things Select! An extremely nice way to finally welcome summer to Boston.