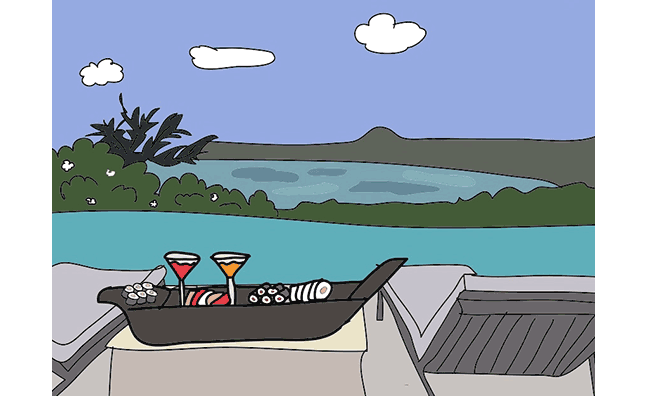 It is possible to still discover new things on St. Barts that are not new at all. Chef Yo has been on the island for 20 years. He has produced a lot of the sushi enjoyed at Nikki Beach as well as private catering events all over St. Barts. We have eaten his sushi many times but, for the first time, we went right to the source. And what a beautiful source it is! His restaurant and catering operation are located at the Villa Lodge 4 épices in Marigot overlooking Grand Cul de Sac. Yo Sushi Mania has one of the very best views in St. Barts.
We initially stopped by for takeout and we were stunned with the location. It was a vantage point of St. Barts that we had never before experienced. We put in our order and savored the view. We left with a sashimi platter, custom roll, wakame salad and an order of edamame from Yo Sushi and "topped it off" with a few things from our favorite Mayas-To-Go. A match made in heaven!
There were few places that could pull us away from our villa for lunch this past trip but after seeing the view and the sleek, contemporary space of the restaurant when we were picking up our to go order we made a second trip to eat lunch at Yo Sushi Mania. We choose a table over looking the pool and the beautiful colors of Grand Cul de Sac which is pictured above. There are other options as well.
We ordered a couple of drinks (Ti Punch and Carib) and a traditional sushi boat. It featured a delicious selection of tuna, wahoo, yellowtail, eel, salmon, and shrimp sashimi and sushi plus vegetarian rolls and tuna and salmon tataki and tartare along with edamame and wakame.
It is a beautiful spot. Chef Yo is charming and his sushi is lovely and fresh. And they deliver all over the island. In my mind, it is the perfect island food. I cannot believe it took us 20 years to find it!
Tip: Parking is tight in the area but they advised us that we could park in the spots across the road designated for guests of the Sereno Hotel.
Yo Sushi Mania
Villa Lodge 4 épices
Website: http://www.yosushimania.com/en/home-us/