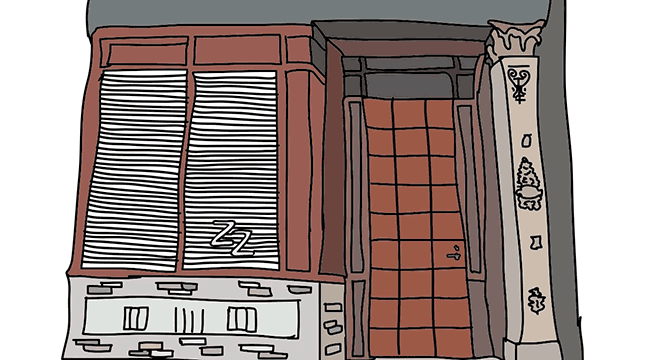 Poor planning and crazy expensive airfare out of Boston led us to re-route through New York City on way to St. Barts. A night in New York is always time well spent and a visit to the Michelin-starred "tiki bar meets Hemingway's Cuba" little gem of a place known as ZZ's Clam Bar was just plain inspired. It's tiny! It's super expensive! And it's crazy good! (Sounds a lot like the island we would be flying to the next morning :-)) And like that favorite isle, ZZ's is welcoming, friendly and extremely charming.
It is the love child of Mario Carbone, Rich Torrisi, and Jeff Zalaznick who brought New Yorkers Torrisi Italian Specialties and Carbone. Located just steps away from Carbone, ZZ's is a romantically lit, intimate spot with seating for no more than 8-12 people. There is nothing "clam bar" about the place except that there are, in fact, clams behind the bar. There is a (very nice) bouncer. The man standing in front of those aforementioned clams is wearing a white tuxedo jacket and a yellow bow tie. Tropical flowers dot the room and you are seating in opulent chairs or on a decadent leather banquette at beautiful marble tables.
Just like St. Barts, you can approach ZZ's a number of different ways. Some people come for a cocktail and share a plate and then head out for pizza. We, however, went in a different direction. The meal starts with an amuse which was a refreshing shot of grapefruit liquor.
We started by ordering a couple of the cocktails. We were both eyeing the Cilantro which pairs tequila with pomegranate and chili pepper. The server's promise that it packs some real heat meant it was mine. It was smoky and spicy and served in a poblano pepper with a silver straw. There was a "sidecar" of extra drink because my pepper was a little on the small side. Just wonderful.
The Cardamon was the backup plan and it so successfully combined cardamom, gin, vanilla and Chartreuse VEP. Did I mention that it is served in a buddha? We were definitely already on vacation.
The non-liquid amuse arrives and it is razor clam ceviche on a pressed focaccia. We finish our marvelous cocktails and slowly savor this little perfect bite of food. Food this good deserves wine and ZZ's has a tiny list. A few well-selected champagnes and some terrific white Burgundies. Our server says she also has the ability to grab any wine off the full Carbone list if we are so inclined but we love champagne and white Burgundy so we are good.
We start with the Santa Barbara uni on pretzel bread toasts. Salty, briny unctuousness on a malty pretzel crostini. Rivals Jean-Georges' uni on black bread. That is saying a lot! (Side note – I apologize that I do not have photos of the food but the lighting was so dim and the seating was so intimate we just said "screw it" as far as taking any more photos).
We shared the parrotfish with watermelon and coriander (a ceviche), goldeneye snapper with Asian pear and apple (barely seared) and the Saba Mackerel with mint and pomegranate (crudo). All were tremendous. The fish sparkled and the flavors were perfectly balanced with just the right amount of acidity.
The crowning glory was the beef carpaccio which is priced at a terrifying $105. We knew all about it before we arrived and vowed we would not spend over $100 on a single plate. But everyone else was ordering it. . . And it looks so damn good . . . And we saved all that money by flying out of NYC . . . Yeah – we ordered it. Worth every penny. Sublime Italian dry-aged Chianina beef topped with generous amount of Santa Barbara uni, heaping portion of Petrossian caviar, and perfectly cooked medallions of langoustines. It is a ridiculously decadent experience that is actually a bit of a bargain in terms of real food costs (but that is the boring analysis). Experiencing it made for a truly special evening before we set sail the next morning for a magical trip to St. Barts. What a send off!
ZZ's Clam Bar
169 Thompson St, New York, NY 10012
Phone: (212) 254-3000
Website: http://zzsclambar.com/