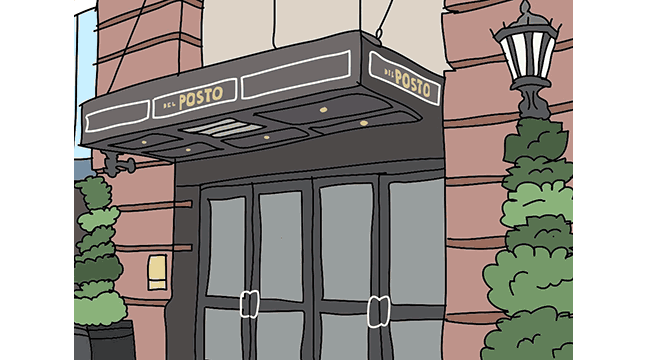 Del Posto means "of the place" and what a place it is. At over 25,000 square feet you might think this "place" would be easy to find. It is a tad confusing in that it shares the exact same address – 85 10th Avenue in Chelsea – as Coliccio & Sons.  Located a few doors down from C&S, Del Posto is relatively unassuming from the exterior. Walk in and you may feel like you have been suddenly transported to a lavish Vegas restaurant. Gleaming marble, grand curving staircase, live piano music and tables with more personal space than a lot of New York City restaurant dining rooms. From the first moment, service is elegant yet friendly and warm.  Order wine and a cart seamlessly glides to your table outfitted with some of the largest wine glasses I have ever seen.  Those glasses are primed before the wine is served.  The performance alone is worth the "angel's share" of wine sacrificed along the way.
Despite being surrounded by such opulent luxury, lunch at Del Posto is a relative bargain (please note that we are in New York City). Three courses are $49 and you can add a pasta course for $10 a person (dinner, by contrast, starts at $149 per person). Trust me, you will not leave hungry.
Your lunch starts with a trio of amuses which included a matzo ball soup with beautifully brunoised vegetables, crispy and cheesy arancini and a flaky parmesan puff.
Bread service consists of an interesting bowl with a divot of sorts curved into it which is set to the left of each diner.  Our server places the bread knife on the opposite side of the divot which I assumed was an error until the stunning cross between a baguette and a grissini is placed onto the curved out space.  The "baguettini" was wonderful but the whipped butter will haunt your dreams.
Vitello Tonnato was brightened with crunchy toasted olives, caper shoots, lime segments and lemon basil.  The veal was tender and silky and topped with a rich tuna puree.
The truffled beef tartare was the real showstopper of the meal.  The beef was dry-aged for 28 days, combined with black truffles, capers and topped with crunchy salsify chips.  Our server made sure that my husband shared the dish (which he was not eager to do!) It was just stunning.
We shared a middle course of agnolotti dal plin.  The tender little squares of pasta were filled with slow cooked veal and tossed with a parmesan-butter sauce.
Chicken "alla Scarpariello" might have been baked in a bed of hay but was anything but a meager "shoemaker" dish. The breast meat was tender with crispy skin but the thigh meat was the thing I kept coming back to on the plate. Charred broccoli rapini and bright giardiniera (pickled vegetables) rounded out the lovely dish.
A nicely slow roasted Abruzzese-spiced lamb chop came with a friend – a side of braised lamb neck.  "Lamb with a side of lamb," our server explained.  Did I mentioned that you won't go hungry at Del Posto?  The chop is lightly breaded and served on Umbrian Lentils.  The braised lamb was paired with roasted artichokes and spiked with a tangy yogurt.
Dessert was an aged ricotta that had a wonderful smoky note to it.  Before it arrived we had been given special dessert napkins and the meal ended with hand cloths scented with fresh lemon slices and rosemary springs.
Del Posto might be a grand restaurant in terms of size but, in the end, it is its focus on the smallest of details that makes it such an enjoyable place to spend an afternoon.