Let's be fair.  Lunch at Gabriel Kruether is a tough act to follow.  That said, I really wanted to like Annisa, where we headed for dinner after our astonishing lunch at Kreuther.  Annisa first opened its doors in 2000.   From everything we read, Anita Lo seemed somewhat groundbreaking in her approach to fusion cuisine.  It had been on our short list for a long, long  time.  Perhaps too long.
We liked the dining room the second we walked in.  Simplicity, modernity and intimacy abound.  We were seated side by side – so romantic – and the service was friendly and welcoming.  Menus are placed before us and we order a couple of glasses of champagne.  We settle in for a nice, relaxed meal.  The champagne arrives and, unlike Bouley and Gabriel Kreuther, it is not a particularly generous pour nor it is served in fantastic, gorgeous stemware.  But that is ok we think.  We need a break from the extravagant luxury of the lunches we've enjoyed the past few days.  We sip the champagne and open our menus.  What's this?  Forty-eight dollars for Arctic char?  Lamb neck for forty-seven dollars?  Sable is forty-nine, rabbit is forty-eight.  Mackerel is forty-six dollars!  Mackerel?
All is not quite as shocking as it seems.  Let me share with the reader something I would not learn until the check arrives.  Annisa starting including a 20% service charge at the start of 2016.  I admittedly slept through this as did the table next to us who was in the process of the leaving a cash tip when they overheard me inquire of our server why there was no room for a tip on the bill.  I respect a restaurant's right to charge a mandatory service charge but do think they have an obligation to make sure the customer is informed so people do not double tip  (and tiny font on the bottom of the menu in a dimly lit restaurant does not quite get it done).  It's also in the restaurant's interest to let us know that we are not actually paying $46 for a piece of mackerel because, trust me, it affects ones enjoyment of a meal.
On to the food.  The amuse was a fun little pastry shell filled with a pepper mouse and topped with a white anchovy and chives.  The bread that arrived next, however, transported me back in time to a place I did not want to be (maybe 2000?).   The white, fairly generic rolls were served with curls of butter.  A lot of restaurants these days seem determined to undermine our best intentions to consume less carbs with their enticing and exciting bread offerings.  No such worries at Annisa.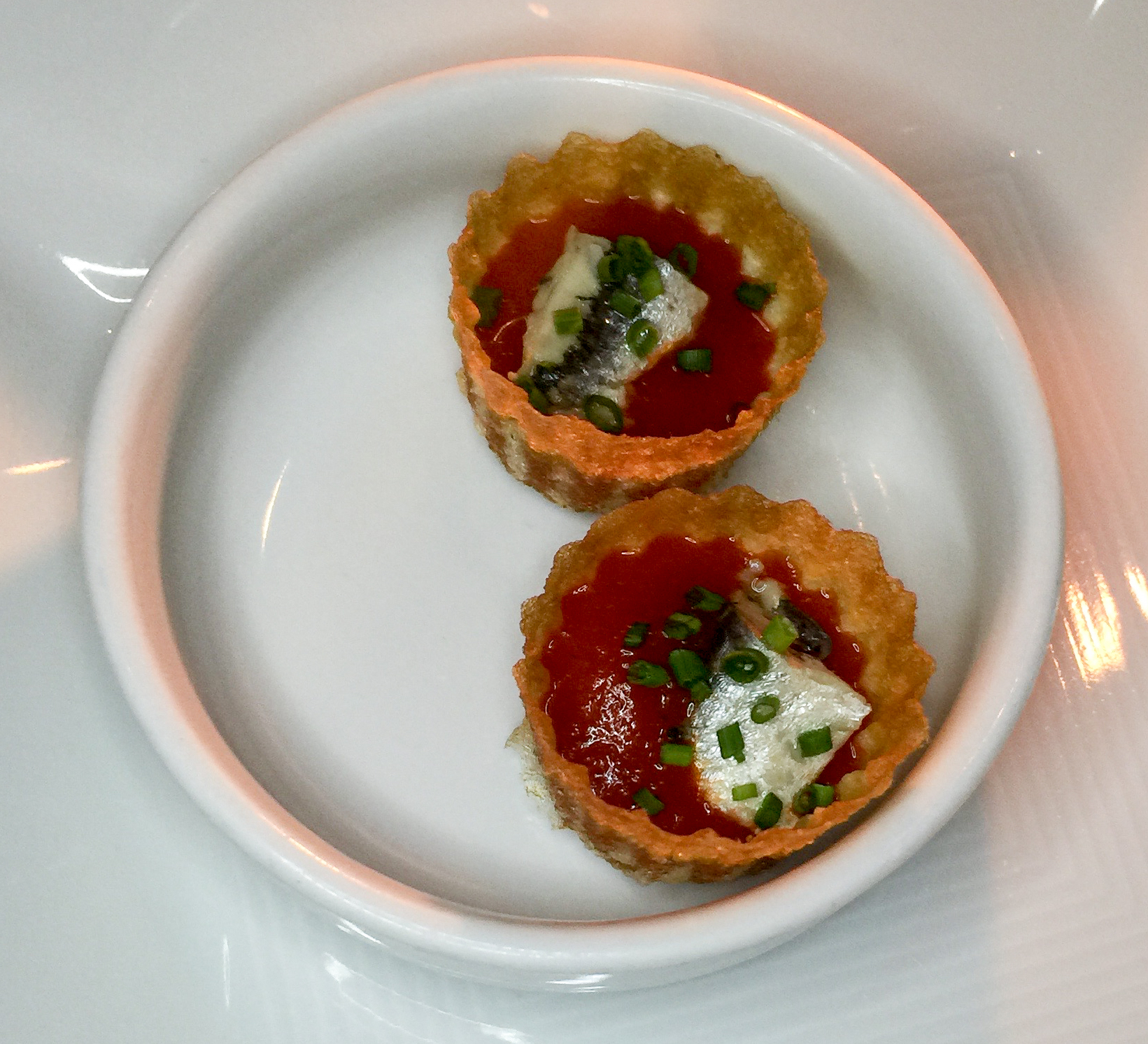 Amuse
The best dish of the meal arrived first and was, predictably, the soup dumplings with foie gras which is one of the Annisa classics.  Tasty – yes.  But the dumpling itself was thick and a bit clunky and not even close to the glory of a good xiaolongbao one can find in Chinatown.  The seared foie helped but the reduced black vinegar glaze was reminiscent of the sad dollops and swirls of reduced balsamic seen at confused restaurants everywhere.
Another one of Annisa's "greatest hits" is the barbecued squid with thai basil and fresh peanuts. The squid was nicely cooked but the marinade was overly sweet as was the cloying and sticky hoisin sauce.
The Spanish mackerel was adored by the New York Times but we found it, again, overly sweet.  Although the skin had a nice char, the fish itself was soft, almost mushy and vaguely unpleasant.  The (can I use the word again) sticky, sweet gochujang sauce would have completely overwhelmed even the best piece of fish.  The light and crispy fried milk  balls were a delight but could not save the dish.
Finally, the duo of rabbit, which was the one dish we ordered that was not a long standing menu item, was attractively presented and certainly looked promising.  The rabbit loin was stuffed with dandelion greens and paired with a side of pate.  The loin, however,  was overcooked and dry, the pate was bland and both dishes were under seasoned.
I have read that Annisa is not the same restaurant when chef Anita Lo is not in the kitchen.  I have no way of knowing if she was in the house that night and maybe, if she wan't, it affected the execution of our meal.  But my overall takeaway is that the experience just felt a bit dated.  That maybe we waited a bit too long to give it a try.  Possibly we ordered poorly and we drawn to the media darlings dishes and customer favorites that the chef feels like she cannot change.  Perhaps ten or fifteen years ago the flavors would have seemed unexpected.  Now they seem a little heavy handed.  Influences from around the world are popping up on menus everywhere and talented chefs are using a slightly softer touch to achieve extraordinary flavor and excitement in their dishes.  From my admittedly limited experience with the food at Annisa, it just feels like the restaurant, which was once considered an innovator, does not quite seem to be keeping up with the times.