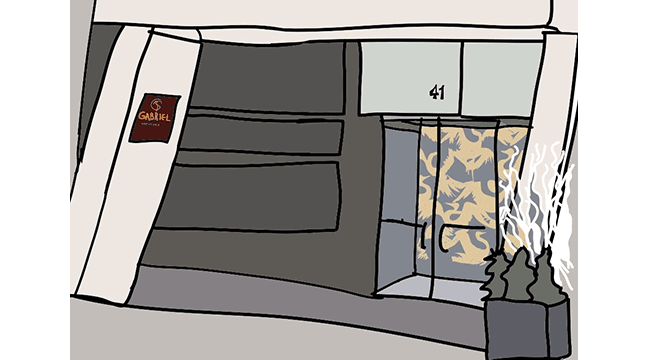 The only bad thing I can say about lunch at Gabriel Kreuther is that has to come to an end.  On a short trip to New York where we ate our way through thirteen New York Times stars in two and a half days, Gabriel Kreuther's stars shone the brightest.
The restaurant is named after the chef and owner who, prior to opening his own place in June of 2015, was the executive chef at the Modern for nearly a decade.  He hails from Alsace and brings extraordinary French technique to this luxurious spot across from Bryant Park in Manhattan's Grace Building.
You feel immediately at home when you enter the restaurant.  The hosts are cheerful and happy to see you.  Ask about the barn beams and their excitement about the interior design becomes infectious.  There is, in fact, a certain pride that runs throughout the entire service.  In addition, there is a certain level of luxury to every detail that further elevates the experience.  Gabriel Kreuther has some of the most beautiful silverware I have every seen and unique, often hand crafted pieces accompany each course.  I found myself longing for the variety when dining elsewhere.  Who knew silverware could be such a treat?
Champagne is poured into beautiful, soaring stemware.  Savory kugelhopf in its ceremic crock arrives with chive fromage blanc on the side.  Carbs be damned – this is the bread of my dreams.
A parmesan dumpling is floating in a pool of consomme topped with a bit of citrus gelee.  Use the beautiful spoon provided to scoop the explosion of cheesy goodness into your mouth and follow it by sipping the intense consomme directly from the amuse glass.  You know you are in very good hands.
The restaurant has a nice selection of half bottles and we created a mini pairing with a starting with a Domaine Weinbach Riesling from Alsace and finishing with a Domaine Pierre Naigeon Gevrey-Chambertin from Burgundy.  The first wine is poured and a glass clouche arrives at the table.  It is lifted and, after the applewood smoke recedes, appears the beautiful sturgeon and sauerkraut tart.  The sturgeon is brightened by the pickled cabbage and covered in a decadent lemon mousseline and finished with American caviar.  Each flaky, creamy, salty burst of a bite is pure pleasure.
A dramatic black bowl contains a seven grain tuile filled with blue shrimp that is topped with black tobiko and a watercress granité.  An intense, creamy fennel-cockle velouté is poured table side.  The dish is as visually arresting as it is completely satisfying.
We add in a middle course of chestnut and parmigiano reggiano risotto with Périgord black truffles.  The risotto is al dente perfection and a generous amount of black truffles are shaved in front of us releasing their earthy aroma.  Maybe I was favoring the truffles a bit as they were finished up before the risotto.  Not to worry.  Our waiter noticed my truffle gluttony and rushed back to shave more truffle on my remaining risotto.  This is the kind of pampering one could get used to.
Just when you think you have reached maximum happiness a new bread appears at the table.  The wonderful seeded baguette is paired with a house made butter.
The final dishes of the lunch amazingly continued to astonish in their excellence.  Flaky Hawaiian mero was topped with bouchot mussels and finished with a herb crust.  Young leeks, purple Peruvian potatoes  and a pimiento broth finish this exquisite fish dish.
I am running out of accolades here but the Fallow venison loin was the best dish of the meal and one of the best dishes we have had anywhere. The venison was joined by a brown butter sweet potato puree, crispy brussels sprouts and confit of onion and perfected with a juniper jus.
When food is perfect in execution, flavor and presentation, as it was this day, it demands your attention and, as a result, is completely satisfying.  I have heard that desserts are fantastic at Gabriel Kreuther but we knew we had reached our end.  It was a magical culinary journey, however, that we will not soon forget.