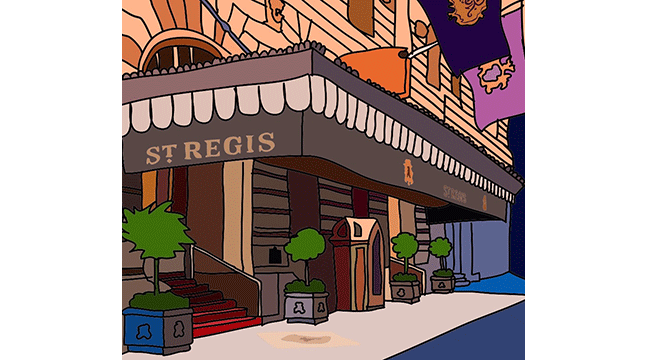 The King Cole Bar is tucked into the back of the St. Regis hotel which we made home during a quick trip to New York City.  The St. Regis hotel is seeped in history.  It was built by Colonial John Jacobs Astor in 1905 and, at the time, was the tallest building in New York at 19 stories.  The price of a room?  Five dollars. Legend has it that in 1906, Astor commissioned Maxfield Parrish to paint him on a throne as a king.  Parrish was none too pleased with this assignment and it is believed that the grimaces on the faces of those surrounding the king represent the artist's revenge as they reacting to the king – let's just say it – farting.  This mural hangs in the King Cole Bar today.
In addition to possibly being the richest man alive at the time, Astor was a bit of a cad.  At the age of 47 he left his wife of nearly twenty years to marry a 19 year old socialite to much scandal.  They waited out the gossip with an extended honeymoon in Europe and Egypt.  Tragically, while returning from their honeymoon on the Titanic, Astor died when the ship sank.  His young wife, who was pregnant at the time, did survive.
How were the drinks you ask?  Expensive and huge.  Two of these babies after the lunch we had at Bouley earlier in the day and any chance of going out to dinner was out the window.
We returned (close) to the scene the next morning for breakfast. The main dining room is beautiful.  The coffee is served in sterling silver coffee pots.  The service will charm your socks off.  The prices are, well, a bit steep.
But this is, after all, the birthplace of the Bloody Mary.  It was actually called the Red Snapper back in the day because the Bloody Mary was deemed inappropriate for their elegant clientele.  Nowadays they have a menu of Bloody Mary offerings in addition to the classic.
Red Snapper (Bloody Mary) recipe
Created by Fernard Petiot in 1934
INGREDIENTS
1 ounce of vodka
2 ounces of tomato juice (The St. Regis uses Sacramento tomato juice.)
1 dash of lemon juice
2 dashes of salt
2 dashes of black pepper
2 dashes of cayenne pepper
3 dashes Worcestershire sauce
Combine ingredients in a cocktail shaker.  Shake vigorously.  Strain over ice cubes.  Garnish with lemon wedge.
Yes there is food to be had with your Bloody Mary.  Truth be told, it is actually pretty good.