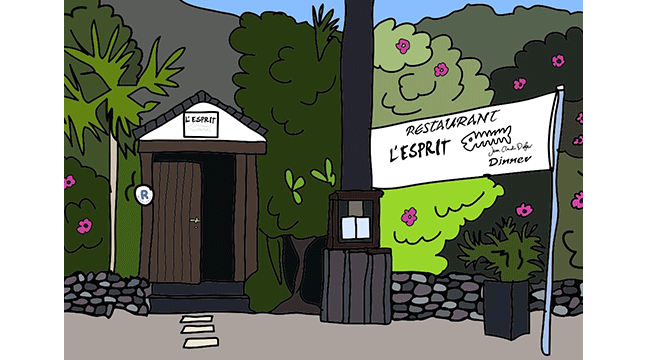 On the island of St. Barts chef Jean Claude Dufour is a rock star.  Just ask around.  Long time visitors to the island will almost mythically reminisce about the meals they had at Sand Bar or the Rock back in the day.  Fellow island chefs have the upmost respect for his culinary talents.  And he has the pedigree to back it up.  After attending the Ecole hôtelière in Bordeaux he worked with the famed Triosgros family for nearly a decade before arriving on St. Barts via Senegal.  He was the head chef at Eden Rock for years until he parted company with them in 2010.  Luckily for us, his disappearance from the St. Barts restaurant world was short lived and he soon opened his own place.
When rock star chefs open restaurants they can sometimes be, well, a little over the top.  Slick, glossy and modern with lots of big money behind them.  Walk into the former L'Esprit du Saline, though, and you can't help but feel that Jean Claude went in an entirely different direction.  It is as though he channeled the ghosts of Sapotillier and Francois Plantation and added in a little of his own island mojo.  Slightly weathered wooden tables and chairs fill the outdoor space.  Strings of lights are casually strung between palm trees and sway in the evening's breeze.  Menus are simple clipboards with the day's offerings printed on a couple of pieces of paper.  The vibe is more "charming island shabby" St. Barts than the sleek "thump, thump" St. Barts that has been such the rage as of late.  The food, however, is anything but shabby.  It is simply some of the very best food on the island.
Our meal started off wonderfully with an amuse of chilled watermelon gazpacho partnered with crisp little tuna accras.
The salad is described on the menu as "Vegetables and Leaves Salad."  Talk about under promising and over delivering.  The gorgeous vegetable terrine that arrived consisted of compressed layers of roasted eggplant, zucchini, chard, carrots, and lemon ricotta.  It was topped with a mache salad and basil crostini and finished with basil oil and a roasted red pepper vinaigrette.  And here I foolishly thought that I had ordered a bowl of leaves.
Next the chef threw a little 'surf and turf" at us.  Perfectly pan-seared sweetbreads were elevated by the inclusion of tender langoustines that lent a bright citrus note.  A well-seasoned parsley salad topped off the dish.  One of the best renditions of sweetbreads I've ever tasted.
The turbot brings me right back to Chef Dufour's cooking at Eden Rock.  It is a masterful expression of French technique with meltingly silky turbot, creamy artichoke puree, tender young artichokes and snap peas and a sauce that has such depth of flavor that  you know it was several days in the making.
Best dish of the entire trip?  The pigeon at L'Esprit.  Juicy slices of rosy pigeon are fanned out over an improbably decadent liver pate toast set alongside spheres of roasted potatoes.  The rich and complex sauce that completes the pigeon makes you extremely happy that you ordered the pigeon and also happy that you have been eating pretty much nothing but raw fish everywhere else.  The dish may be over the top but but trust me you will not have any regrets!
Service at L'Esprit was relaxed and poised and extremely apologetic when they forgot to bring us the one dessert we ordered the entire trip.  All was forgiven because we really only ordered it because we just did not want the experience to end.  Put your lighters in the air my friends – Chef Dufour is still making beautiful music at L'Esprit.