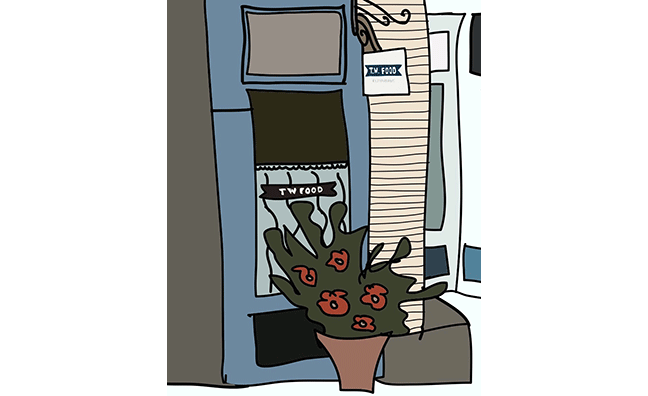 A great restaurant meal is so much more than the food.  It is the service.  It is the room.  It is the company you keep.  It is the mood you are in that day.  It is wonderful when all the pieces come together but it is not hard for something to go amiss.
A recent meal at T.W. Food  in West Cambridge did not start off so promising.  Ubering from downtown Boston to nether Cambridge set us back $47.*  We enter the tiny restaurant which has maybe thirty seats and are immediately greeted by the sounds of a crying baby.  There is, in fact, a party of eight in the front of the restaurant consisting of two exhausted looking parents, two small children (including said crying baby) and four unhappy looking adults.  The host takes our coats and said we can choose any available two top in the restaurant.  Unsurprisingly, all the guests that came before us have seated themselves as far away from this group as possible.  We take one of remaining tables which offers me an unobstructed view of the people who thought "Yes!  Let's take our really young kids to a really small, quiet and romantic restaurant on a Saturday night where they will cry ALL NIGHT LONG."  In total fairness – it was only the baby crying.  The other kid was on his ipad all night.**
In the end, however, our experience at T.W. Food was so transcendent that none of these distractions mattered a bit.  The dining room, as I've already touched on, is small and charming.  There is a brick wall on one side and and tables adorned with white tablecloths and beautiful flower arrangements are scattered throughout the room.  The setting and the lovely, attentive service reminded us of the small husband and wife owned restaurants we love so much in Paris.  A window provides a view of the kitchen where two chefs were moving with zen like calmness.   We decided to mindfully ignore of the inappropriateness of large party and instead channel the chefs' calm demeanor by enjoying a half bottle of champagne.  It helped.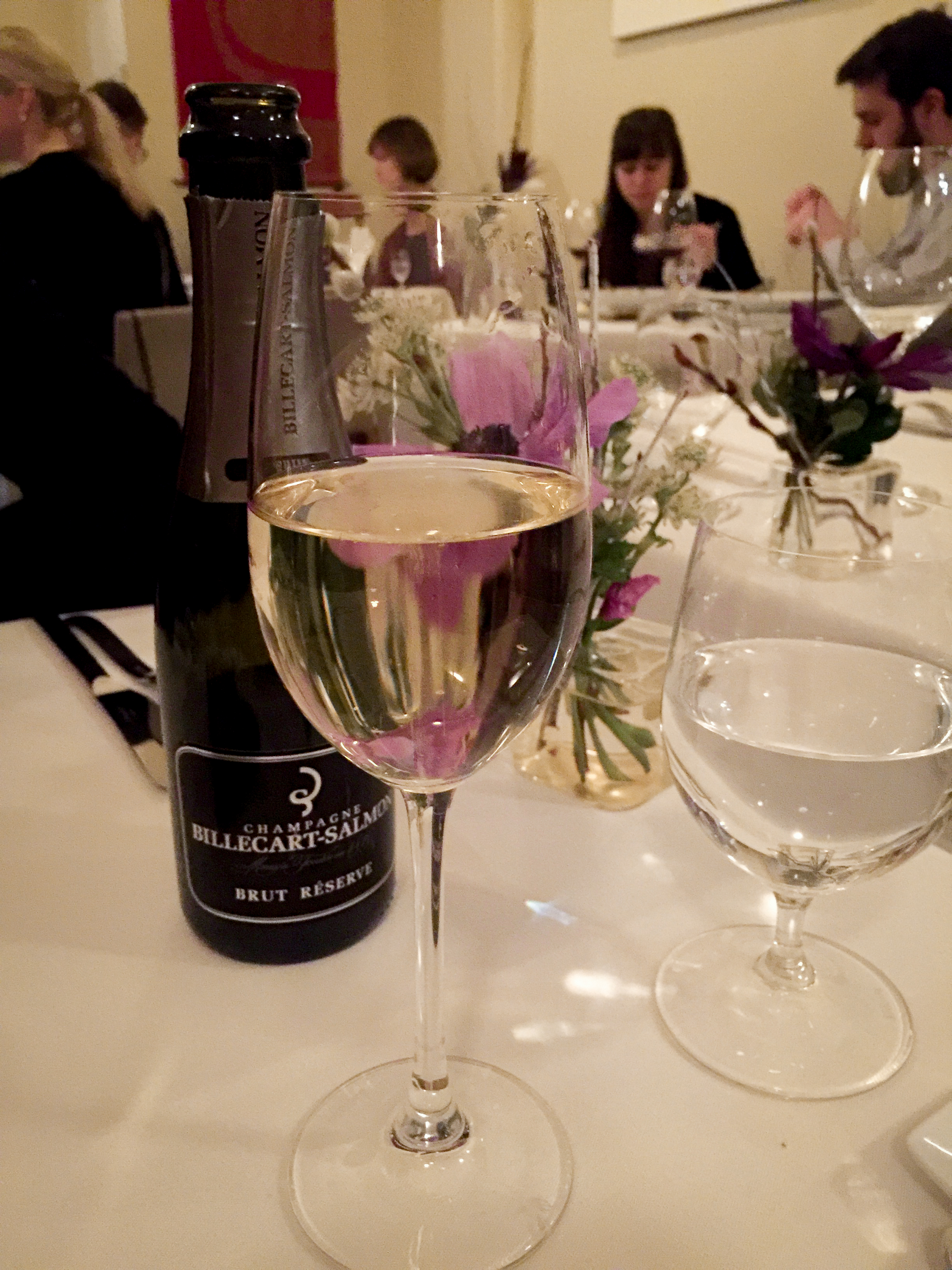 We moved our attention to the menu which gives you a couple of ordering options.  Three courses for $55, a la carte starters are $17 and mains are $33.  Additionally, they offer a six-course tasting menu (and there is a vegetarian tasting menu as well) for $85.  We decide to create a bit of a mini-tasting and order a few appetizers and a couple of mains and add in a pasta dish as a middle course.
Before we get to the food, however, I would be remiss to not comment on the wine list which is a bit eclectic in its approach.  It highlights about a dozen or so wine producers and provides interesting detail on their techniques, style and the grapes used in the production.  It then offers several options from each producer at varying price points.  In addition, there is a small but well curated reserve list of wines.  We chose a reasonably priced Gerardo Cesari Mara Valpolicella Ripasso Superiore to pair with our dinner. And what a dinner it was.
The meals starts with whole grain sour dough bread paired with both a green onion butter and a salted farmstead butter.  Amuses hit on all notes – a little citrus salad to pique the appetite and a tiny bite of a decadent infused whipped cream on top of a crispy, flaky puff of a cracker.
Arugula salad shares the plate with delicata squash which is both roasted and pickled.  The salad is spiced up with fiery pepitas and dressed with a piquant yogurt vinaigrette.  Texture comes by way of crisp tuiles that are studded with a variety of seeds.
The portions at T.W. Food are quite generous and the salad was large enough for two people to share especially if one was to add a pasta course like we did but had we shared we would have missed out on the the pure joy that can be had from a crispy panko encrusted puck of hamachi collar.  It was brightened with a ponzu sauce with daikon and elevated to the sublime with a fermented black bean aioli.
The semolina pasta pyramids were filled with a cheesy, hazelnut goodness so tasty that we slightly regretted deciding to split this dish.  House-made chicken boudin and bright bites of citrus made every bite a complete treat.
Swordfish is adorned with an unusual and extremely successful coriander-ginger beurre blanc.  Braised leeks, wild mushrooms and crisp potatoes texturally balanced beautifully with the tenderness of the expertly cooked fish.  The carrot puree was a wonderful complement to the ginger and coriander and we just wished there had been more to enjoy.
The "Surf and Turf" paired butter roasted day boat scallops with roasted cauliflower and melt in your mouth citrus braised pulled pork.  Again an unusual but satisfying combination.  It  was, however, the pineapple-coconut sauce that insured that there was not a bit of food left on the plate.
I really love cheese and sometimes when a restaurant has a wonderful cheese program I have to ask myself, "Was the meal really that good or did the cheese somehow alter my brain and distort (positively) my enjoyment?"  Let's face it – buying and serving cheese does not make for a great chef.
T.W. Food offers a cheese plate for dessert and the good news is that I can say for sure it did not result in an inaccurate portrayal of our meal. To the contrary, the plate, which consisted of cold cheese slices (one ironically being raclette which is usually served melted) right out of the fridge, like the expensive Uber ride and the crying child, could have dampened my experience.  But the rest of the food was so pleasurable that this minor flaw quickly faded into the background.
The use of bright and unexpected notes in almost every dish is the thing that makes the food at T.W. Food so fantastically enjoyable.  There is also a real heart and soul to the restaurant which sets it apart from a lot of places nowadays.  Tim Weichmann, the chef and owner of T.W. Food and, more recently of Bronwyn, seems to fly a little under the radar screen.  The food that he is putting out at T.W. Food, however, should be front and center in the Boston food world.
_______________
*FYI – You can totally take public transportation from downtown Boston and walk to the restaurant like we did on the way home but we could not seem to get our act together so Uber it was.
**What unfolded in front of me throughout our meal was a complete train wreck as one parent or the other or both walked the unhappy baby to the front of the tiny restaurant (once hitting another customer with the kid's foot which resulted in an almost comic look of pure fury on face of the offended patron).  When the child could not be soothed inside, the parents, to their credit, headed out into the cold.  But repeatedly opening the door resulted in many blasts of cold air flowing into the dining room and another customer ate dinner while wearing a full length puffy NorthFace jacket.
T.W. Food
377 Walden St
Cambridge, MA 02138
Phone: (617) 864-4745
Website: http://www.twfoodrestaurant.com/
Reservations: http://www.opentable.com/tw-food-reservations-boston?restref=114271