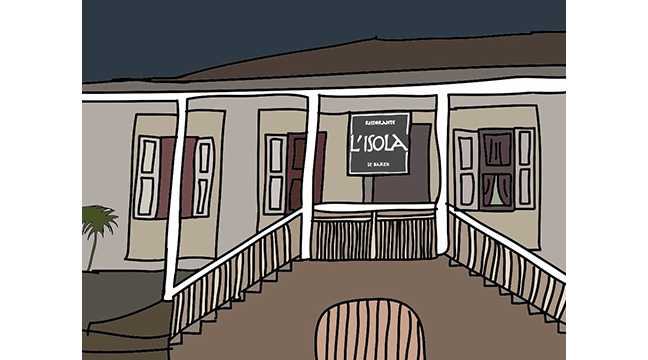 I am sitting in L'Isola and I am having a vaguely out-of-body experience.  Where am I?  Where did all of these people come from?  Why does my waiter have an Italian accent?  I was on St. Barts just minutes ago but upon being seated at L'Isola I feel like I am a million miles away.  Is this a good thing?  My martini arrives and I no longer give a damn.
The room is quite dim with tightly packed tables covered in white tablecloths.  Ordering a strong cocktail or two feels de rigueur at L'Isola so, despite my initial uneasiness with the decidedly non-St. Barts scene, the place basically had me at hello.  There is a real energy to the space with lots of large groups and many intimate tables of two.  By 8:00 p.m. the dining room is completely full.  I have not seen this many people in one place since arriving on the island a little less than a week earlier.
As you might have gathered, this was our first visit to L'Isola although the place has been on our list for a number of years.  We have no objection to the concept of Italian food in St. Barts (one cannot eat raw fish at every meal) and this is not your typical red sauce Italian joint by any stretch.  The menu is much bigger than I anticipated: soups, antipasti, salads, risottos, meat, fish and, of course, pasta.  There were at least twelve different pasta offerings and several specials as well.  We ordered away!
Up first was an amuse – a gift from the kitchen.  An amuse is supposed to fire up the palate  – think bright and balanced – and get you excited for your upcoming meal so I'll confess to being a bit nervous when we are presented with polenta fries paired with a creamy mascarpone dipping sauce.  Fried food dipped in cheese is not how I generally roll but I must confess that they were delicious in a naughty sort of way.
Fortunately, the rest of the meal was executed with a much lighter hand.  The wine of the evening was a 2010 Gaja Barolo Dagromis which was open and breathing while we enjoyed our cocktails.  It was smooth drinking and just got better as the meal progressed.
Ok – so maybe there was raw fish after all.   The silky slices of wahoo carpaccio were dressed with a peppery olive oil and served with toasted bread.
The grilled baby calamari, shrimp and scallops in the grigliata di mare were perfected cooked and held court with grilled vegetables and peppery arugula.  The shaved baby artichoke salad with Reggiano cheese and fruity olive oil was fresh and well-seasoned.  It was a great companion to the seafood antipasti.
The octopus salad was a bit goofy with its spring of curly parsley poking out the top but, 1980s plating silliness aside, it was terrific.  The octopus was tender and flavorful and the dish was studded with apple, celery and tomatoes and finished with a summery lemon vinaigrette.
The pasta dish of choice for us was a special that evening – spaghetti with razor clams and shaved bottarga which is a salted, cured fish roe.  The bottarga added just the right amount of salty umami to the delicate razor clams and the pasta was cooked to al dente goodness.
What can I say?  The food at L'Isola was great.  So was the service.  Wine was topped off, napkins were folded and the servers were friendly, gracious and professional.  It may not "feel" like St. Barts (whatever that means) but I think one of the best things about St. Barts is that it is not a homogenous, cookie-cutter type of place.  Take a spin around the island and you'll run the gamut with beach bars, high-end dining, casual lunch spots, burger joints, pizza places, Vietnamese food, creole food, Thai food, juice bars, traditional French food, modern French food, sushi, bakeries, and steak houses to name a few.  L'Isola brings Italian food to the island and I can say is "Grazie!"