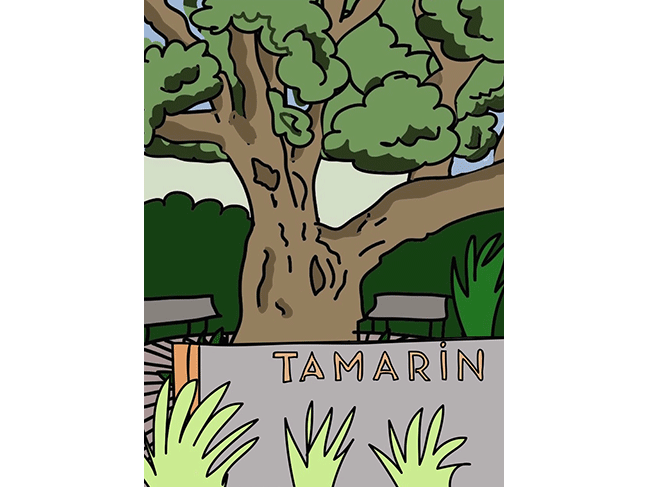 A perfect day on St. Barts sounds like such a cliché. You're vacationing on a beautiful island.  The weather is gorgeous.  The people are more gorgeous.  The food is great.  One wonderful day drifts into the next wonderful day.  But once or twice a particular day sears itself in your memory for all time.  For me, it was many years ago.  The day started with breakfast in the garden at Francois Plantation.  Already this day is better than most.  The beach at Saline was practically empty and we swam and sunbathed and read for hours.  Prior to lunch, I had a massage that left me feeling like I was floating through air (yes – the clichés keep coming).  Lunch was at Le Tamarin near Saline.  It was our first time ever at the restaurant.  Our server was a more gorgeous Mariel Hemingway.  Another front of the house presence was a charming West Indian woman (possibly named Edna?) whom we were told was a witch who could perform magic.  She certainly cast a spell over us.  Lunch was perfection.  The champagne, the wine, the food, the rhum.  We decided that Le Tamarin was our favorite restaurant anywhere.  Back to Saline after lunch.  The waves had picked up but I dove in.  I distinctly remember floating in the warm, crystal clear water marveling at the beauty of the beach, reflecting on the wonderful lunch we had so enjoyed and thinking "this is a perfect day."
Then a big wave came and just like that the perfect day came to an abrupt end.  A trip to the emergency room confirmed a shattered collarbone and resulted with my leaving the ER with some seriously effective French pain medicine.  Nonetheless, I have never forgotten that almost out-of-body feeling I had when floating in the water and I have never forgotten that lunch at Le Tamarin.
Many years later, like many restaurants on the island, Le Tamarin has changed owners and chefs many times but the latest iteration, now known as Tamarin St Barth, with Paco and Julie at the helm, is a true delight.
Monet would approve of the gardens with their lily ponds, tropical plantings and, of course, the large Tamarin tree as the centerpiece.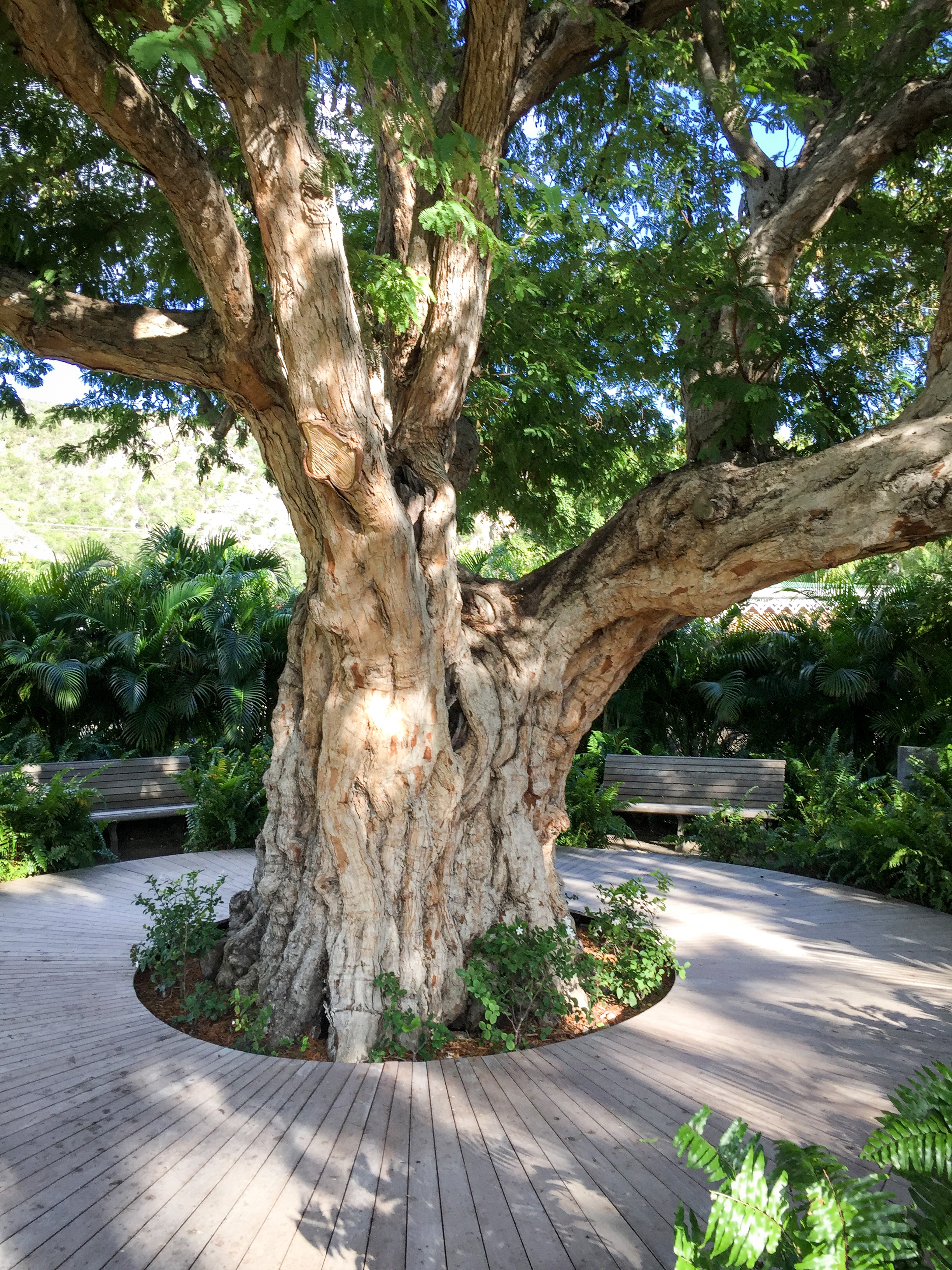 There is a never ending debate about what makes the perfect martini.  Let me suggest that the three rules of real estate apply: location, location, location.
We dined here twice this trip and everything was uniformly excellent.  The dining room is overseen by husband and wife team Paco and Julie.  They are in constant motion (stopped occasionally so Paco can land a kiss on Julie's head as they pass by each other) making sure everything is humming just right.
Each lunch begins with marinated olives and a basket of delicious bread.  Starters include a succulent duck confit topping a Le Puy lentil salad with a honey vinaigrette that elevated the humble lentil to an exciting new place.  I could eat way more than I should of the nutty, porky Paletta Ibérique which was paired with a confit of tomatoes and grilled bread.
Main dishes for us included a thai salad with a ginger vinaigrette featuring snake king prawns that were both juicy and tender-firm inside.  They were so good it was nearly impossible not to order them again on a second visit.  Perfectly seared mahi mahi was on a bed of creole rice and accented with a ginger and coconut broth.
A second visit brought the grilled red snapper with a tomato-basil sauce on a creamy potato puree.  The rich texture of the puree suggests a base of Ratte potatoes and a Robuchon influence.  We departed from the sea just once with our main courses to try the intensely satisfying roasted chicken with gnocchi and spinach which was finished with an earthy mushroom sauce.
Wines were spot one.  One day it was an excellent red Morey Chassagne-Montrachet and the next it was a terrific Domaine Faiveley Mercurey.  And there was a final flourish – a cheese plate!!   Why are there not more cheese plates on St. Barts?  Jean Anthelme Brillat-Savarin has proclaimed that "dessert without cheese is like a beauty with only one eye."  I am proclaiming that when you are dining somewhere French your meal should always end in cheese.  And end in cheese it did (plus rhum)!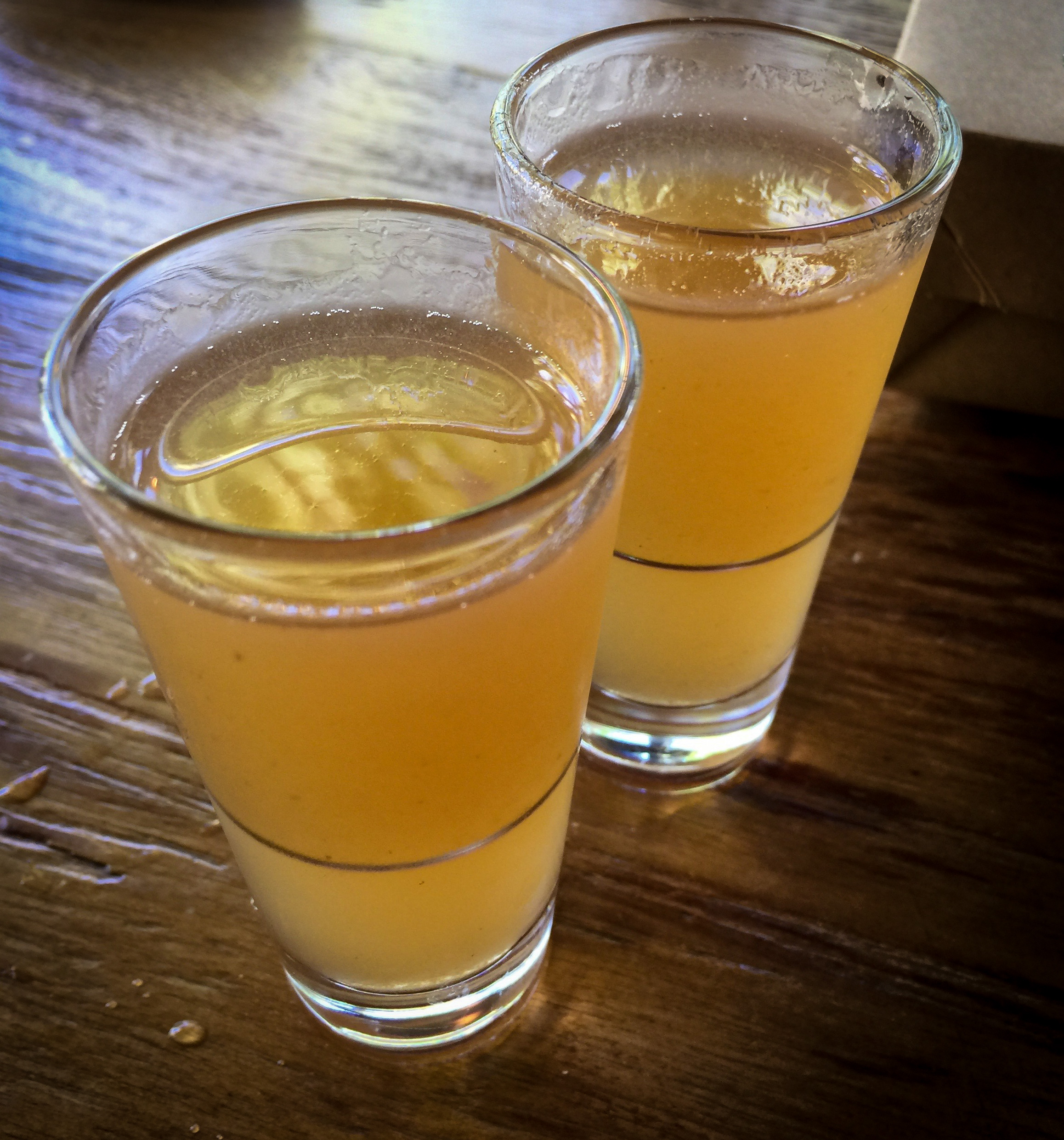 There might not be a good witch roaming the restaurant casting spells anymore but there is no question that all of the magic is back at Tamarin.