This next meal did not take place on Day Three like David Toutain but instead was sadly our final meal in Paris.  Just like it was a bummer to end the trip with a disappointing experience I also thought it would be a bit of a downer to end my trip report on a sour note.  As such, I am getting my takedowns out of the way so I can resume happy posting (many wonderful meals to come!).
Our final meal was a return to L'Atelier de Joël Robuchon.  This past summer we, on a total whim and after some seriously efficient packing, decided to go here for lunch our last day instead of eating in our apartment as planned before catching our plane.  We just wanted to squeeze in a little more Paris.  Who would be open early enough that we could eat and still get to CDG?  Who was reasonably local enough to where we were staying? And who would have room at the very last minute?  Enter Robuchon.  French tapas sounded fun and off we went.  We had a good meal and the prices, although shocking at the time (not online btw), were quickly forgotten as this was our last meal.  We decided it would be a fun last day tradition.  Not so much.
I feel that the menu speaks for itself.  Small plates (they recommend 3-4 per person) range from 26€ to 49€.  Entrees (appetizers) are 29€ to 79€.  Yes – they charge 79€ for a lobster starter.  I had a wonderful lobster main course at Premices for 28€!  Main courses here will run you 39€ to 79€ with most dishes in excess of 50€.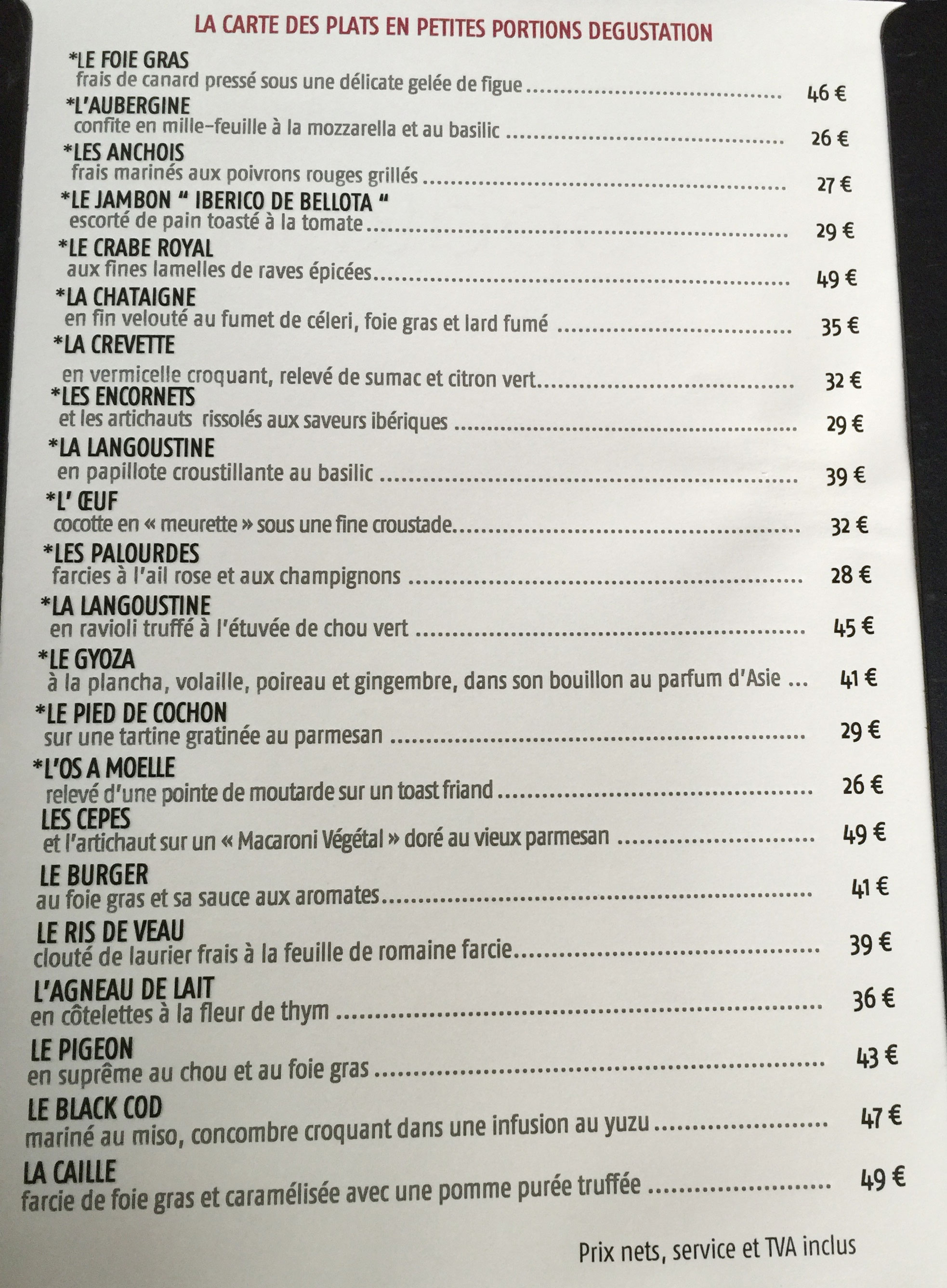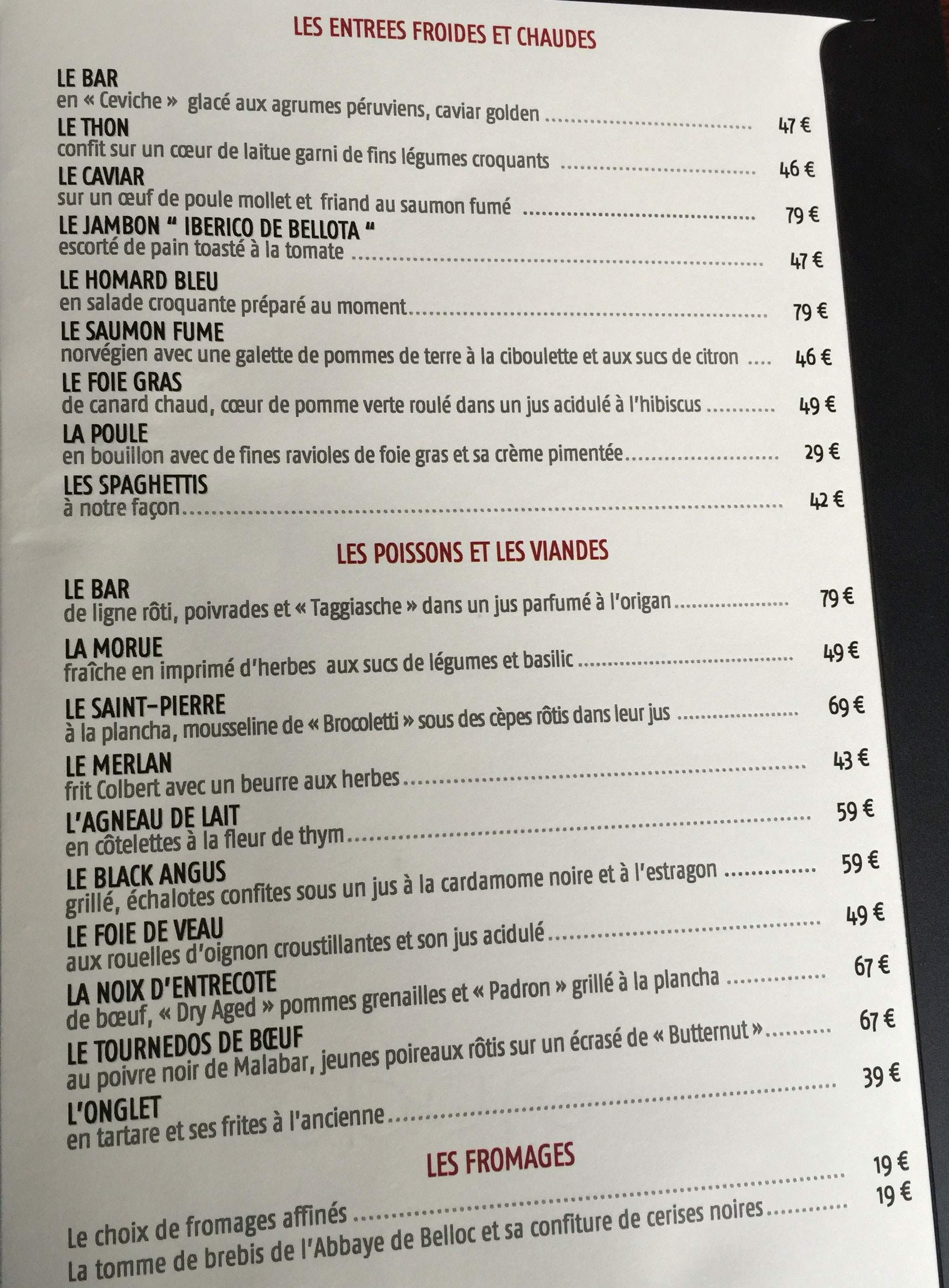 The menu had not changed since our last visit and the food was fine but, after a week of eating so well at so many different places, really did not impress us all that much.  What impressed us even less was the service this time around.  We actually had the same server as the last time we were there.  She has a bit of an attitude which we found kind of charming initially.  She bears a stunning resemblance to the actress Michelle Rodriguez and her personality was a bit like her character in Fast and the Furious where she loses her memory, gets really angry in a silent way and tries to kill Vin Diesel.
We thought it was kind of entertaining because the crowd, for the most part, was exceedingly well heeled (think Upper East Side types) and she was basically ignoring all of them.  It was less entertaining when she decided to completely ignore us at the end of our meal when we attempted to first get the wine we ordered with the cheese course and second to get our check. We were able to get her attention once to ask (politely) after the wine we ordered.  She seemed less than pleased by this request but did bring us the wine.  From that point on, she literally would not make eye contact with us.
A good 30 – 40 minutes after finishing our cheese course and trying to get her attention short of jumping on the bar, we ended up having to ask the person at the front desk for our check.  He went up to her and told her we needed to settle our bill.  Still no eye contact and she left the area behind the bar to reset some tables on the other side of the room.  Ironically, we had commented to each other earlier that all the other servers were constantly polishing glasses and resetting plates and she just stood there the whole time doing nothing and NOW she decides to start resetting?  Another 20 minutes or so pass and we have to ask the front desk again for the check.  Someone else finally brought the check and we had the privilege of shelling out 370€ for this horrible  – and sadly last day in Paris – experience.
Maybe she was having a really bad day.  Maybe asking for the wine they forgot to bring with the cheese was more than she could handle.  As we walked back to the apartment to pick up our luggage and head to the airport we were almost shellshocked.  We literally could not make sense of it.  But the good news is that a potentially really expensive "tradition" is off the table.  I think Auberge Flora will get the nod next time for our last lunch.
Pictures of a really expensive way to burn a lot of Euros: