Our first morning in Paris started with a jog in the Luxembourg Gardens followed by a breakfast of poached "bio" eggs from La Grande Épicerie and a baguette aux céréales.  This routine would be on "rinse and repeat" each morning.
One of our go-to breads for our morning routine is from Bread & Roses which is a sweet little bakery/café situated on the corner of Rue Madame and Rue de Fleurus right near the Luxembourg Gardens (and right near the apartment we rented).  It has grown over the years from a simple bakery to an expanded shop carrying nice cheeses, mustards, wines, spirits and meats and also houses an art gallery.  The bread is very good (five or six years ago it was our favorite) but it has been interesting to see the evolution to whole grain and multigrain breads in restaurants.  As such, a LOT of places are now giving it a run for its money which is great because I love multigrain bread but which is bad because I LOVE multigrain bread.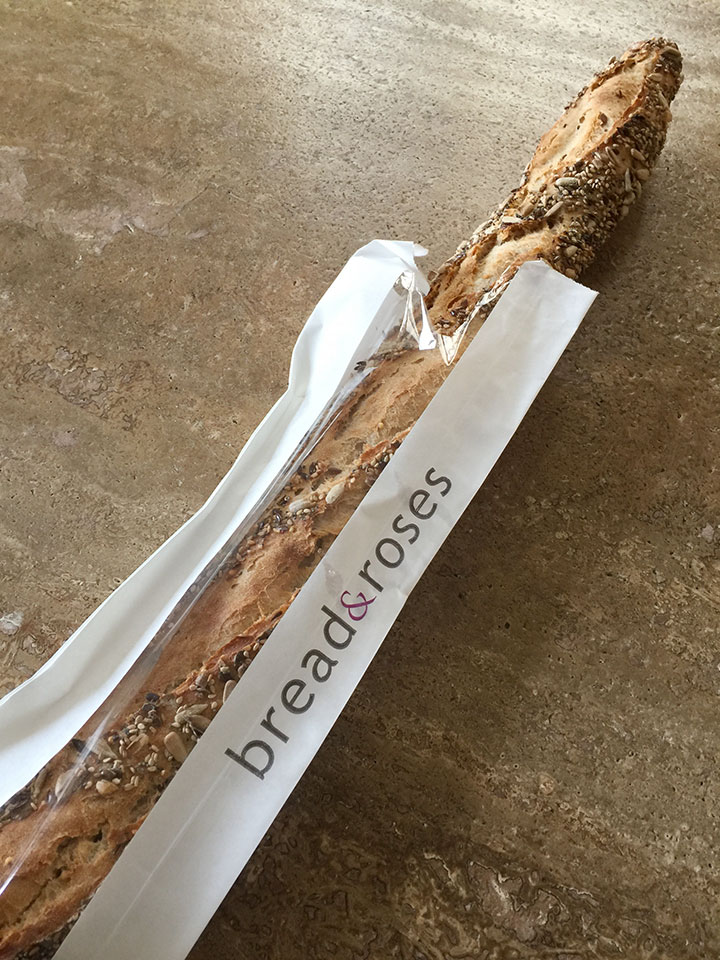 The rest of the morning was spent making our way to and from the Vanves Flea market (Marche aux Puces de la Porte de Vanves) in the 14th Arrondissement.  It took longer to get to get there (got a little lost), walk through this HUGE market (if you love flea markets which I apparently do not this is your place), and get ourselves to the Bastille for lunch at Auberge Flora.  We called to let them know we were running late for our 12:30 reservation and, despite our best efforts, did not arrive until a little after 1:00. (Wouldn't you know — there is another HUGE market (food and flea) right at the Bastille on Sundays which we had to navigate to get to the restaurant so there was literally no reason for us to spend the morning hoofing around Vanves).
Once we arrived we were greeted warmly despite our late arrival and seated at a cosy table in the corner.  The room was full of groups enjoying a leisurely Sunday lunch.  The decor is a fun mix of modern, bright turquoise walls studded with white plates in varying sizes, modern light fixtures and rustic chairs and tables.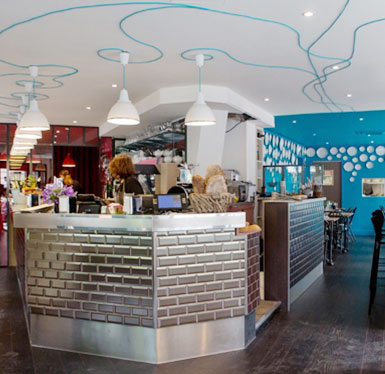 We sat down and, in some rough French, apologized again for being late and tried to tell our server that we unfortunately had leave by 2:00 to get to the Opera.  It was totally unclear at this point if she understood but she was a nice as can be.  Needless to say, we were semi-mortified that we were rushing the service because of our own incompetence.
I ordered us both the brunch menu which is 29€ per person and includes the "tapas tree", a main course and a tapas style dessert.  We also ordered a couple of glasses of champagne to start and a couple of glasses of red wine with our meal. (An exciting detail I know but it's relevant to the story).
Behold the tapas tree!  It was a real treat.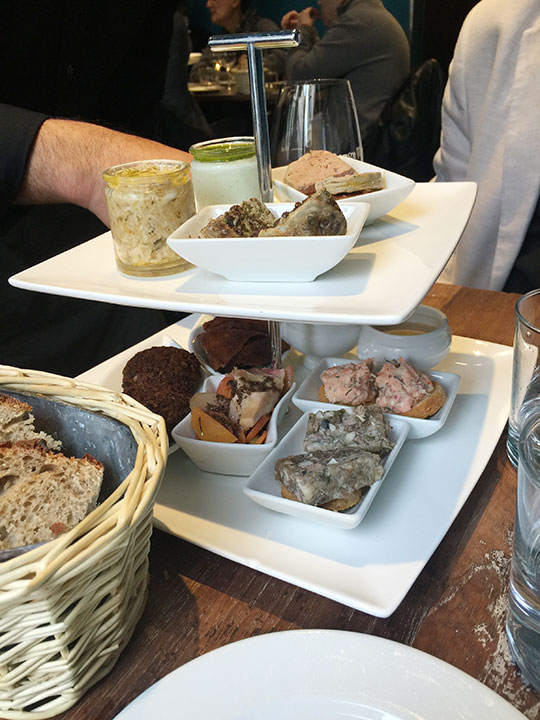 On the top:  goat cheese spread with pesto, rabbit rillettes, sage caillettes (meat and liver wrapped in caul fat – it was amazing!!), and duck liver pate.  The bottom plate contained crispy falafel, cod croquettes, marinated vegetables, pork terrine, salmon pate and tiny little bowls of the most intense chicken soup.
It was all wonderful and, for us, with a basket of their excellent bread could have been a very satisfying lunch.  Which my husband thought it was as he commented "Great!  It's 2:05.  We'll be fine getting to the Opera."  But no.  A la Bridget Jones's Diary – "Eat up.  Two more lovely courses to go."
Next out was the free range chicken braised with thyme and olives on roasted fingerling potatoes.  We once again tried to explain and apologize that we needed to leave and needed the check.  We had moved in full blown mortification.  Thankfully the chicken was divine given the speed we were forced to consume it.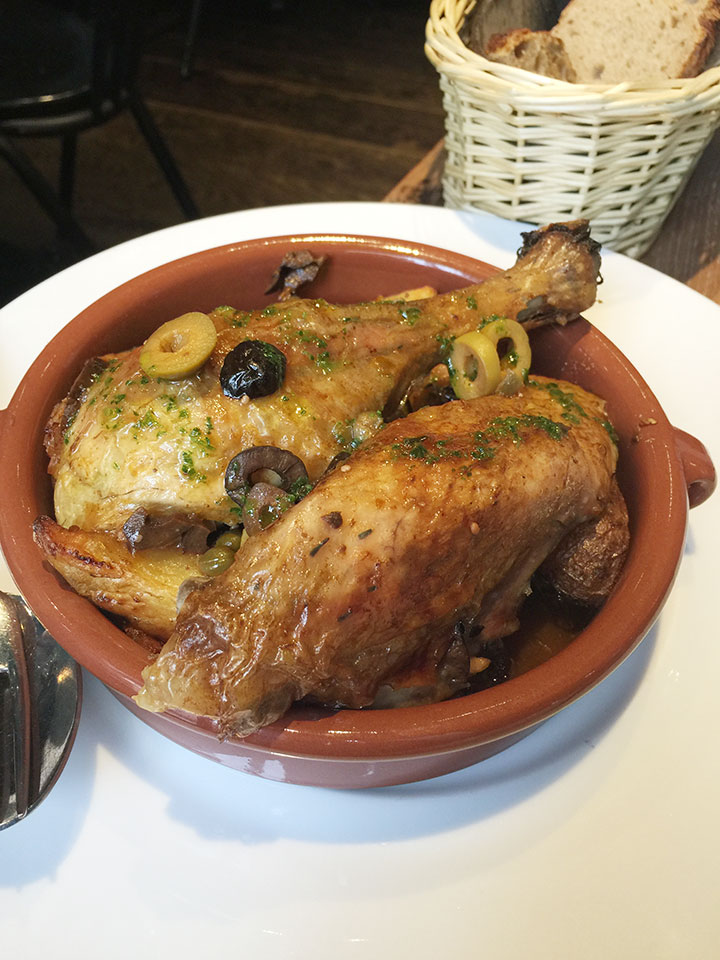 The server offered to bring our dessert (which was included with our meal) right away.  Again, with apologies, we declined and tried to acquire the check.  What happens you ask to the rude Americans??  The owner/manager (?) came over to settle our bill, apologized to us (to us!) that we were not able to enjoy dessert and comped our wine to make it up to us.  Amazing.
What we would have given to have enjoyed a long, leisurely lunch in this charming place.  We will be back for sure.  And I urge anyone with tickets to the Sunday matinee at the Bastille Opera to make a morning/afternoon out of it.  Arrive early (Bastille Metro stop) and stroll the Bastille Market.  Book an early lunch and walk through the market to Auberge Flora.  Relax and enjoy a wonderful meal. Then walk (10-15 minutes) to the Bastille Opera and be blown away!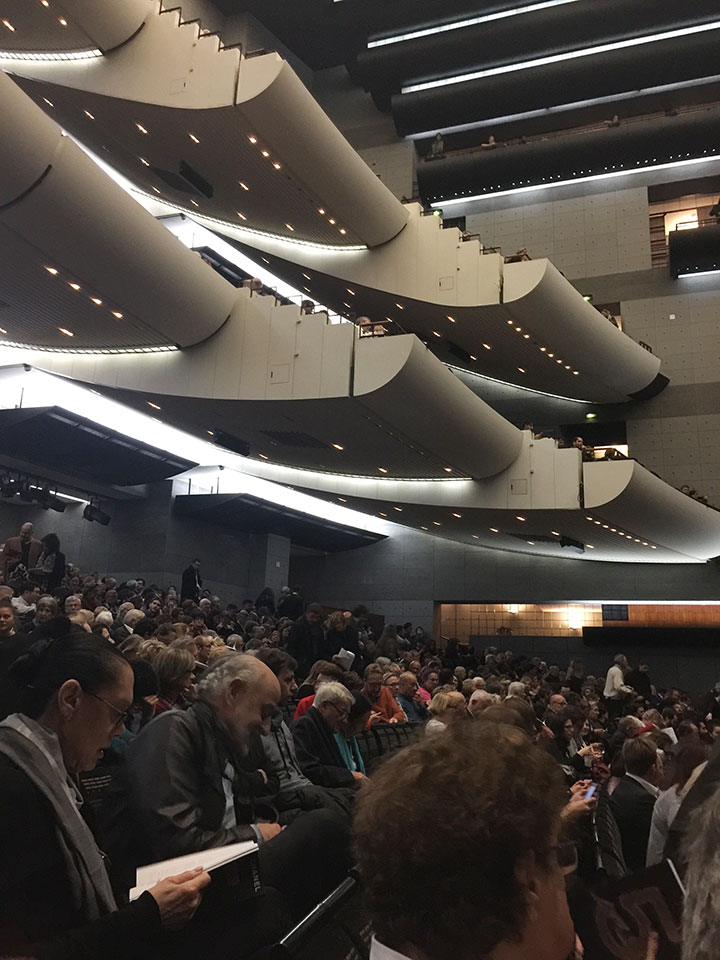 The interior space is fantastic – very modern.  The performance by the Paris orchestra and the performers was spectacular.  Encore!
Auberge Flora
44 Boulevard Richard Lenoir, 75011
01 47 00 52 77
Book online